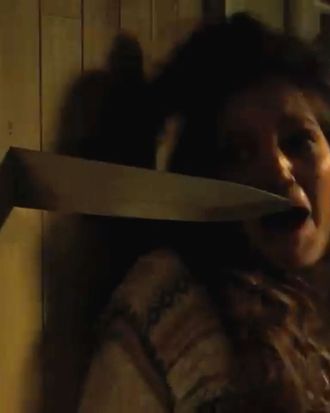 Ryan Murphy.
Photo: Ryan Murphy/Instagram
Your favorite grisly horror show is back. Since the world ended in American Horror Story: Apocalypse, creator, writer, and producer Ryan Murphy has decided to return to the land of the living for season nine of the spooky anthology series, set to return this fall. The season is titled American Horror Story: 1984, and Murphy posted a short trailer to his Instagram today featuring a girl in the woods running from a man cloaked in black. She escapes into a house, only for a knife to come through the door, narrowly missing her (but does she actually get away?).
The stars of the upcoming season are still largely unannounced, but Emma Roberts and Olympic athlete Gus Kenworthy are definitely in, and veteran villain Evan Peters is definitely out. Also, no Coven witches this season (we'll miss the surprise Stevie Nicks serenades), so there's no telling how the upcoming season will connect to the last eight, which have been set as far back as the 1950s and as recently as 2019. Who knows? Maybe the new villain is an AHS: Freak Show or Asylum baby all grown up in 1984.
The eighth season, eligible for the 71st Emmys, was just redefined as a drama instead of a limited series because of "continuing story threads, characters and actors." The show is also already green-lit for its tenth season, so let's hope for the inevitable return of Sarah Paulson's much-loved Cordelia.
Murphy has multiple projects in the works besides AHS, including the just announced movie adaptation of the musical Prom, and dark comedy The Politician, starring Ben Platt and Bette Midler, among many other big names. Not to mention the gorgeous period-drama Pose, set to return for a second season this June. It's going to be a busy year for Murphy-land.