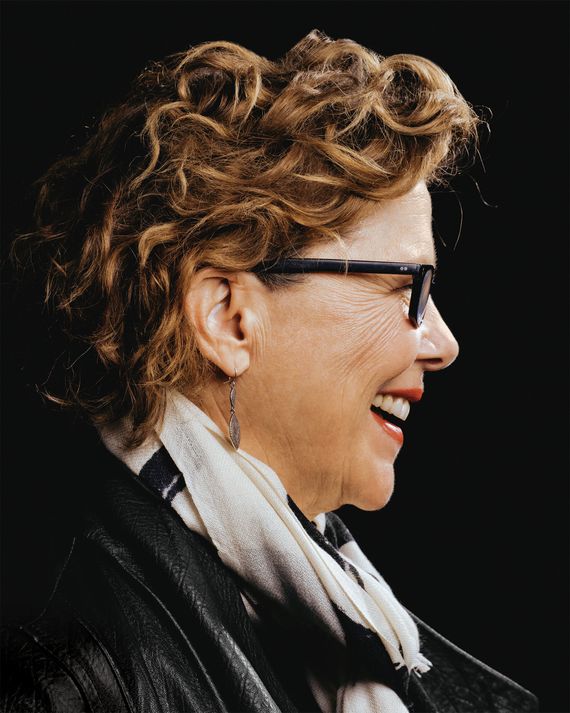 It's 11 days before the first preview of the Roundabout Theatre production of All My Sons when I sit down to talk with Annette Bening about her return to Broadway after 31 years, and she's in kind of a gray area. Some actors are superintellectual; others navigate by instinct. Bening strikes me as embodying the best of both worlds. She learns everything she can about her character for weeks and months and then forgets it all and lets fly. She'll still think — but only in character, in the moment, following another actor's voice or an inner whisper. It sounds woo-woo, but great actors have supernatural feelers and we're meeting at the moment when the talk has stopped and the process of shedding her defenses and becoming a "gardenia" (Bening's husband, Warren Beatty, uses the word to denote suppleness and fragility) has begun. On her way into the Bowery Hotel, she walks past a film shoot without turning a single head. Her invisibility cloak must be on. She's guarding her energy.
Bening says she has been obsessed with All My Sons since she saw a production in L.A. in 2006 with Len Cariou, Laurie Metcalf, and Neil Patrick Harris, and came back to see it again with her husband in tow. It seemed to her that Arthur Miller had found the perfect metaphor for capitalism at its most blindly, murderously selfish. Written in 1947, the play centers on Joe Keller (played here by Tracy Letts), a midwestern captain of industry who is briefly jailed for supplying the Air Force with cracked planes that ended up killing a group of young World War II pilots. Faulty planes, people dying … where have we heard that recently? Oh, right. The Boeing 737 Max crashes have blown the dust off Miller's old-fashioned dramaturgy, and friends have been calling Bening to shudder over the uncanny timing. (This All My Sons had already hit a nerve when the original director, Gregory Mosher, quit after Miller's daughter Rebecca objected to his casting the family of Steve Deever — Keller's second-in-command, who gets blamed for shipping the faulty planes — with all black actors. Miller evidently thought the racial component would throw the play off balance. The production now features black actors in key roles, just not all in one family.)
Don't make the mistake of asking Bening what it's like for her to be back in the theater after 30 years: In L.A. the past two decades, she has played Hedda Gabler, Medea, and Madame Ranevskaya in The Cherry Orchard,and she came to New York in 2014 for a Shakespeare in the Park production of King Lear, in which she was a haughty Goneril to John Lithgow's mad king. But there is something momentous about this particular gig. Her youngest daughter is now in college, so this is the first time in 30 years that there haven't been kids in her California home. She's free to work in New York whenever and as long as she wants.
Actually, she was on Broadway only once, as the discombobulated photographer, Holly, in Tina Howe's Coastal Disturbances, which started Off Broadway and transferred to the Circle in the Square in 1987. (She stayed with it until the run ended in January 1988.) Before that, she worked primarily at San Francisco's American Conservatory Theater, where she trained after college in San Diego. Bening's stage work helped to shape her design for living. Her mentor was ACT director William Ball, who had a philosophy he called "positation." "The idea was that you say yes to everything," says Bening, "and that's in a creative way and in your own personal life." A lot of people rolled their eyes, but Bening learned that if positation didn't necessarily lead to a breakthrough, it might lead to something that would lead to something that would lead to a breakthrough — meaning, you never know. Acting would be about searching for those gray areas. (Bening still misses the volatile Ball, who killed himself in 1991.)
She was 28 when she came East and played Holly to hats-in-the-air reviews. In the New York Times, Frank Rich wrote, "Ms. Bening, an actress new to New York, provides a quicksilver Holly whose psychological and physical swoons into tears, laughter, and lust all convey the mystery of a woman floating ambiguously but passionately between love and nervous collapse."
Coastal Disturbances led to Bening's film career, but it took her a while to get comfortable with letting the camera read her. "I felt very odd sitting down speaking quietly, because I had never associated acting with that kind of dynamic," she says. "I'd always had to make sure everybody in the room could hear me. That was, like, my job, right?"
It was Miloš Forman who plucked her from relative obscurity (she'd done a slapstick comedy, The Great Outdoors, with Dan Aykroyd, John Candy, and an angry bear), cast her as the female lead in Valmont, and set her straight, sometimes harshly. "He taught me a lot by basically saying, 'No, that's phony,' " she says. "We were doing a period movie, so there's this mistake that many of us make that we get into period clothing and we suddenly think there's something different about the way people would behave. His whole thing was 'No, no, no, it's all the same. Don't pose, don't preen. Just natural.' That's what he would say, over and over, 'Natural, natural.' " Bening loved that Forman, unlike most film directors, was verbose. It made her feel closer to the stage.
She blew audiences away with her pouty, wriggly, damnably shrewd con artist in The Grifters, but her casting as Bugsy Siegel's girlfriend, Virginia Hill, in Bugsy, changed her life. In a DVD extra made 15 years after Bugsywas released, director Barry Levinson recalls that when Beatty returned from his first lunch with Bening, he asked how it went, and Beatty replied, "She's terrific. I love her. I'm going to marry her." Bugsy's screenwriter, James Toback, asked the same question and reports that Beatty emitted a loud animalistic growl. As Levinson and Toback chuckle, Beatty sits back with an enigmatic grin, as is his wont. The world knew they were a couple when Bening became pregnant.
Watch Bugsy today and you can imagine that Bening dazzled and challenged and confounded Beatty exactly the way Virginia dazzles and challenges and confounds Bugsy. You can imagine it, but Bening will say only that the magic was in the screenplay and the other performances and what about the cinematographer, Allen Daviau? She'll always throw the spotlight off herself. Yes, she says, in her early 30s it was amazing to be in the presence of people like Beatty and his pal Jack Nicholson, who came up in the heady '60s in one of Hollywood's most creative (and reckless) eras. But she didn't do any of the rowdy stuff. She was focused on the kids. She'd always wanted a family. She was born in Kansas to Iowan parents with heartland values. "I was just talking to them yesterday," she says. "My dad's 92. My mom's 90. They're living alone in their house together. They've been married 68 years."
Being married to Beatty turned out to be a gift insofar as Bening could work when and where she wanted. She didn't have to take crap roles in crap movies or fret about having to play likable characters to maintain her commercial viability. She could take chances in amazing underseen movies like Being Julia, Mother and Child, 20th Century Women, and The Seagull.
She's natural onscreen, as Forman urged her to be, but she also captures the way that people are all actors trying to translate their inchoate thoughts and feelings into something that can be presented to the world. That approach is on display in Bugsy when Virginia receives the news that her gangster lover is dead. The camera holds on her for a long moment, and what we see is not some generalized reaction of grief but a millisecond-by-millisecond journey from devastation to longing to guilt to fear, plus an extra element of despair: "How can I put a face on what I'm feeling?" Bening's Virginia can't manage a single conclusive response and so, in the end, she says nothing. It's the most packed nothing I've ever seen.
It's also nothing she cares to take me through, in the way, say, Bryan Cranston accounted for his every thought when I asked him at a live Q&A what was happening in Walter White's head in Breaking Bad when he watched a young woman choke on her own vomit but decided not to save her. Bening just says it was a "very cool shot" in Bugsy, not because of her but because there was a crane and the camera had to follow her out. "The technicians have to do the shot, and you have to be ready," she says, "because there's only so many times they can do it."
Me: But all those contradictory things passing over your face … it's extraordinary for an actress to have a moment like that.

Bening: Thank you. Thank you.

Me: But it's not something you worked out?

Bening: I mean, no, not really. It's like you've got this work that you're doing for months and months, and you're using that intellectual side. But then in those moments, no. You're hopefully able to just let go.
Bening listens to my theory about how she conveys the tension between the mask and the human underneath and nods tentatively. "That's interesting," she says. "I never thought of it that way. I'll have to think about that." It's like when the Sundance Kid says, "You just keep thinkin', Butch. That's what you're good at."
Later I call Mike Mills, who directed one of my favorite Bening performances, in 20th Century Women, and he says he knows what I'm getting at. "But if you say that to her, I could see her just shutting down. First of all, it's way too complimentary. If she ever agreed to that compliment, she would feel like an ass; she would feel it's pretentious. She's not going to endorse such a high opinion of herself."
Mills thinks of Bening as "Kansas meets Elena Ferrante," meaning midwestern humility combined with the pseudonymous Italian author's respect for the magic of the art, which would make Bening loath to explain what she's doing even if she could. He remembers one scene that blew him away: "She was just on fire. I couldn't believe I wrote the words she was saying; they seemed to be coming out of her soul, so fluid and magical. And she's heading to her trailer and I catch up with her and I say, 'Annette, that was just so amazing.' And she squeezes my hand and says, 'I hope so, sweetie,' and disappears. She really just said that so she wouldn't leave me hanging, so I would be okay … You can tell it meant a lot to her. She just doesn't want to sit in that … [She] can be so effusive to you, but if you compliment her too much, she's just going to scuttle away."
Bening is certainly effusive about other people's work. We could talk all day about other actors as well as books and Broadway shows — and politics. The recent college-admissions scandal left her angry, partly on behalf of the kids, who, whether they knew about their parents' machinations or not, will carry that shame their whole lives, and partly because it points out how higher education is for the privileged. But it does offer an opening for her to talk about one of her big causes, the College Promise Campaign, chaired by Jill Biden, which seeks to make community colleges virtually free. She went to community college for almost nothing — and look where she is.
Working more than ever, for one thing. The kids' leaving home has meant not just a Broadway run but four films this year, among them that little Marvel thing — her first "franchise" picture — in which she plays Carol Danvers's predecessor, Captain Marvel No. 1. In The Report (which premiered at the Sundance Film Festival), she portrays Senator Dianne Feinstein, who is tasked with investigating the CIA's "extreme interrogation" tactics. She's a wealthy D.C. law professor in Georgetown, directed by Christoph Waltz from a script by David Auburn (it premieres at this year's Tribeca Film Festival). And she plays opposite the great Bill Nighy in the U.K. drama Hope Gap, in which a man confides to his grown son that he's about to leave his wife of many years. It's intense, high-wire material — but the most grueling test of all is her current endeavor.
As I watch the dress rehearsal of All My Sons ten days later, it's plain that Bening isn't some visiting movie star. That husky voice resonates to the rafters, and she's grounded, alert to the other actors but encased in her character's woe. Her vulnerability is extraordinary. As Keller's wife, Kate, she has to play a woman who is lying not only to others but to herself, and again Bening's in the gray zone. "I'm still in the process of figuring that [lying] out," she tells me. "When do we not know we're lying when we are lying?" The most important thing, she says, is to get out of her own way and let the audience grapple with that question.
Letts, by the way, is stupendous — he has his own force field. Bening says she loves working with him.
Bening: He doesn't talk a lot about his process, to his credit.

Me: To his credit.

Bening: To his credit, yeah, yeah.

Me: Because people, actors, who talk about their process are a little bit dreary.

Bening: It's probably best to avoid it, even in an interview. You know who's very good at that is Isabelle Huppert.

I'm a huge fan, and I know her. People will say, "How do you do this, and how do you do that?" And she says something like, "I'm free." And I think, Yeah, good for you.
All My Sons is at American Airlines Theatre, through June 23. Purchase tickets here.
*This article appears in the April 15, 2019, issue of New York Magazine. Subscribe Now!