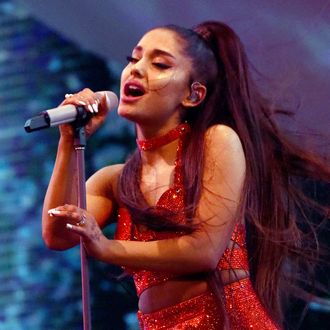 Ariana Grande.
Photo: Kevin Mazur/Getty Images for AG
Bloggers are soulless, purposeless people who can't find anything better to do with their lives, and it appears that Ariana Grande has caught on to that indisputable fact. It all started when Justin Bieber made a surprise appearance during Grande's performance at Coachella over the weekend, in which he appeared to be lip-syncing. Several outlets covered fans' reactions to the supposed lip-syncing, but Bieber singled out E! host Morgan Stewart for her comments about his performance during an E! News segment, in which she said, "I did not realize it was going to be that bad!" So Bieber pushed back:
Grande swept in and came to Bieber's defense in a series of now-deleted tweets, saying, "People are so lost. One day everybody that works at all them blogs will realize how unfulfilled they are and purposeless what they're doing is and hopefully shift their focus elsewhere. That's gonna be a beautiful ass day for them! I can't wait for them to feel lit inside."
Soon after deleting the tweets, Grande clarified her comments in a reply, saying, "There's a big difference between journalism and what was happening in that video. I was hurt for my friend. My apologies to anybody offended by my lumping them together." That tweet has also since been deleted.
In any case, it feels safe to assume that Grande realized at one point that lumping journalists and bloggers and E! hosts all together through a generalization wasn't a super-fair move. At the risk of being grouped into the non-journalism camp for this post, Vulture would now like to present you with these very good Ariana Grande blogs, and we look forward to making more.
➼ Coachella 2019: Ariana Grande Lets Her Pop Crown Shine
➼ Who Is Ariana Grande, Really? A Quick Catch-up.
➼ Coachella 2019: Ariana Grande Reunited NSYNC (Minus JT)
➼ Grande and Monét Provide a Bisexual Bop With 'Monopoly'
➼ How Ariana Grande Dominated the Charts
➼ Ariana Grande's Sweetener Tour Opens With a Mac Miller Tribute
➼ 2 Chainz, Ariana Grande Speak Easy in 'Rule the World' Video
➼ Ariana Grande Just Tied the Beatles's Insane Chart Record
➼ Ariana Grande Wrote Second 'Thank U, Next' for Pete Davidson
➼ Does Ariana Grande Know Something About NASA That We Don't?
➼ Ariana Grande Beats Taylor Swift to Win First-Ever Grammy
➼ Thank U, Next Is a Phoenix Moment for Ariana Grande