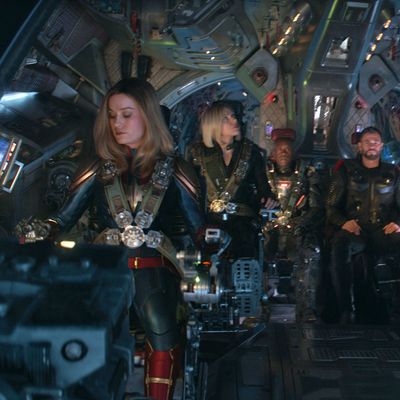 Avengers: Endgame makes crossing the billion-dollar mark in global ticket sales seem like, well, a snap. Shattering box-office records with a North American gross of around $350 million over its first three days in theaters, the ensemble superhero thriller eclipsed prerelease "tracking" estimates. Industry experts initially expected the film to take in around $260 million domestically in its first weekend, a ballpark that increased to $340 million soon after the movie hit theaters. Those numbers alone would have been enough to surpass the previous title-holder for biggest opening weekend of all time: Avengers: Infinity War, which took in $258 million. With global sales added in, Endgame easily tipped over the edge, earning a gobsmacking $1.2 billion worldwide.
"I would put this in the pantheon of cultural events," Comscore senior media analyst Paul Dergarabedian says. "For Avengers: Endgame, there's an electricity in the air you don't usually get outside of some big sporting event or, say, a Rolling Stones concert. It's unbelievable how this movie has resonated. It's almost like a cultural tuning fork. Marvel hit just the right note."
The three-hour-two-minute-long film — which kills off and bids adieu to several beloved characters, serving as a grand finale to the so-called Phase Three of the Marvel Cinematic Universe — had already hauled in a record-breaking $60 million during its Thursday-night preview shows. Then in its first full day in theaters, it earned $156.7 million to topple the previous first-day earnings champ Star Wars: The Force Awakens ($119.1 million). Last week, Fandango announced that Endgame is the biggest pre-seller in the ticket-selling website's history. According to the site's managing editor, Erik Davis, theaters across the country scrambled to add showtimes as a result, screening the PG-13 movie at odd hours — 4 a.m., 6 a.m. — to meet overwhelming demand.
Davis credits Marvel with innovating the cinematic universe business model. The franchise has kept audiences invested not just in individual characters but their shared fates, which began intersecting across various properties soon after the first film in the MCU canon, 2008's Iron Man, debuted. "We've never seen anything in the history of cinema where we've had 22 movies with a continuous story line," Davis says. "Marvel always kept you guessing what the next one is going to be and how it is going to play into this larger narrative. They turned characters against one another. They really played it like a modern-day soap opera for superheroes. With the MCU as we know it culminating with this film, [Endgame] not only gives you a conclusion to that story but expands upon it."
Many fans were blindsided by Infinity War's cliffhanger ending in which the genocidal purple titan Thanos (Josh Brolin) wipes out half of all life in the universe — including such Marvel mainstays as Black Panther, Dr. Strange, Star Lord, and Spider-Man — with a snap of his Infinity be-stoned fingers. Hence, fan anticipation for the conclusion to its saga has remained sky high for the 363 days since that film's release.
Moreover, cumulative movies in long-running franchises almost always do big business for Hollywood. Exhibits A and B: Harry Potter and the Deathly Hallows Part 2's $1.3 billion overall worldwide earnings and the $1.1 billion global haul of The Lord of the Rings: Return of the King. But as Dergarabedian points out, Endgame's massive box-office tally comes on the heels of an unprecedented run of success; to date, the previous 21 Marvel-branded movies have cumulatively grossed more than $19 billion. As a conclusion to those previous films' story lines — in addition to providing a swan song for key characters — Endgame arrives in theaters as something more than just a movie.
"That didn't happen overnight," Dergarabedian adds. "This is a long-term relationship that has been built with the audience and with these characters. And the whole notion that this is the last Avengers movie gives it a gravitas that no other movie — since the last Avengers movie — has been able to generate."
By Friday, a kind of shock and awe had spread across the entertainment industry with the dawning realization that Endgame could earn over $1 billion over its first weekend in theaters, a sum even the most successful superhero movies can only hope to earn over their entire theatrical run. The $356 million movie — directed by brothers Anthony and Joe Russo and written by Christopher Markus and Stephen McFeely, the creative quorum behind previous Marvel blockbusters Captain America: The Winter Soldier and Captain America: Civil War — had already racked up $487 million playing in 46 offshore markets. In its first three days of release in China alone, the movie clocked a record-shattering $217 million — decisively clobbering Infinity War's $190 million Chinese weekend debut. And in its IMAX iteration, Endgame set opening-day records in 38 countries, including France, Taiwan, and Brazil.
At a time when the analytics firm Comscore has reported that North American ticket sales are down 16 percent this year over last, Endgame's robust financial performance provides some much-needed momentum for the movie-theater business, priming the pump for such summer-blockbusters-in-the-making as Spider-Man: Far From Home, Fast & Furious Presents: Hobbs & Shaw, and Disney's live-action The Lion King.
"Avengers: Endgame is a testament to the power of the moviegoing experience," Patrick Corcoran, vice-president and chief communications officer for the National Association of Theatre Owners, said in a statement to Vulture. "Thirty million people ventured out of their homes this weekend to experience this movie in the best way possible — with friends and strangers in a shared public space. But this is only the starting point for an incredible number of films that will likely lead to a record year in 2019."