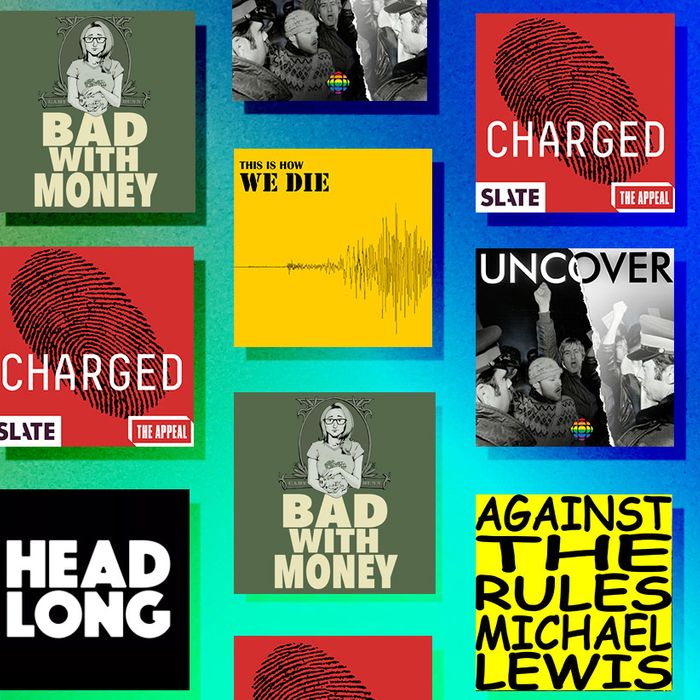 It's April. The sun's coming out, winter is finally beginning to thaw, and there's a brand new crop of podcasts to peruse. This month's mix of new podcasts brings, among other things, lots of rule-breaking, potential financial revolution, Cops, and as always, more interpretations of the true-crime genre.
Against the Rules (Pushkin Industries, April 2)
Author Michael Lewis hits the podcast charts this month with a seven-episode project that seeks to ask, "What happens when a system of rules fail, and when fairness can't be enforced?" Called Against the Rules, the podcast apparently tackles a range of worlds, from student loans to the art world. For those interested: This podcast is the first new show developed and distributed by Malcolm Gladwell's new podcast venture, Pushkin Industries, which he founded last year with former Slate chairman Jacob Weisberg.
Uncover: The Village (CBC, April 2)
The CBC has, over the years, built out a solid slate of true-crime-oriented podcasts, which includes the stellar Missing and Murdered and Someone Knows Something. But Uncover has proven to be the most flexible of the lot as an anthology series. The podcast returns this month with its third season, following up its investigations into a cult (Escaping NXIVM) and an unsolved act of domestic terrorism (Bomb on Board) with a documentary on the recent arrest and conviction of a man for the slaying of eight queer men in Toronto's Gay Village — a resolution that comes along eight years after the first murder.
Charged: A True Punishment Story (Slate, April 17)
Released shortly after the success of Slow Burn's brilliant sophomore season, Slate Presents: Standoff served listeners a tight four-part nonfiction piece on the unsettling and perhaps politically premonitory 1992 Ruby Ridge incident in Northern Idaho. The one-off project was a fascinating effort by Slate to tell shorter, tighter stories; in a way, it felt like a quietly ambitious gambit. With this new upcoming project from the Slate Presents banner, it seems like they're ramping ambitions up a few notches. Hosted by Emily Bazelon, the longtime Slate Political Gabfest co-host and New York Times Magazine staff writer, Charged will endeavor to take listeners inside New York's gun court system — a legal machine created by the state to take guns off the streets with, as always, complicated results. From the trailer, it sounds like the series will take a cue from Serial's third season, homing in on the conflict between human beings, legal bureaucracies, and the soul-crushing gap between policy intent and execution.
Headlong: Running From Cops (Topic Studios and Pineapple Street, April 23)
Dan Taberski's third podcast documentary returns with a somewhat surprising subject in mind: the long-running reality TV show Cops, currently in its 30th year. Running From Cops will dig deep into the show's long, quiet influence over American culture — how it touches contemporary politics, criminal justice, and public perception of law enforcement.
Bad With Money: Season 4 (Stitcher, April 24)
I've long been a fan of Bad With Money, Gaby Dunn's radically thoughtful take on the personal finance genre, which is the kind of show that overtly balances the personal, intimate experiences of being a person trying to figure out money in the world with the overarching realities of the financial systems imposing themselves upon you. Following three seasons of looking inward, the fourth season promises to widen the frame and focus on its examination purely on those systems: why money in America works the way it does, and what can be done.
White Lies (NPR, April 30)
Described as a "limited-run civil-rights-era cold-case podcast," this new NPR series will follow two Alabama-based journalists as they investigate the 1965 murder of Reverend James Reeb — an Unitarian Universalist minister, pastor, and civil-rights activist — who was killed during the Selma to Montgomery march.
This Is How We Die (Independent, Ongoing)
If you enjoyed The Big One, KPCC's great semi-instructional podcast about how to survive the massive earthquake that's probably going to hit Southern California at some point in the future, then you're probably going to like This Is How We Die, which extends the themes at play. A loose and scrappy independent production about "cities, infrastructure, natural disasters, and how you can survive," each episode of this podcast focuses on a different city and probable natural disaster. It's nowhere near as polished as The Big One, but that isn't the point: As a person who endlessly fixates on disaster, this is pure candy.