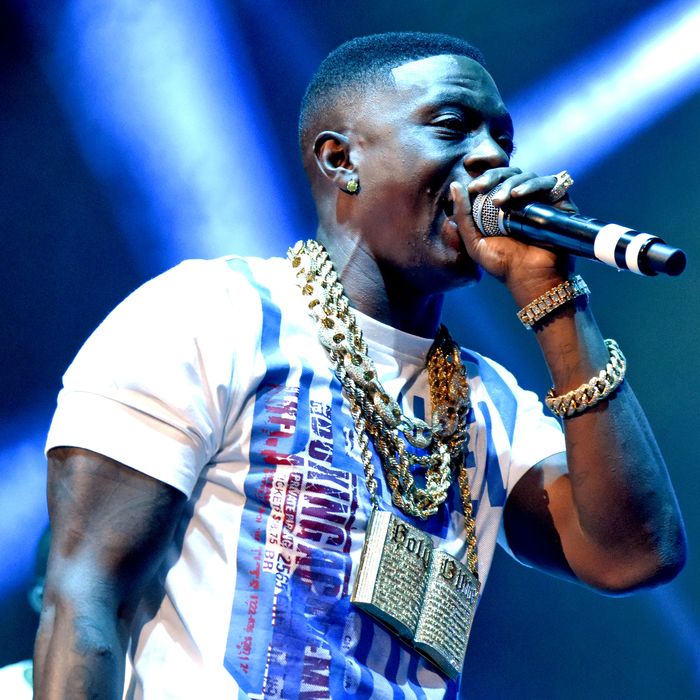 Photo: Tim Mosenfelder/Getty Images
Every week, Vulture runs through the best, most interesting, and sometimes most confusing rap releases. In this installment: The case for why you should still check for Boosie Badazz, Mach-Hommy hits you over the head with the weight of the '99 Knicks, and is Chris Crack the most prolific rapper you've likely never heard of?
Boosie Badazz, Badazz 3.5
Boosie's liberation from one of America's most notorious prisons — from a stay that seemed, at points, as if it might run longer than Boosie's natural life — seemed to invigorate him creatively. How could it not? It was scorched earth as soon as he came out: careening, sneering songs like "Crazy," or a "Lifestyle" ripoff that somehow justified its existence. 2014's Life After Deathrow, his first mixtape after making it out, was a tour de force; it ends with "O Lord," a breath of fire as essential as nearly anything he's recorded in his entire career. Even the noodling he did in a black Suburban on the way home had the verve, soul, and specificity that made him a cult hero throughout the American South.
Creatively speaking, that was the high point. Boosie's triumphant comeback album was delayed just enough to feel as if it had missed its moment. Then he was diagnosed with cancer. (He's fine now.) Where another incarcerated folk hero, Gucci Mane, has spun his post-prison glow into a gleaming lifestyle brand, Boosie has been gruffer and seemingly impatient. He will write a strange, warm, and absolutely wrenching song like "Webbie I Remember" and then make headlines for railing against the way [checks notes] cartoons make children gay.
At his best, Boosie is what 2Pac might have been if 2Pac had to sweat through an impossibly harrowing childhood in Baton Rouge. At his worst, he sounds bored and/or reactionary. In the last half-decade, he's actually been sharper than a general audience would realize, but the breakneck pace at which he's released records, his lack of interest in or ability to tap into national media outlets, and his general departure from what's working in rap radio right now have ensured that his music is heard mostly by his core fan base. Some of these recent records have been uneven, others very good. His latest album, Boosie 3.5, is a modestly ambitious record that is occasionally rocky but mostly a testament to Boosie's durable songwriting abilities.
One thing that's refreshing about Boosie is his insistence on writing songs about capital-T Topics, as if he's the world's least corny creative writing professor. 3.5 has songs exclusively about the way marijuana changed Boosie's psychology in and after prison, and it also has a song wherein literal Lucifer is perched on his literal shoulder. (Then, frustratingly, it has "This World Fucked Up," which is like some Infowars-lite shit.) The most replayable songs are the ones that, simply put, hit hardest: "Off the Flap," the freewheeling "Southern Smoke," the spare opener "Ball." Boosie may now exist tangential to the broader rap conversation, but checking in now and then remains mandatory.
DJ Muggs & Mach-Hommy, Tuez-Les Tous
Mach-Hommy is an elusive rapper based in Newark who famously sells many of his records for exorbitant prices (a move inspired by the late Nipsey Hussle) through his own online channels. More importantly, he's one of the genre's most inventive writers in terms of both the macro and the granular: Verses barrel past normal benchmarks or they sputter and abandon their shape, by design and without warning. Tuez-Les Tous is Hommy's full-length collaboration with DJ Muggs, the legendary producer who as of the last few years has smartly positioned himself as a reliable manipulator of the sounds in the underground scene from which Hommy comes.
Where Hommy's opus, HBO (which stands for Haitian Body Odor, and which Hommy originally sold directly to fans through Instagram), seemed to paint, if only by implication, a picture of the rapper's psychological inner workings, much of his later work has been lean and fragmented in a way that makes his songs feel as much like thought or language exercises as they do like pieces of a larger autobiography. Tuez-Les Tous is thrilling for the way Hommy hits you over the head with the weight of the '99 Knicks, the new Zinfandel he got, or Orwellian iCloud accounts — and for the way he never breaks pace to explain or belabor.
Chris Crack, The Future Will Be Confusing
Chris Crack is prolific to the point where that might be the one thing you know about him. (I didn't even get a chance to write about his most recent album, Crackheads Live Longer Than Vegans, before he dropped this one less than a month later.) But the Chicago native is not a data dumper, and his work is far more rewarding than it is plentiful. The syntax he writes in has clearly been shaped by the internet, but his music has the hard-won sorts of soul and joy that only become clear when your feet are on the pavement. His albums are gut punches disguised as viral jokes. This one is worth it if nothing else for the closer, the brief, bizarre "Messy Elliott."