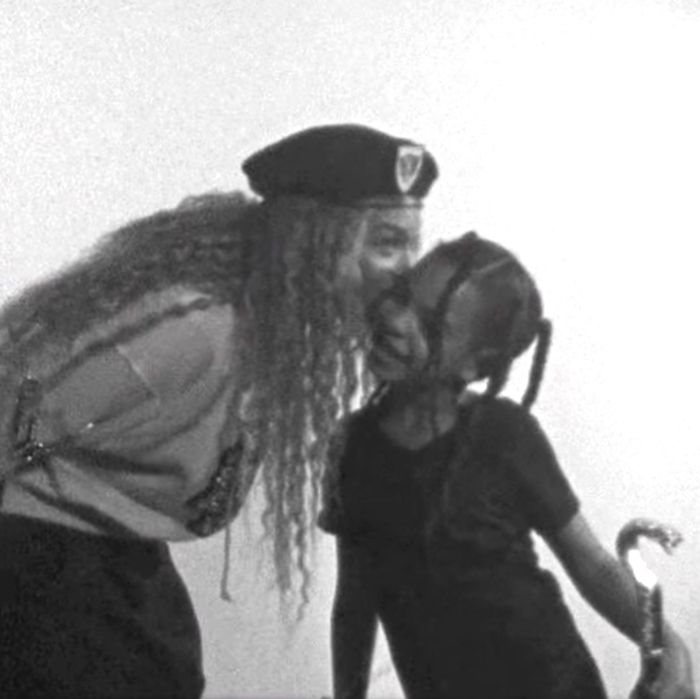 Chances are if you had a pulse and a decent WiFi connection on April 14, 2018, you lived and relived every single nanosecond of Beyoncé's historic Coachella performance. And if you were busy doing god knows what else that night, you've absolutely seen all the footage — since archived on social media — from the defining cultural event of our time. Still, somehow, we haven't seen it all. Included in Beyoncé's new Netflix film, Homecoming, is all the behind-the-scenes footage from the lead-up to Beychella that she kept to herself until she knew we could handle it. We're talking tons of home video-style clips of Blue Ivy singing "Lift Every Voice and Sing," Beyoncé and Jay-Z's FaceTime etiquette, and rare glimpses of the twins. These are the best non-concert moments from Homecoming, GIF-ed for optimal viewing and further preservation.
Before we start melting over the babies, let us first put some respect on the OG Carter child's name. Miz Blue Ivy makes many a cameo throughout Homecoming, as she has with every single piece of work her parents have done since she arrived on the scene (as in, out of Beyoncé's womb). Obviously, Blue Ivy is already a little prodigy on her way to multi-hyphenate acclaim. Just look at her plucking away at a guitar that's the size of her, like a damn natural.
Yes, of course, Blue can hit that choreo. This isn't amateur hour!
Oh my god. Just when you thought you knew all her talents, in swoops Blue with the vocals. Here she is singing "Lift Every Voice and Sing" (the Black National Anthem her mother also sang in her set), with just a slight assist from Beyoncé on the lyrics. (Listen, young Blue can't be expected to do everything.) Blue is so impressed with her version she asks to run it back again. This is most definitely Beyoncé's child.
Well, now that we know what havoc the eldest Beyoncé heir will surely wreak on the industry, what the hell do her siblings have in store? Meet Rumi and Sir. Literally, here they are, in the delivery room, moments after being born. We're getting real personal now.
You can't put an infant in suspenders. That's not playing fair!
Homecoming is a film about the greatest concert event of our generation, yes, but don't let the real story get lost: This is an extended documentary about working moms getting shit done.
… and the people who support them.
Except not like this! When your wife FaceTimes you elated to show you she fits in an old outfit, you act excited! More excited than an "all riiight!" dammit!
Still, she keeps him around. Here's the briefest glimpse of their vow renewal with the whole family.
But you see that *gulp*? That's the gulp of a man who is fully aware one more strike and you gon' lose your wife. Or life. Same difference!
Why yes, that is Beyoncé saying "2 lit 2 quit." What of it?