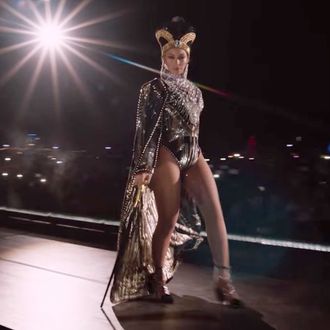 The streaming wars come to concert docs.
Photo: Netflix
Among the big questions raised by Beyoncé's Homecoming — aside from, you know, how does she do it all? — the biggest might be this one: How did the behind-the-scenes Coachella concert special end up on Netflix? Considering that HBO aired Lemonade after its 2016 debut (plus her 2013 documentary Life Is But a Dream and the On the Run concert special), you might assume the cable network would get first dibs on airing her latest film project, but in this case, they just got lemons. Why?
HBO declined to comment on the matter and Netflix didn't respond to a request for comment, but according to industry sources, HBO and Beyoncé's team did have conversations about airing Homecoming. The cable network was interested, but, these sources say, Netflix stepped in with a ridiculously big money offer and HBO couldn't justify matching such a steep price tag. It's unknown exactly how much Netflix paid for the special.
Before landing Beyoncé's Homecoming, Netflix took a similar approach of outspending the competition by snagging the rights to Springsteen on Broadway for reportedly more than $20 million, as well as big-name stand-up comedy specials by Chris Rock (a $40 million deal) and Dave Chappelle ($60 million). As it turns out, money can't quite buy you a Best Picture Oscar, but it can still buy whole lot else.
Update: According to sources who spoke with Variety, Beyoncé was paid $20 million for the rights to Homecoming, which is part of a $60 million overall deal for three Netflix products. Neither the artist's camp nor Netflix responded with a comment, but as Variety notes, they also did not dispute the very large number's accuracy.