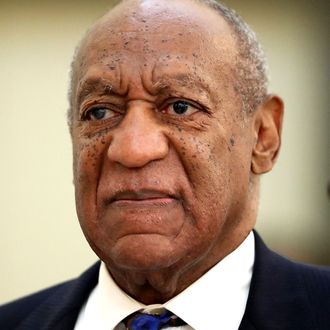 Bill Cosby.
Photo: Getty Images
Despite having called his incarceration "amazing" earlier this year, convicted felon Bill Cosby now says he wants out. After being convicted in 2018 of the drugging and sexual assault of a woman in his suburban Philadelphia home 15 years ago, he was sentenced to 3 to 10 years in state prison. But in a new motion filed by his lawyers this week, Cosby is claiming that the judge in his trial "trampled" on his rights, and he should now be entitled to bail.
Since being sentenced in September of last year, Cosby, 81, has been living in a 7-by-13-foot cell at SCI Phoenix, a maximum-security prison about 20 miles from his home outside of Philly. After initially being housed alone near the infirmary, the comedian was eventually moved into the general population where he now reportedly socializes with other inmates. The prison currently houses more than 3,800 men.
Even though Cosby has said in the past that his experience behind bars has been positive, he recently released a statement accusing the judge in his trial of being "prejudice," and calling his "the most racist and sexist trial in the history of the United States."
The new motion filed by his attorneys with the Pennsylvania Superior Court specifically accuses Judge Steven O'Neill of failing to promptly file a posttrial opinion. The lawyers claim that his supposed delay is holding up the appeals court poised to review Cosby's conviction.
"Mr. Cosby's right to have his appeal heard in a timely manner by this court is being trampled by the lower court's inordinate delay," says the motion. The motion also argues that Cosby should be considered for bail given his age and health (Cosby says he's legally blind). His lawyers are confident that "his conviction will not stand on appeal." At the time of his conviction, Cosby stood to receive up to 30 years in prison (10 years for each of the three felony counts).
Cosby is also calling for O'Neill to be "removed immediately" from the bench, accusing him of harboring "racial hatred." Cosby said O'Neill is "complicit in the corruption against me." Earlier this year, Cosby's spokesperson said that the comedian feels like a political prisoner, and that Cosby has compared himself to men like Nelson Mandela.
But the judge isn't the only one Cosby is railing against these days. The disgraced comedian is also upset that a defamation suit was settled against seven women who had accused him of sexual assault. According to Cosby's spokesperson Andrew Wyatt, insurance company AIG reached the settlement without Cosby's consent.
"Mr. Cosby did not settle any cases with anyone," Wyatt told CNN. "He is not paying anything to anyone, and he is still pursuing his counterclaims." Wyatt said that AIG settled the cases without Cosby's permission, and that Cosby still maintains his innocence.