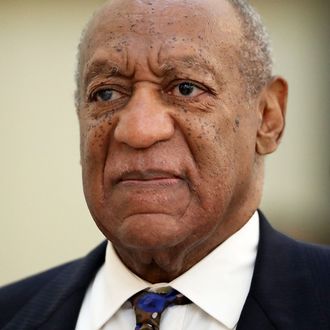 Bill Cosby.
Photo: David Maialetti/Pool/Getty Images
Bill Cosby has paid an undisclosed amount to settle a defamation case brought against him by seven women, according to The Hollywood Reporter. Tamara Green, Therese Serignese, Linda Traitz, Barbara Bowman, Joan Tarshis, Louisa Moritz, and Angela Leslie all accused the comedian of sexual assault, and said Cosby's attorney tarnished their reputations when he dismissed their accusations as "fabricated," "ridiculous," "absurd," and more. An attorney for the women reported the settlement to a judge in Massachusetts on Friday.
In 2015, Cosby filed a countersuit against the women, saying their sexual-assault allegations defamed him, and spoiled potential deals with NBC and Netflix. The defamation case was put on hold as Cosby was tried in a Pennsylvania court for drugging and sexually assaulting Andrea Constand. He was convicted and sentenced to three to ten years in state prison. THR reports that the Massachusetts judge has indicated that he would lift the stay on Cosby's defamation case.