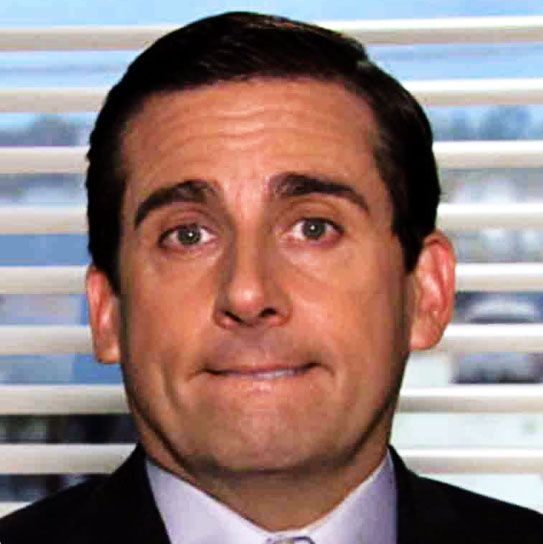 "It's my therapy, bro."
Photo: Getty Images and NBC
It has become perhaps the defining postmillennial rite of passage to binge the entirety of The Office on Netflix as fast as humanly possible, then binge it all over and over and over again, then quote and meme it as if to create an alternate internet world where the show is still going. Now, the teens' newest queen, 17-year-old SoundCloud-born genius Billie Eilish, has immortalized the show by using it in one of her own songs. Her debut album, When We All Fall Asleep, Where Do We Go?, samples an episode of The Office on its ninth track, "My Strange Addiction." "No Billie, I haven't done that dance since my wife died," Michael Scott says. The song is a Gen-Z'er's fever dream, strategically placed in the middle of a dark, depressing album. It's also only just the latest stage in her brief, but already-spiraling addiction to The Office. Allow us to explain.
She's watched every episode of The Office, 12 times over.
Eilish's relationship with the Dunder Mifflin sitcom is a long and personal one, or as long as such a relationship can be for someone who was born four years before the show debuted in 2005, anyway. In a recent interview, Eilish says watching The Office is "like therapy," and she has to watch the show when she does anything: "When I wake up, I put on The Office. If I'm making a burrito, I turn on The Office." The addiction is so serious, she claims to have watched every episode of every season, 12 times over. "Every time I finish it, I start it immediately right after and start from the beginning again. I have, like, episodes memorized and stuff. It's my therapy, bro. It's like my little escape," she emphasized in another interview. "As stupid as that sounds, that show has gotten me through my whole life."
She used The Office theme song as her tour's opening music.
During her debut headlining tour in 2017, Eilish would open her shows by playing The Office theme song at the beginning of her set and used it to transition into her song, "Copycat," a track from her 2017 EP. Naturally, the crowd went absolutely wild every time.
She even has a personal Instagram dedication from Angela Kinsey.
On When We Fall Asleep's release day, Angela Kinsey, who of course played The Office's Angela Martin, posted a photo of her with Eilish (from a random airport encounter) to celebrate the album: "We met at the San Francisco airport awhile back and I'm a dinosaur so I had no idea how talented you are!! I have loved catching up with you on Instagram." The actress continued, "Your #theoffice Mom is over here rooting for you! Way to go!"
She sampled The Office on her new album.
In "My Strange Addiction," the Office episode sampled is season seven's "Threat Level Midnight." It features Michael Scott and the show's cast watching his long-gestating action film of the same name, that had also long been teased throughout the series. (In the film, Scott forces everyone to do the iconic Scarn dance.) Dialogue from The Office characters reacting to Scott's film is threaded within the song, including that of John Krasinski's Jim Halpert, and Mindy Kaling's Kelly Kapoor. At the end of Eilish's song, Scott asks Amy Ryan's Holly Flax, "Did you like it? Did you like that?"
How, exactly, does any of that relate to Eilish's song, you ask? It doesn't — not directly, at least. As Eilish explained in a recent interview, "My Strange Addiction" is less about the specific episode and more her general dependency on the show overall. "You know, the song is called 'My Strange Addiction,' and it's about having somebody be your addiction and feeling like you're suffocating because you want somebody so bad that it's like a sickness," she says. "And, for real, it's just mainly because my strange addiction is The Office."
And, as you might expect, Eilish wanted to use the show in the song so badly that she was willing to risk getting sued. She further explained her dicey methods for obtaining the sample in an MTV interview:
"When we made the beat for 'my strange addiction,' it reminded me of the song they play when they do the Scarn dance. I thought that was really funny, so we literally just ripped the audio from Netflix and put it in the song, not at all thinking that they would say yes to it and we'd be able to put it out. Also, it's about strange addictions, and The Office is mine, so."