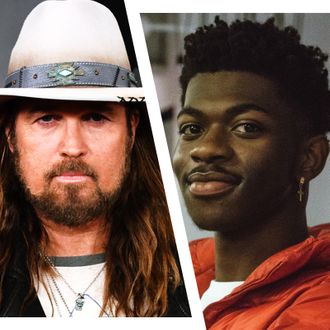 Billy Ray Cyrus and Lil Nas X.
Photo: Getty Images and Courtesy of Columbia Records
Lil Nas X's country-rap banger "Old Town Road" was destined to disrupt, so much so that after debuting at No. 19 on the Hot Country chart last week, Billboard decided to remove it for not being country enough. (Or rather, because it didn't "embrace enough elements" of the genre.) A member of the old yee yee club guard, Billy Ray Cyrus, soon swooped in with his cowboy hat to give the song a remix endorsement to widespread acclaim, and the crooner is now revealing why he was so inclined to team up with Lil Nas X with lyrics about Maseratis and horses and sports bras. He's gotta defend the honor of country music, y'all! "It was so obvious to me after hearing the song just one time," Cyrus wrote. "I was thinking, what's not country about it? What's the rudimentary element of a country and western song? Then I thought, it's honest, humble, and has an infectious hook, and a banjo. What the hell more do ya need?"
He added, as a fun anecdote: "A few days passed and I went to the studio to do vocals. When I finished the pass, I whistled at the end of the song. That's when the engineer stood up and said, 'That shit is fire' we're keeping that! Glad you guys are diggin' the tune, love seeing all your memes."
A few days before the remix was released, Cyrus effusively tweeted in support of Lil Nas X and the song, noting how Billboard's chart rules had screwed him in the past, too. "Been watching everything going on with OTR. When I got thrown off the charts, Waylon Jennings said to me 'Take this as a compliment' means you're doing something great!" he tweeted. "Only Outlaws are outlawed. Welcome to the club!" Yeehaw indeed!