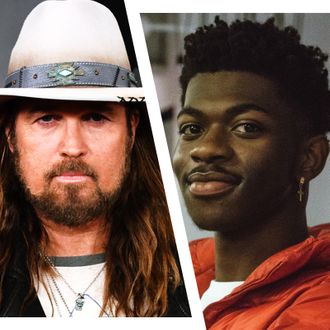 Giddyup!
Photo: Getty Images and Courtesy of Columbia Records
Well, if there's anyone you want giving your song some country cred, it's obviously Billy Ray Cyrus. Amid the ongoing controversy over 19-year-old rapper Lil Nas X's viral country-trap hit "Old Town Road" getting banned from Billboard's country chart for being deemed not country enough, Cyrus has swooped in to countrify it some more. So now instead of just having horses in the back and Lil Nas X ridin' on a tractor, we've got Cyrus singing about the old guitar and Marlboro man swagger — you know, that real Jackson Maine–approved country stuff. (Meanwhile, country singer Jake Owen is apparently also collabing with the teen, and Florida Georgia Line's Brian Kelley has openly supported "Old Town Road.")
Before dropping his remix, Cyrus showed love to the song and noted that all Billboard's stuffy rules have done is put Lil Nas X in the ranks of great outlaws like, uh, himself. "Been watching everything going on with OTR. When I got thrown off the charts, Waylon Jennings said to me "Take this as a compliment" means you're doing something great!" he tweeted. "Only Outlaws are outlawed. Welcome to the club!" Cyrus, of course, has notoriously been a sort of country pariah for his own genre flip-flopping — among other very Billy Ray Cyrus shenanigans — so we'll take his word for it. Let us also never forget the official "Achy Breaky Heart" trap remix, which, while released some 22 years after the original, is still somehow just so ahead of its time. Might Cyrus get Lil Nas X reinstated on the country charts? Better yet, ask Lil Nas X if he even cares. Yeeeeeeee-haaaaawwwww.