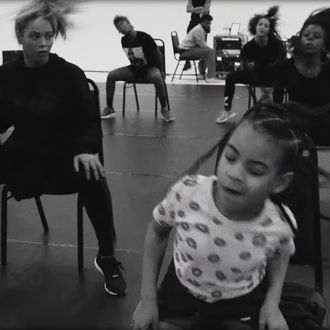 Blue Ivy being adorable and iconic as always.
Photo: Netflix
All hail the princess of the Beyhive. Blue Ivy shows that star power is genetic. She sings. She dances. She takes Instagram photos. There's no reason she doesn't have an album already. Beyoncé and Jay-Z will without a doubt produce and feature. Then Blue Ivy can headline Coachella just like her mother. What will we call it, Bluechella? Ivychella? We still have a little time before we have to decide.
She has her own version of "Lift Every Voice and Sing" on the Homecoming live album. She loved it so much that she asked to do it again. Before Homecoming, she showed her rap skills on Jay-Z's 4:44 and made an appearance in the "Formation" music video. She's been in the music business since she was 2 days old. Homecoming is just another addition to her growing list of song and film credits with her parents.
In one of the many takeaways from Homecoming, Beyoncé says she brought her children along whenever she could. There's no question Blue was back there becoming the master of choreography that she is and practicing her vocals. The quick clip from the trailer is enough proof. It's clear she's sitting back and taking notes from her mom until it's time to make her claim to the hive's throne. Seriously, where's her debut album?