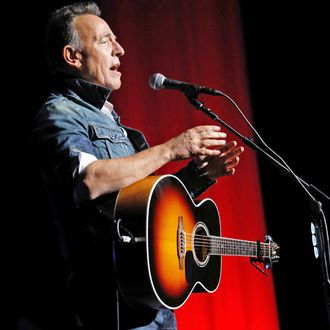 Photo: Brian Ach/Getty Images
What, you thought Taylor Swift was the only musician to release a big single Thursday night? Bruce Springsteen would like a word! "Hello Sunshine," the first single from his forthcoming LP Western Stars dropped at midnight with a lyric video. The visual itself is pretty standard: a classic teal car (with Jersey plates!) zooms along an open highway. "This record is a return to my solo recordings featuring character driven songs and sweeping, cinematic orchestral arrangements," Springsteen said in a statement, per Rolling Stone. "It's a jewel box of a record." Western Stars will be his first album of new songs since 2012's Wrecking Ball.
Western Stars was reportedly inspired by California musicians like Burt Bacharach and Glen Campbell, influences clear in "Hello Sunshine." The LP will be released June 14, just in time for you to find a highway, print out your MapQuest, and plan a trip to find yourself!