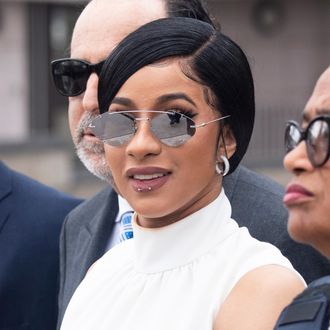 Photo: Johannes Eisele/AFP/Getty Images
Cardi B, in courtroom couture, rejected a plea deal on Friday over her alleged involvement in a Queens gentlemen's club melee last fall.
The "Bodak Yellow" rapper, née Belcalis Almanzar, was sporting a creamy head-to-toe ensemble made up of a tunic and palazzo-style pants, with white sandals, when she arrived to the courthouse about 10:30 a.m.
As Almanzar stepped out of a black SUV, a bodyguard held an umbrella for her under the light drizzle that began shortly before she arrived. She donned a large diamantine ring and her lip was pierced.
Prosecutor Ryan Nicolosi said the Queens district attorney's office offered Almanzar a deal under which she could just plea to one class-A misdemeanor.
The judge overseeing the case asked whether there was "any interest" in this offer.
"No, your honor," replied Jeff Kern, one of the lawyers representing Almanzar, during the three-minute-long proceeding.
The new mom appeared unfazed at court; before Almanzar's case was called, she smiled effusively at a toddler who was sitting on her mother's lap across the aisle.
Almanzar last appeared in court at the end of January. After that brief proceeding, Almanzar revealed that she and her husband, Offset, were trying to reconcile following the cheating rumors that may have prompted this alleged fight.
Court papers claim this altercation went down in the early hours of August 29, at Angels NYC Strip Club.
Sisters Sarah Wattley and Rachel Wattley, who were tending bar at the jiggle joint, claim the brawl broke out after one of Almanzar's pals threw a drink their way.
Sarah Wattley alleged that a drink got into her eye. Almanzar stands accused of hurling a "bucket-shaped object over the bar," as well as a glass bottle and booze.
Almanzar is rumored to have thought that one of the Wattleys had hooked up with Offset.
The next court date in Almanzar's case is May 31.
Prosecutors were offering Almanzar a conditional discharge, which basically means no jail time if she stays out of trouble. If Almanzar winds up convicted in this case, however, she could face up to one year behind bars.
Despite risk of jail time, Almanzar's lack of interest in this deal likely stems from maintaining her innocence, and not wanting a guilty plea on her record.