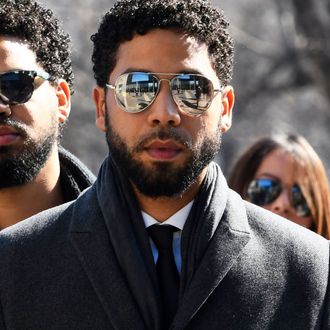 Photo: Matt Marton/AP/REX/Shutterstock
Felony charges against Jussie Smollett have been dropped, but the city of Chicago still has business with him. The actor is reportedly on the hook for $130,000 to repay the cost of his investigation, a figure that, by law, could be raised to more than $390,000. Smollett was accused of staging a hate crime after it was alleged that he coordinated his own assault the night two men jumped him in the street. If true, that would have also meant he filed a false police report about it. Smollett was cleared by the Cook County State Attorney last week, but Chicago mayor Rahm Emanuel still wants the actor to cover the price of the investigation.
"Mr. Smollett has refused to reimburse the City of Chicago for the cost of police overtime spent investigating his false police report on January 29, 2019," said a spokesperson for the city, according to Deadline. "The Law Department is now drafting a civil complaint that will be filed in the Circuit Court of Cook County. Once it is filed, the Law Department will send a courtesy copy of the complaint to Mr. Smollett's L.A. based legal team." At the time, Emmanuel called the decision not to prosecute Smollett "a whitewash of justice."
The actor, who plays Jamal Lyon on Empire, was cut from the last two episodes of the most recent season. It's unknown whether or not he will return, though co-star Taraji P. Henson, who plays his mother on the show, said today on The View that he will be back. Fox has not given an official comment.