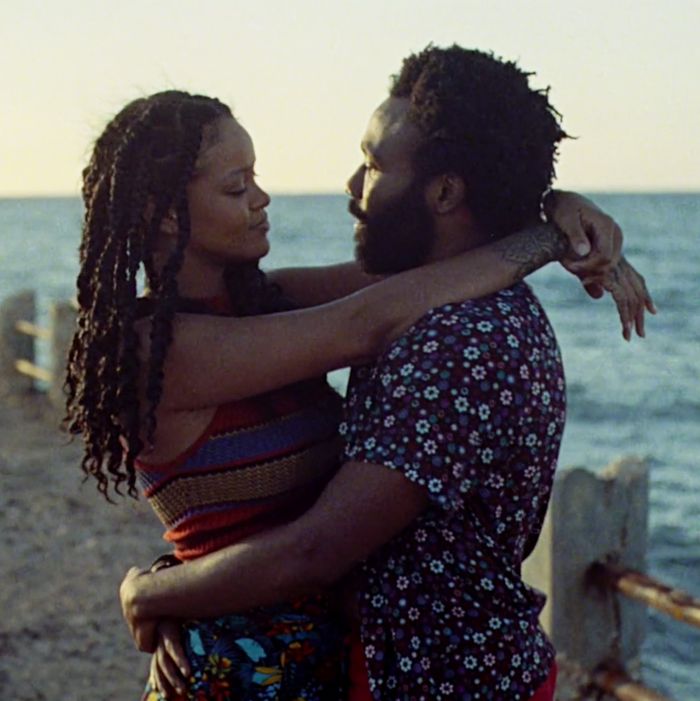 "I want everyone here to feel as free as you possibly can tonight," says Deni (Donald Glover) as a means of opening a much-anticipated music festival on a tiny Caribbean island. Deni's festival is homegrown and soulful, but the words "music festival" in 2019 (particularly those on Caribbean islands) conjure up images of billion-dollar mega promoters and the joyless excess and thirst of influencer culture. Hours before the film premiered on Amazon Prime, Glover was doing his own set before the hyped-up hordes at Coachella as Childish Gambino, his musician stage name and the name under which he produced Guava Island — it's billed as a "Childish Gambino Film" in the opening credits. In an emotional spoken interlude, ruminating on the recent deaths of rappers Nipsey Hussle and Mac Miller, he wondered aloud who, in the crowd of thousands, would be dead by next week, and then urged the audience (who he had already commanded to put away their phones), "While you're here, while we're here, feel something and pass it on."
The value of immaterial things in the shadow of capitalism is the central idea of the film, which was directed by Hiro Murai and written by Glover's brother Stephen — both longtime collaborators on Atlanta and elsewhere —and which has been shrouded in secrecy since filming first began in Cuba. At a spry 55 minutes, it seems to want to emulate that kind of ephemerality itself. The cinematography is grainy and cozy, like a sun-faded t-shirt; at times it feels like a lost student film that's been languishing in someone's basement for decades. It's easy to imagine a more beefed-up version of it, especially given its semi-mythical setting and storyline. But it purposefully lacks that kind of bombast, mostly tracking Deni's crisis of conscience as an artist working under the thumb of the local captain of industry until it inevitably ends in tragedy.
The film is bookended by narration from Deni's girlfriend, Kofi (Rihanna), who tells the story of the fictional Guava Island and how its paradise was lost when its prized silkworms drew in greedy industrialists. Through richly colored cutout-style animation, we see the island's origin as well as the origin of Deni and Kofi's romance as childhood sweethearts. But this is not Kofi's story, and after the introduction she largely fades into the background — a strange waste of an abundantly photogenic international pop star in what turns out to be a kind of casual musical. (If Glover was worried about being upstaged by Rihanna, that's the most understandable thing in the world, but such pettiness would feel out of place in this anti-capitalist fable.)
Deni, who appears to make a living singing on the radio and writing jingles for local businessman Red (Nonso Anozie), has promised the island's workers a music festival in the coming days. He envisions a music and dance-filled night off for everyone, a break from their jobs at the silk factory. But the big boss Red forbids it, not wanting to lose a day of labor from his workforce. With a death threat hanging over his head, Deni forges on anyway, while Kofi frets, sometimes confiding in her friend Yara (Letitia Wright). Along the way, there are a handful of musical numbers, including a reworking of Glover's hot-button viral hit "This Is America," reimagined in a loading dock at Red's factory. It's a response to a coworker's longing to save up and move to America so he can "be his own boss." The Childish Gambino song becomes a kind of current-day rejoinder to the American dream in the way "America" was for the Puerto Rican immigrant characters in West Side Story. The idea, of course, is that Guava Island is a microcosm of America, and that America is no more abundant with opportunity than this tiny, mono-industrial island.
The Glover brothers and Murai have, as ever, no shortage of big questions and ideas to build their stories around, and a line uttered by Rihanna to Anozie in the film's finale underscores the onstage sentiments of both Deni (at his festival) and Childish Gambino (at Coachella). Why then does Guava Island feel so small, and Glover's Coachella appearance feel so huge? One took, presumably, more logistical planning than the other — a feature(ish) film shoot and a musical set are vastly different undertakings. In this case the ideas feels diluted in the former, despite the latter being accompanied by the good folks at AEG and the stunty reveal of a limited edition collaboration between Glover and Adidas. One feels like a melancholy hang with characters we never really get a chance to know, the other like an existential emergency.