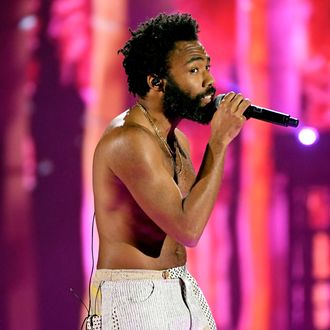 Childish Gambino.
Photo: Kevin Winter/Getty Images for iHeartMedia
You can save yourself a plane ticket because for its ninth year, YouTube will livestream Coachella to millions of viewers. Headliners Black Pink, Ariana Grande, Childish Gambino, and more will be viewable over three separate live channels. The first stream starts April 12 at 4 p.m. PT until April 14, and the second weekend from April 19 to 21. Streaming Coachella's second weekend will be a first for YouTube.
In addition to performing, Donald Glover, under his soon-to-be-retired moniker Childish Gambino, will premiere his mysterious new film Guava Island, co-starring Rihanna, during YouTube's Coachella stream (onetime only, according to a press release). The film has few concrete details (Rihanna starring is more than enough) besides also starring Letitia Wright and Nonso Anozie. Hiro Murai (Atlanta), Glover's frequent collaborator, directed. It was filmed in Cuba, so you can watch the beautiful images at home, sad that you aren't there.
News of the upcoming project broke late last September, and Glover premiered a trailer in November at his Pharos Festival in New Zealand. The trailer features Glover playing guitar and dancing, but also at another point being held hostage (will Rihanna have to save him?). So this weekend be sure to pull up YouTube, sit on the couch, and sip some guava juice.