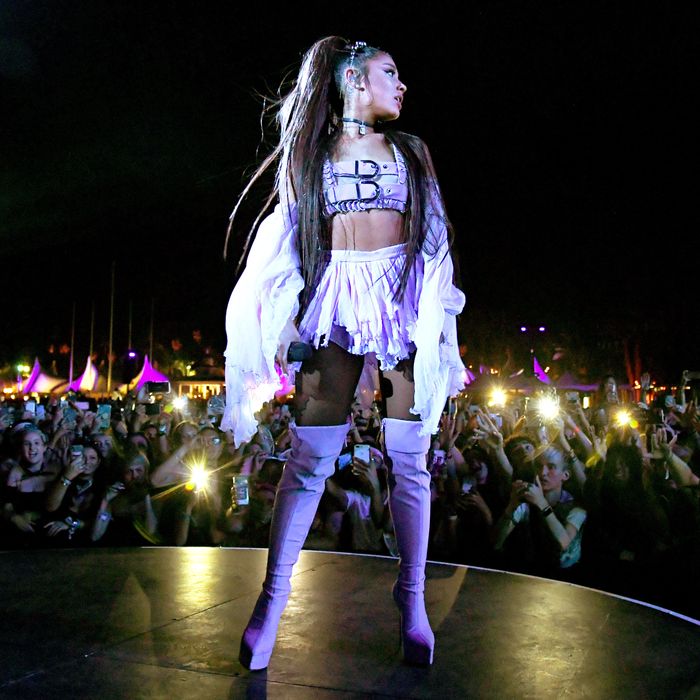 What is Coachella post-Beyoncé? For Ari, a stage where you can live out your fantasies.
Photo: Kevin Mazur/Getty Images for AG
An hour before Ariana Grande comes onstage to headline the third and final night of Coachella 2019's first weekend, Lauren Mayberry of Chvrches asks in a tent on the opposite side of the field, "What does Coachella even mean post-Beyoncé?" It means everything is possible. International acts? Bring it. Sets that are equal parts choreography as they are tight musicianship? Yes please. Mainstream pop? In a field that is the internet transposed IRL, 100 percent. The lineup aligns with the collective mass's Spotify algorithm. Popular is king.
Grande needn't be framed as Bey's successor. That's impossible. Grande is a force in her own right; the biggest streaming female artist in the world, who has released her two biggest albums just within the past year. "Coachella, I've been rehearsing my whole fucking life for this moment," she says with her first address. "Make some noise for NSYNC!"
An early jawdrop sees the four members of the '90s boyband (i.e., minus Justin Timberlake) blast out onstage like they've never been gone (aging process aside). They perform a chorus of their 2000 deep-cut "It Makes Me Ill," which Grande recently interpolated on "Break Up With Your Girlfriend, I'm Bored." Then, with Grande as their fill-in fifth member for the night, they pile into the deliciously old school "Tearin' Up My Heart" with their classic logo pasted on the video screens behind them.
Maybe that's what Coachella is post-Beyoncé: a stage where you can live out your fantasies. When Grande says she's been "rehearsing," she's referring to the fact that she's about to bust out the song's OG choreography. She takes Timberlake's vocals on the second verse. "I can die now," she says as the four men disappear.
Grande is a genius at monopolizing her own nostalgia, arriving at her peak during a time of ultimate '90s throwback, leaving little Easter eggs from her own favorite songs in her new material. Her set is a dedication to what brought her to fantasize about this moment. A little clip of the film The First Wives Club to introduce the new jack swing of "Be Alright"? Sure! Choreography that involves a lot of seducing dancers by wrapping her limbs around them on items of furniture? Please help yourself to this dining table, Ari, or this chair over here. She wears a tiara and her trademarked ponytail, her knee-high boots and ruffled sleeves framing her like the eternal prom princess she is.
The crowd is extraordinarily quiet considering the fever attached to this moment. Hysteria is much easier to feign online (#crying, etc.). It's way more effort in reality. Maybe they're just anticipating the next piece of her career-spanning set. Her signature breath-y voice — a paean to Mariah Carey and Christina Aguilera — is out of control. Those riffs and runs are enough to bring her competition to tears. But it's her personality, her smile, her audacity, and her riches that carry the night.
Grande loves to treat. Within the second chorus of opener "God Is A Woman," she already has her head draped upside down over the aforementioned table; several female dancers are lying on her chest, as she sings note-perfect. For "Breathin'' she brings a chorus of violinists and literal fireworks. Her guests feel like individual events. Nicki Minaj is the second big surprise on "Side To Side' and "Bang Bang." There's even an appearance from bad boys Ma$e and Diddy for a rendition of "Mo Money Mo Problems" (led into with "Break Your Heart Right Back," which interpolates the song and uses the same Diana Ross sample) on Grande's catwalk. Diddy nods to the deaths of Tupac, Biggie and Mac Miller. "Give it up for my sister," he says. "She's been through a whole lot. She's still standing."
It's kind of all over the place. You wonder what the thread is. "At this stage in pop music, there is no thread," says the guy next to me. He's right. The last third of her set arrives with a pace that could only belong to a superstar with enough pop gold to make threads redundant. The undeniable "Into You" sees a crowd-wide dance-off release. It's followed by the hot-as-hell "Dangerous Woman" and the EDM revolution of "Break Free." Running out of time, she cues "No Tears Left To Cry" and "Thank U, Next." The former an anthem of perseverance; the latter an ode to self-love. It feels good. A sensation that can never be overrated.