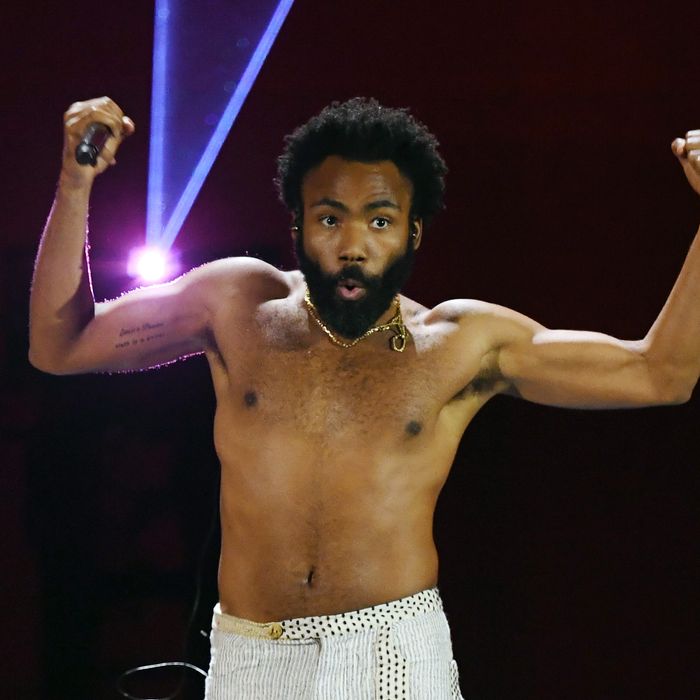 The experience over the course of his set is entertaining as hell, but it's also intense, unsettling, and makes you ask questions of yourself.
Photo: Ethan Miller/WireImage
For a brief second during Childish Gambino's Friday night headline slot at Coachella, there is a notable uh oh shift surging from the front to the back of the crowd. "I lost my dad this year… we lost Nipsey …," he says, in the most intimate moment he'll share with the crowd for the night, crouching down on the stage — his pulpit — trying to get on the same level as the 100,000 people standing before him. "All we really have is memories. All we are is the data we pass on to our kids, our friends, our families." He continues to preach about information overload and the fear our desire to manipulate every outcome creates. "There's a good chance that at least one of y'all won't see next week."
That wasn't what Coachella attendees came to hear. You can sense a boo brewing in the air; if nothing else, there's a palpable wtf washing over the crowd. That buzzkill subsides fast, but there's no forgetting what just happened: 35-year-old Donald Glover used the opening night of this weekend where so much will be overproduced to remind these revellers that they're not in control, that they don't have all the time they think, that death has no mercy and that life is precious.
As Childish Gambino, Glover offered up a performance as multi-layered as his own life's achievements. He is a singer with a shriek as rare as James Brown's; he is a rapper with a voice as authoritative as a pastor's; he is an actor with expressions as nerve-wracking as Jack Nicholson's; he is a comedian whose humor intends to provoke more than it offers an escape. You see all of that here onstage. "I'm trying to give you an experience," he instructs the crowd, after he opens his set from the middle of his runway, shirtless, with a new song and a new lyric: "everybody wanna get chose like Moses."
He instructs that phones are unnecessary. He wants church, he's brought a choir dressed in religious garb, he's channeling spiritual healing. The experience over the course of his set is entertaining as hell, but it's also intense, unsettling, and makes you ask questions of yourself. Glover came to hold a mirror up – not to the enemy or the overlords, but to each and every one of us.
The mirror isn't always so abrasive. Sometimes it's hysterical. Before he comes onstage, a video montage runs from earlier in the day of festivalgoers outside a hangar where his new movie with Rihanna, Guava Island, was screening. They were asked what they thought of Glover's headline slot. Some were positive. Many weren't. "I don't really vibe with him," said one. "It would be good if he brought someone out," said another. The crowd laughs. (By the way, the only person Glover does bring out is Ludwig Göransson, his long-term producer, who just won an Oscar for the Black Panther score – he plays a brief, shredding guitar solo). During the set, Glover walks into the crowd with a joint, offering one audience member the chance to get high with him. "How old are you?" he says to one man. "Let me see this ID." He conducts his unparalleled band from the center of the crowd while this lucky customer attempts to stomach Gambino's entire spliff. He looks as blazed as your first time; Gambino looks as cool as a cucumber.
The music is his vehicle for joy ("Have Some Love," "Summertime Magic," "V.3005"), anguish ("Terrified," "This Is America"), and control. He can handle all of it. On the latter, he debuts a new song halfway through against a backdrop of visceral red lights that's so bass-y it almost resonates in your throat and in your gut the way brown noise does. It's intentionally difficult to withstand. Glover turns the knob on hedonistic levels of noise just one twist too far. It feels primitive and tribal; his Auto-tuned indecipherable vocals are scary as he moves like a madman on the loose. Once it's over, he offers the audience a downbeat cover of Gnarls Barkley's "Crazy." "Does that make me crazy?" he serenades. "Probably."
There are two other new songs. That aforementioned opener is from his current tour, fan-titled as "Algorhythm." He asks "Do you love me?" in the lyrics with a hint of anxiety about his task tonight. The last new song is rumored to be titled "Human Sacrifice," and has appeared in his Google Pixel commercial. "One thing about this song," he introduces it, "when the beat drops I need everyone here to fucking lose it. There's a big drop." Indeed, it's an ecstatic drop, and a release after the assault course that pre-empted it. The song has the melodic satisfaction of R&B pop gold with the electronic production of Daft Punk. He follows it with 'This Is America' – his state of the world address. "You know this one," he jibes, non-plussed that many doubted he had enough material to justify a top-tier spot on this bill. As the song nears its end, the camera follows him offstage where he hugs Janelle Monáe, whose face is staggered by all he just did. "He's the greatest," says an onlooker. "He didn't get here by chance."