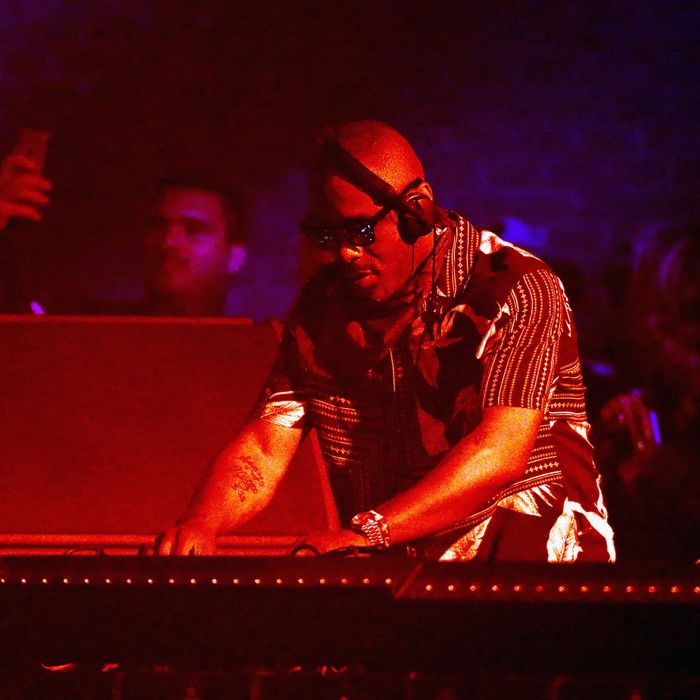 "Young people of our generation are really into DILFs!"
Photo: Rich Fury/Getty Images for Coachella
For most, it's not remarkable to know who Idris Elba is because you likely saw him play Stringer Bell in HBO's The Wire over a decade ago and have been unable to look away ever since. However, if you're two 18-year-old girls who were 3-year-olds when the series ended in 2004, that's all pretty remarkable news to them. "He's an actor?! What's he been in?" They, along with their group of teen spring-breakers, respond in shock when I enlighten them about Elba's past as we all wait in line outside the Yuma tent on Saturday night at Coachella to see him. "I just love techno music. Gimme that bass," they go on. Well, they're about to get it. Lots of it.
Somehow, the festival booked Elba to play a two-hour DJ set that clashes with Aphex Twin, Juice WRLD and — arguably the biggest artist in the world right this nanosecond — Billie Eilish. Not that this matters at all. As the clock strikes 9 p.m., there are, I'd hazard, a cool 1,000 people desperately trying to form any kind of line to negotiate their way into Elba's venue, but it's already at capacity before it begins. What could possibly have convinced the masses to witness Elba in action for the one thing he's rarely been taken seriously for? Another pair of teens chimes in, "Young people of our generation are really into DILFs!" "Besides his accent and his velvety rich voice, it's his maturity and class," continue my two 18-year-old friends here. "Yeah, he's the suavest," adds the second. "He's husband material, man," nods the first. "He's like a therapist. But like … this set is two hours long. We thought it would be easy to come by. We thought nobody would be here."
That's not an unfair assumption. The 46-year-old Brit is known mainly — to everyone except his youngest admirers, apparently — for his TV acting (The Wire, Luther, The Office), all those Marvel movies, and fan insistence that he play James Bond. And, of course, for being objectively Very Sexy. Most recently, though, he played the lead in Netflix's Turn Up Charlie, in which he's a struggling DJ. Is it possible his inclusion on this year's lineup is part of a cunning plan to capture footage for season two of the Netflix series? Did the fact that he DJ'd the wedding of Prince Harry and Meghan Markle as "DJ Big Driis" suddenly legitimize his spinning skills at one of the world's foremost music festivals?
Overhearing the teens in line, awestruck that Elba ever did anything outside music, two professional Manhattan women look on knowingly. "We love his acting," they say, keen to establish their long-term Elba appreciation. "We didn't know he was a DJ, so we Googled the music and we actually really liked it." Many of the younger attendants here will reveal that their gateway to Elba came via the British dance track "Boasty"' from Wiley, Sean Paul, and Stefflon Don, which also features a verse from Elba. As the line speeds up, the New Yorker ladies lose all chill: "Ah! He's so sexy. He's actually gorgeous! OMG, we're gonna get in!"
The older ravers among us equally can't contain their skepticism. "Let's see what he's got," says one man, as we spill onto a hardwood dance floor. We're immediately met with sensory overload: The ceiling lights up with boxes like the ground of the "Billie Jean" music video; there are ample disco balls to match the copious cowbell that first greets us on our way in; crowdgoers carry inflatable devices — significantly, one giant Tootsie Roll flies over a sea of hands — while diamanté-encrusted sharks hang from the roof. "MAKE SOME NOISSEEEE!" comes the voice of God. It's hard to know where Elba and his decks are at first, but at the very back of the tent, at the end of a venuewide platform, there he resides, commanding a first half-hour of relentlessly hard techno-leaning house music.
It's worth noting that there is a cross-section of more demographics at Elba's event than I have ever witnessed at any Coachella set. Could it be a testament to Elba himself? Is it a sign that house music can and will truly save the planet? At a festival renowned for enabling narcissism at the expense of community, here is a sign of unity and oneness. One man in his 40s is down the front with a "Happy New Year" cone hat strapped to his head. "I'm Ewan! I'm from Glasgow, in Scotland!" he screams proudly. "I knew he would be great." His friend was less sure and seems to be having some kind of existential crisis. "It's jarring," he says. "I'm trying to mentally work through that it's not Stringer Bell up there. That's not what Stringer Bell does."
There are some treats for the nostalgic, a little nod to Inner City's "Big Fun" here, and a deep-house remix of Beats International's "Dub Be Good to Me" there. A smoke machine explodes, sending the hedonists into a frenzy. Elba is surprisingly adept at building his climaxes. An older married couple are here studying. She holds her iPhone camera to the ceiling, trying to Shazam some of the obscurer tracks; he is scrambling to capture video after video of Elba's seamless transitions. He tells me he's been a DJ his whole life, he's from the local area, and he got a ticket for the festival last minute just to scope out Elba. How is Elba faring? "He's badass!" he says. "This place has been a lot of drum 'n' bass today but Idris is bringing an energy." You mean he has soul? "Yes, yes, that's it. Definitely. He knows how to carry his shit."
It's true. Elba has the Midas touch. He doesn't need to tell the crowd what to do. They just know when a chorus of synchronized handclaps is required, when a call-and-response of hooting is in order, or when it's time to start jumping up and down in preparation for an evening that might not end for another 12 hours. "Coachella!" comes Elba's official address three-quarters of the way through. "What the fuuuuuuuuuuuuuuck?!" In a never-not-maxed-out tent during a prime Saturday-night hour on this first Coachella weekend, we asked ourselves the exact same thing.