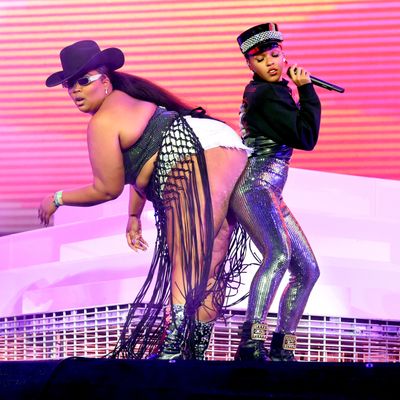 You're damn right Lizzo and Janelle Monáe had a twerk-off.
Photo: Kevin Winter/Getty Images for Coachella
Our feet may be swollen, brains fried, and souls snatched, but, Coachella 2019, we have endured! Weekend one is officially in the books. And while some of its biggest takeaways will surround Ariana Grande completing her ascension to pop's throne (with approval from its former reigning kings, 'N Sync), Donald Glover's no-nonsense approach, Black Pink's history in the making, and, yes, Idris Elba (excuse us, DJ Big Driis), plenty more went down in the desert between those headlines. Did you catch Janelle Monáe as resident stage mom for all her peers? Or Billie Eilish's mini-meltdown? How about Lizzo completely owning the festival in her debut? Who has the time?! Lucky for you, Vulture did. Here's the highlight reel of everything you missed from on the ground.
HIGH: Kacey Musgraves didn't say fuckin' "yee"
On Friday, the country crossover queen played a flawless set backed by impeccable musicianship for her first Coachella. Musgraves isn't all niceties, rainbows, and exquisite lyrics though. She's also got a mouth. Her call-and-response instructions to the crowd to say "haw" to every "yee" inspired a fiery reaction from her when the fans messed up. "I didn't say fuckin' yee!" she squealed as we missed our cue. During her final song, "High Horse," the giant disco ball in the center of her stage turned the field into Hicksville Studio 54 temporarily after a drop so hard you could see Maggie Rogers and Clairo going off down the front at the barrier.
LOW: Billie Eilish's near-disastrous set woes.
The teen phenom had the largest week of her life earlier this month with the release of her debut album and all its multiple successes. The anticipation for this set was beyond hype, and yet she was severely delayed coming onstage due to a technical difficulty with her stage, she forgot the lyrics to one of her own songs, and she invited Vince Staples onstage only to see him struggle with a microphone that wasn't switched on. Of course, all this has since been forgotten because Eilish subsequently blew the cobwebs away, and some. But you hope things go a helluva lot smoother for her next week.
HIGH: Maggie Rogers made you want to strap yourself to a horse and ride across the desert.
It was potentially the set of her career so far in a tent so packed on Saturday sundown that if you weren't there early there was no chance in hell of getting a vantage point. Rogers made an impassioned speech about playing Coachella for the first time and not being allowed to come when she was offered a free ticket at the age of 18 because she'd yet to graduate high school. "Here I am, mom!" she joked. She could barely transition between her last few hits, such was the never-ending applause coming from her fans between songs. What are Maggie Roger fans called? By this point they need a name. Let's brainstorm.
LOW: The set conflicts should've been illegal.
During Rogers, Christine and the Queens was on the Outdoor Stage and had reinvented her tour especially for this festival, with stunning pyro to boot and a moving cover of David Bowie's "Heroes." Approaching the field, though, there was barely a soul in the general-admission section. The Venn diagram between Rogers fans and Chris fans is one enormous circle by this point. Chris deserved as big a crowd. The night prior, The 1975 were up against Black Pink and Rosalía during their first proper set of their U.S. tour. It wasn't as empty as Christine, but it wasn't heaving either. Goldenvoice, in the almost words of Matthew Healy, I'd love it if we made … some changes to next week's schedule.
HIGH: Musicianship was out in full force.
A lot of artists showed off their bands this year. See first Anderson .Paak, who conducted an army of brilliant players while also running between a raised drum kit and the front of the stage to rap to the masses. Musgraves, too, had a band of next-level rockers who jammed the bejesus out of something like a modern-day "The Chain" by Fleetwood Mac so she could take a brief respite from being everyone's favorite new superstar. Meanwhile, artists like Childish Gambino and Khalid brought out full choirs for showstopping vocal moments (a preview of Kanye's church service to come next week, perhaps?).
LOW: The Sonora tent had wack sound.
First the name. Try being fried in the Californian desert for a weekend and not constantly misnaming this the Sonoma tent. Sonoma makes sense. Anyway, the sound in here was abysmal for two out of three sets I witnessed. The problems with alternative pop act Still Woozy spanned beyond just bad sound though. (The part where he humped an inflatable unicorn comes to mind.) A shame in general considering that this is the spot for many bands and indie acts who, you know, are primarily all about sound.
WHOA: Janelle Monáe was Coachella's biggest fan.
It's quite possible that Janelle Monáe saw more sets than anyone this weekend, in addition to performing her own. She was filmed side-of-stage on Friday night when Childish Gambino came back briefly before the encore of his headlining set. She was seen running down the middle of the crowd at Unknown Mortal Orchestra on Sunday. She hot-footed it to Lizzo straight after. Who even are you if Janelle Monáe didn't come to your set?
HIGH: Did you even dance, bro?
Choreography and dance troupes were a major mood at Coachella 2019. From Christine and the Queen's gender-bending Broadway antics and Billie Eilish's internet-age teen phenomena to Ariana Grande's sleek ensemble and Lizzo's booty-popping harem, you were nobody in Indio this weekend if you didn't have the most fire posse of movers and shakers surrounding your every limb.
WHOA: Tame Impala performed under a psychedelic halo.
There was a ginormous circle above the Australian psych kangaroos on Saturday night that twisted the melons of every shroom'd-up music geek baying before the band. It rotated, it descended, it even flipped itself to stand. Front man Kevin Parker's banter was completely at odds with the grandiose production, bringing them immediately back down to earth. While he humbly accepted his task, his band offered up the greatest display of rock boogies all weekend.
HIGH: Coachella weekend one belonged to the one, the only, Lizzo.
It was breathless. In a silver cape, delivering her own hashtag (#ASSCHELLA) for the weekend, Lizzo secured the best crowd participation of the whole festival, obviously. Except it wasn't obvious to most of the music industry for the longest time. There were deafening ovations and the atmosphere was one of uncontainable love. "This is my first time playing Coachella so ain't nuthin gonna fuck up my shit, bitch," she said. A human beacon of body positivity and self-love, she also treated the crowd to a new song, a quick rendition of TLC's "No Scrubs" and a spot of chanting. "I am my inspiration," she said. "Do y'all wanna sing that with me? Can I get an amen?" Now thats what you call an influencer.
WHOA: Weezer would have the best dinner party guests if they threw a dinner party.
Not only did Weezer bring literal fire to their performance of classic "Hash Pipe," they brought out Chilli from TLC to perform "No Scrubs," and — wait for it — invited Tears for Fears on to play objectively the best song ever: "Everybody Wants to Rule the World."