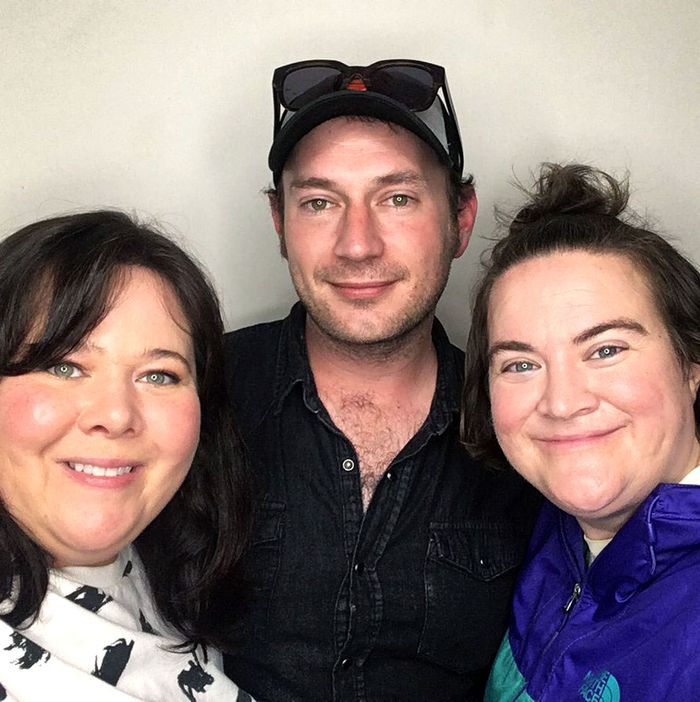 Photo: A Funny Feeling/Twitter
The comedy podcast universe is ever expanding, not unlike the universe universe. We're here to make it a bit smaller, a bit more manageable. There are a lot of great shows and each one has a lot of great episodes, so we want to highlight the exceptional, the noteworthy. Each week, our crack team of podcast enthusiasts and specialists and especially enthusiastic people will pick their favorites. We hope to have your ears permanently plugged with the best in aural comedy.
A Funny Feeling - Lickin' Lips w/ Brandon Scott Jones
This week on A Funny Feeling, hosts Betsy Sodaro and Marcy Jarreau welcome comedian Brandon Scott Jones (Isn't It Romantic, The Good Place). Quick side note: Do yourself a favor and download any podcast featuring BSJ. You'll thank me later! Before jumping into Jones's own spooky stuff, our hosts recount a haunting that took place in an Alaskan home for children and talk about how Jarreau recently got stranded on a broken-down cruise ship. Honestly, both tales were pretty terrifying! Upon welcoming Jones, our threesome jump into the scariest conversation of all if you suffer from social anxiety: how to politely tell a psychic their reading of you was totally wrong. As someone who has been in this situation before and not spoken up out of fear of being rude, this resonated with me hard. From there, Jones takes us back to his high-school days and describes a frightening unearthly experience that took place in the nurse's office of his school. For more details on this mysterious event, tune in to A Funny Feeling. —Tom Rainey
Listen: Spotify | Apple | Website
Good For Her! - QVC Rankings
The THNK1994 Museum started as a Tonya Harding–and–Nancy Kerrigan–focused art gallery in a 25-foot apartment hallway in Brooklyn. Curated by Matt Harkins and Viviana Rosales Olen, it expanded to include other classic celebrity moments from the Zeitgeist including exhibits on the Olsen twins hiding from the paparazzi and Anna Wintour's double-crossed legs. The mission is to provide visitors with "a fresh look at a familiar subject." Enter Good For Her! Harkins and Olen's pitch-perfect audio extension of the brand offers the same loving look at niche topics, only in your home instead of theirs. This week the duo shares their fascination with the cable-TV shopping channel QVC to provide their ranking of the top-five QVC hosts. Inspired by a ridiculous clip of two hosts trying to determine whether the moon is a planet (which also inspired a past museum exhibition), the countdown seems fueled by the same sort of mania someone pushing product in a showroom might feel after making a sale. From wild guesses about what the hosts do with their hard-earned money to conspiracy theories about their identities, the commentary is as sidesplitting as that time a lady called into QVC and screamed, "Do you see I'm on the fucking phone?!" on live TV. —Becca James
Listen: Spotify | Apple | Website
Dunktown - Mike Mitchell + Celtics vs. Pacers (Round 1, Game 4)
Dunktown hosts Agata and Anastasia have spent the 2018-19 NBA regular season getting up to speed on their new favorite sport, one game at a time. So far, they've covered every team but the Indiana Pacers — perfect timing, with the Pacers-Celtics Round One playoff series well under way. Boston superfan and most-requested guest Mike Mitchell (Doughboys) joins the Dunktown squad for Game Four. Mitchell takes listeners through his NBA history, which of course includes the "hut dogs" at TD Garden. The three move on to assorted NBA news with the segment "Previously, on Basketball." Most of these news stories are beef-related. Unlike other pregame analysts, Dunktown covers the things NBA fans really care about, like alternate playoff hashtags for the Celtics (#Kyrie'sCuties > #CUsrise). During the game, Agata and Anastasia offer more key talking points, like how there were so many nut shots in the first half, Tom Bergeron would be proud. Also: Which Celtics and Pacers players would you like to kiss? Agata and Anastasia should be hilarious playoff companions for NBA fans casual and hard-core alike. And shoutout to Dunktown's logo, one of the coolest in the podcasting game. —Mark Kramer
Listen: Spotify | Apple | Website
Girls Gotta Eat - When You Know, You Know With Eden Grinshpan
I'm not sure what I was expecting when I downloaded the latest episode of Girls Gotta Eat, featuring co-hosts Rayna Greenberg and Ashley Hesseltine, but they seem to have an avid following so I popped the earbuds in and cranked up the volume — most podcasts tend to undermodulate their sound and I'm forever straining to hear them. Whoa! These ladies are plenty loud and funny as well. (Hesseltine's a stand-up and Greenberg's a writer, so that tracks.) They motor through the early going, recapping a trio of recent live shows they did in New York and talking about one jerky guy in particular and some foodstuffs — an ongoing driving topic. Then they welcome their guest Eden Grinshpan, who is the super-empowered co-owner of DEZ (short for "dessert") in New York and also hosts the Canadian edition of Top Chef. Her success in the marriage department has the hosts falling all over each other to get her secret as to how she's been blissfully with the same handsome guy for eight years. And her answer is surprising — she and hubby Ido Niv-Ron got engaged within a couple of months of meeting but didn't get married for another year and a half. She says that the commitment with ring included upped the ante to help them settle their differences along the way instead of taking the easy way out. They close the show with emails from listeners under the heading "Psycho or Power Move," all about what they did to get back at some douchebag dudes. Side note: These two do some of the best commercial segues I've ever heard — they're so skillfully folded into the show they're halfway into a spot before you realize the guest isn't in there with them. Real pro stuff. —Marc Hershon
Listen: Spotify | Apple | Website
Other Podcasts We're Listening To:
Conan O'Brien Needs a Friend - Tig Notaro
Listen: Spotify | Apple | Website
Black Men Can't Jump in Hollywood - Homecoming ft. Milly Tamarez & Monique Moses
Listen: Spotify | Apple | Website
I'm Too Effing High - Paul Rust, Suzi Barrett, Dave Theune, and Luke Null (Live)
Listen: Spotify | Apple | Website
Burl's Worlds of Wonderment - Well of Childhood Resentments
Listen: Apple | Website
Strange Times - Episode 300: Endgame
Listen: Apple | Website
Got a comedy podcast recommendation? Drop us a line at comedypodcasts@vulture.com.