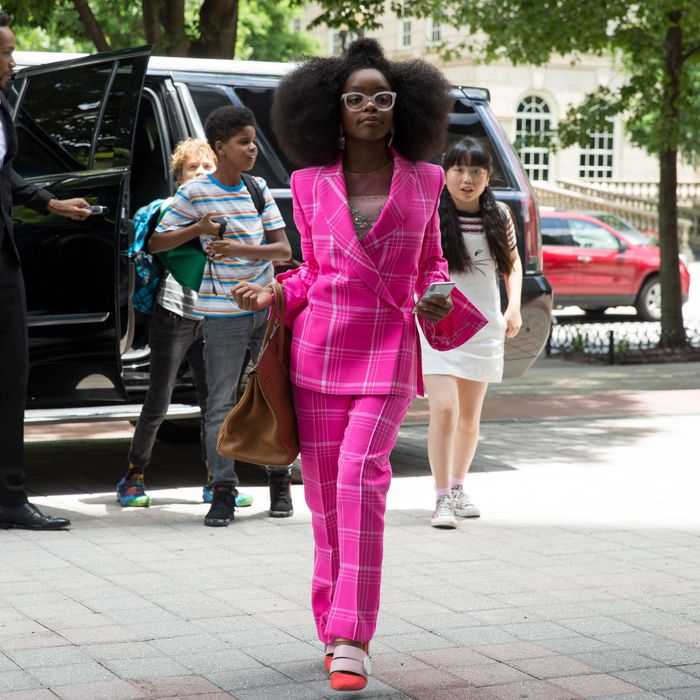 Come on, let's take a walk through wardrobe.
Photo: Eli Joshua Ade/Universal Pictures
"This is an aspirational movie," costume designer Danielle Hollowell explained of Little, the Tina Gordon–directed movie that applies the reverse Big formula to a ruthless tech mogul — played by both Regina Hall and Marsai Martin. Hollowell's description is fitting. Aspiration is what fuels career-obsessed Jordan Sanders, before and after she wakes up to find that she's swapped bodies with her teen self and has to retain the services of her long-abused assistant (Issa Rae as April) in order to continue running her company from behind the scenes. Aspiration is also what it takes to bring a body-switch story to the screen. Like the rest of the Freaky Friday genre of movies, Little requires the audience to suspend belief as they watch a junior-high-age Martin, dressed in oversize designer clothing, bend her elbow just so and balance the kind of handbag that belongs on the arm of a seasoned tech CEO.
We have Hollowell, who previously dressed comedies like Girls Trip and The Best Man Holiday, to thank for these flourishes. Her deliberate costume and accessory choices, made in concert with Gordon and her actresses, communicate the subtle quirks necessary to make a science-fiction body-switch trope feel hilariously feasible. "When I first started in comedy, one of my first [gigs] was Chappelle's Show, and I actually mostly approached that as realistic," Hollowell says. "I thought the realer it was, the funnier it would be." From Virgil Abloh and Agnes Baddoo to Cushnie and EBJ Gallery, she relied on as many designers of color as she could to bring her vision of "black girl magic" to the screen. "I knew [the film] was filled with joy, laughter, and magic," she adds. "I knew that my palette was going to be beautiful brilliant colors [that would] envelope you across the screen. Before I went to any vendor, I knew that's what I wanted to do."
From Martin's double-breasted power suit to Hall's magical Stella McCartney dress to the sci-fi-appropriate getup Rae had to wear, vibrant color is certainly a persistent design theme in Little. Ahead of the movie's release, Hollowell helps Vulture break down the stories behind her costumes and how those three looks come to define Little's cast of leading women:
Issa Rae as April Williams
"That character is not going to go to mainstream stores," says Hollowell of April, the assistant to a tech mogul whose life is considerably less glamorous than that of the woman who wakes her up at all hours to bark orders. To dress April, Hollowell looked to a combination of vintage shops and accessible designers like Alexander Wang, sprinkling in pieces that she made from scratch — like graphic T-shirts and a bomber jacket inspired by a vintage item she found.
April might start out as a tastefully bohemian ladder climber — less a Maxxinista, and more a gifted thrifter — but as soon as she realizes that her boss Jordan has been literally downsized, desperately needs April's help, and is willing to relinquish some of her designer duds as a result, the assistant's taste in fashion shifts. After she cuts a deal with Little Jordan and agrees to be the public face of her business, April borrows a comedic amount of designer apparel from Jordan's wardrobe to look the part. And thus the loudest ensemble of the film (pictured above) was born.
"We thought, Well, what is the part?" Hollowell says. "We started with the Chanel gloves straight up — that drove home the point of over-accessorizing. April didn't really know [what to put on], so I decided to pour it on when I did that outfit. I took it to another level where almost every designer label that you can think of was in one outfit." The outfit consists of a YSL leopard-print shirt, a House of London gold pencil skirt, and Charlotte Olympia butterfly shoes. "Then, of course, I piled tons of jewelry on her." The look screams cutting-edge tech tycoon and unfortunate fashion victim all at once.
Before April transforms into her idea of a powerful figure, she dons a more sensible ensemble made up of some of the aforementioned vintage items. "The shirt [above] is vintage Escada. I found it in L.A. during my first day of shopping for the movie," Hollowell recalls. "I went into a vintage store on Melrose called Second Street, and I was going through things, and I thought, What is this? I called it 'swashbuckler meets Robin Hood.' We were all laughing. 'This is it. This is April.' It was very fine corduroy with trim details in brown, and the shirt [itself] was a very fine canvas. Everyone agreed it was just fabulous." She found a pair of basic Topshop trousers from two seasons ago in the same store. April's Converses, however, were one-of-a-kind — Hollowell had the company venture into its archives and send special shoes just for Rae. "I think it is Stella McCartney [in collaboration with] Converse."
Regina Hall as Big Jordan
Adult Jordan Sanders only has a few scenes in the movie, appearing at first as a structured, intimidating tech figure who bullies even the children around her. Near the end of the film (and if this is a spoiler, you've probably never seen a body-switch movie before), she returns as an approachable, reformed woman who's survived a living nightmare and lived to tell the tale. For Hollowell, the challenge was finding pieces to reflect that transformation.
For the night Big Jordan becomes Little Jordan, Hollowell easily chose a striped Adam Lippes robe, which looked good on both of the actresses and still exuded power. But the outfit that preceded it "was a bit of trial and error," Hollowell admits. Jordan had to establish her high-powered status immediately, so Hollowell reached for a pair of red Rag & Bone trousers and a well-fitted shirt by Virgil Abloh. "[All the pieces] had to be perfectly in sync. We put the [clothes] on her and Regina was like, 'Wow. Bright red means power, right?' You don't usually see women in that color because people are scared of it. We knew we had to go full-on with that cherry red and that blue pinstripe shirt — with a touch of femininity when she turned around."
(Not pictured above: the pink Valentino shoes Hollowell found to go with the red pants.)
To mark Hall's return to screen, Hollowell chose a Stella McCartney dress that she describes as "magical." "Of course. Of course she's going to have a Japanese-esque, sunset-colored, origami-shaped structured dress," Hollowell says. She paired the sheer top layer with a custom body-con and white Dries Van Noten blue block heels. "I felt like when she put the sunset orange on, it just brightened up everything. She was wearing this at a point after she comes back. I feel like it softens her a bit. It makes her feel more [accessible] to me, even though she's still wearing this badass dress. And she's got that Agnes Baddoo purse with her; it just finishes it off."
Marsai Martin as Little Jordan
Long before her bizarre midlife crisis, Jordan "was a nerd [who got bullied] when she was a child in the '90s," Hollowell explains. "I actually made a lot of the stuff that you see on her as a kid [in flashback]. I made the blouse that she wore when she was doing her science experiment. I based it on a 1990s blouse that I had found in a vintage store. Her socioeconomic status, when she was younger, was lower middle class. She didn't have a lot."
But in present day, Martin plays an adult trapped inside a child's body. To mark the difference in circumstances, Hollowell accessorized Jordan with an over-the-top sandy-colored Birkin bag (which was referenced in the script) and looked to a range of established designers, from Olivia von Halle (for a pair of shark-patterned pajamas) to Alice + Olivia.
Fully aware of what a power suit would look like on a child, Hollowell dressed Martin in this pink Fendi number for the moment body-swapped Jordan walks down the hallway of her new school with the authority of ten adults. "I don't like trying to make children into adults," Hollowell says. "But I saw [the suit] a long time ago. It had everything. It could still be worn by a child [and] it was also something that the adult would have worn. That said everything about that character." Hollowell paired it with pink and orange suede Jacquemus shoes — "They were block heels; one was square and one was circle" — and added a glittery Christian Dior top to go underneath.
For one of Little Jordan's final looks, which she wears in a particularly demanding dance scene, Hollowell reached for a set of playful Moschino sweats and a pair of Gucci platforms. "When we saw those platforms, we were like, 'Can she dance in them?' [Martin] put them on and she just started doing it. I was like, 'Yes, girl! Yes!' She can dance in platforms. Marsai was like, 'Yes, I can!' I was afraid she was going to break her neck. I was like, 'Oh my God! She did it! All right!'"