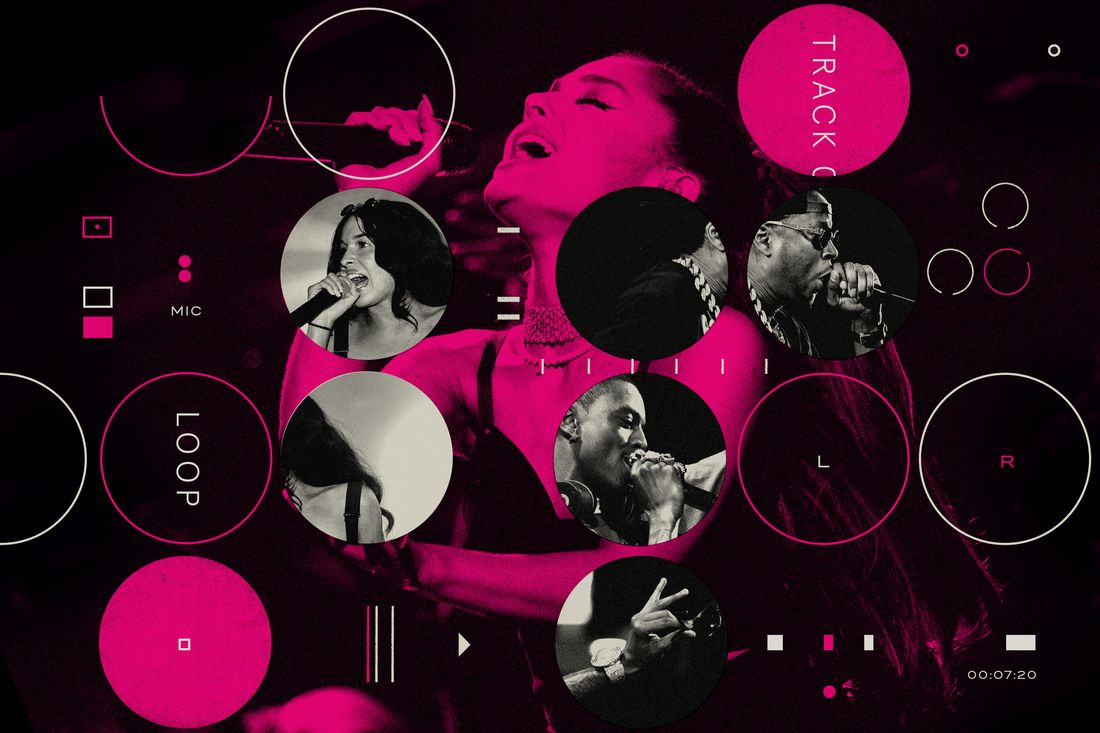 Illustration: Mike McQuade and Photos by Kevin Winter/Getty Images, Joseph Okpako/WireImage and Ethan Miller/Getty Images.
Allegations of copying and cultural appropriation are hardly new to popular music, but today, it can feel like nearly every big hit becomes a target. Social media fuels the rush to litigate whether familiar riffs and rhythms are exclusive or communal property — debates that are fueled by a history of racial injustice in the music industry. At a time when the language of pop is as referential, intertextual, and, sure, derivative as ever, teasing out the lines of influence has become a prominent part of public conversations among artists and fans. So when Ariana Grande's "7 Rings" began climbing the charts with a rhythmic cadence that reminded a lot of people of a lot of other songs, it quickly became a platform for discussions of what we deem original and what we hold as communal.
Princess Nokia was the first to call Grande out, tweeting that it "sounds about white" that the artist copied her flow from "Mine" (2017). Then, the pile-on began. Soulja Boy called Grande an outright thief on Twitter for copying his song,"Pretty Boy Swag" (2010). And 2 Chainz's fans noted similarities between "7 Rings" and the rapper's "Spend It" (2011).
Like most songs aimed at the charts, "7 Rings" is built around at least two hooks. The first cleverly transforms the well-worn waltz of Rodgers and Hammerstein's 1959 song "My Favorite Things" from The Sound of Music into an Atlanta-style hemiola, also known as the "Migos Flow." Substituting "bottles of bubbles" for "whiskers on kittens," Grande turns the Broadway duo's triple-time rhymes into trappy triplets. But the hook that placed the song in hot water turns out to be the simpler one, from its B-section. In it, Grande trades in her croon for a whispered swagger, bouncing quick, sputtered syllables off the beat, "I want it, I got it."
Rodgers and Hammerstein have writing credits for "7 Rings." (In fact, the company that owns their catalogue controls 90 percent of the songwriting royalties.) Princess Nokia, Soulja Boy, and 2 Chainz do not. But should they? A closer examination complicates a rush to judgment.
Why '7 Rings' Might Ring a Bell
Like the B section of "7 Rings," the chorus of "Pretty Boy Swag" lands its lyrics directly on the downbeats, often with a second syllable quickly following — compare, "pretty" to "want it" or "got it." While Soulja Boy only occasionally employs this rhythmic device, Grande does it on almost every other beat — a small distinction, but one that, technically, differentiates the two songs.
As for 2 Chainz's "Spend It," the song features the same downbeat-based cadence, and his lyrics present additional parallels — he says "I'll spend it" where Grande sings "I got it" and "just bought it." But, crucially, he uses a slightly different rhythm than Soulja Boy and Grande, evenly dividing the beat rather than following a short note with a long one.
Princess Nokia can claim the closest semblance in both rhythm and lyrics. "Mine" not only shares the same downbeat-gracing flow as the other songs, it repeatedly uses the same short-long rhythm heard in Soulja Boy's and Grande's song on the chorus phrase, "I bought it," which certainly echoes in "I got it." (Of course, Nokia's chorus, "It's mine … I bought it" itself echoes 2 Chainz's, "It's mine … I spend it.")
While it's possible that one or all of these songs could have been a model for "7 Rings," taken together, the claims start to undermine each other, suggesting a broader stylistic trend is at play. If a copyright infringement case were to proceed from any of these allegations, an expert witness would likely argue that the rhythms in question are so generic as to be unprotectable. They not only echo each other, they also resemble countless recent recordings that all employ the Scotch Snap — a bouncy, emphatic rhythm in which a short note on a strong beat is followed by a longer note on a weak one. It has been in use, and at times in vogue, since at least the 17th century. And recently, it's become one of the most prominent rhythmic approaches in rap (and hence, pop and R&B).
The Scotch Snap is a relatively simple device, but it is distributed peculiarly across geography and musical history. In Europe, the rhythm is particularly prevalent in the music of the British Isles, and especially common in Scottish song since the mid-18th century. As musicologist Philip Tagg explores in a wide-ranging video on the subject, it's also an approach that aligns with the penchant for rhythmic displacement in traditional West African music. As such, the Scotch Snap facilitated the mixing of European and African forms and aesthetics. Long associated with the verbal and musical predilections of the rural working class, Tagg notes that in the late 17th century, Scotch Snaps were heard in English art music "as something local, archaic, as rurally uncouth." The rhythm was a common motif in the Scottish reels and strathspeys that immigrants from the British isles brought with them to Appalachia, and which became a crucial part of the social dance repertory — primarily played by black fiddlers, who embraced the Scotch Snap as a form of syncopation — and the basis for some of the United States' first homegrown genres. With examples stretching from bluegrass to gospel, Tagg shows that the Scotch Snap has been a common, if not constant, presence in American music, irrespective of the color line. If you want to play with stress and rhythm in English-language musical settings, the Scotch Snap is a great way to do so. Just ask Henry Purcell, or Rihanna:
But the longer history of the Scotch Snap should not obscure the innovative role played by 21st century rappers, who have shaped it into one of today's most popular flows. In particular, credit is due to Lil Reese, Chief Keef, and other Chicago "drill" rappers for developing and popularizing the Scotch Snap approach into what it is today — a deliberate, insistent attack, with a dead-eyed sense of control. Just think of the stuttered flow that runs through Keef and Reese's 2012 hit, "I Don't Like." Lil Reese didn't pull Scotch Snaps out of thin air — Soulja Boy's "Pretty Boy Swag" came two years earlier — but he did an inventive, influential thing by employing them as an almost unwavering rhythmic cadence rather than an occasional flourish. (Notably, Q-Tip did the same thing on A Tribe Called Quest's "Start It Up" way back in 1998, but it didn't catch on.) An increasingly popular way to sound cool and deadly, Reese's steady snaps are second only to Migos' triplets as widely adopted resources for rappers of all stripes.
Scotch Snaps soon turned up on the tongues of Drake, Rick Ross, Meek Mill, Nicki Minaj, Post Malone, Cardi B, Bad Bunny, and Migos, too, to name a few. Given how rap and R&B vocal styles have converged in the last decade, it's not surprising that rapping singers (or at least their songwriters) would inject the Scotch Snap flow into big, bold hits: Recall the "money, money on my mind" in Rihanna's "Pour It Up" (2012), or the "fatty, daddy" section of Beyoncé's "Drunk in Love" (2013), or the opening bars of "Look at Me Now" (2011), in which Chris Brown rhymes "yellow model" with "yellow bottle," snapping all the while. It's also been absorbed in the conventions of global pop, adding a little rhythmic edge to the likes of Korean boy-band BTS's "Fake Love" (2018).
In contrast to the more labyrinthine styles of the 1990s, a style like the Scotch snap makes it easy for anyone to rap, whether you're Rihanna or Ariana. Rappers of previous generations who valued greater rhythmic variety (and frequently accused their peers of "biting") have expressed bemusement and disdain over the current wave's wholesale embrace of stock patterns. (In a 2014 talk-show appearance, Snoop Dogg parodies the Migos flow as 50 Cent laughs along, complaining that, "All them niggas sound the same.") But hip-hop has always had its democratic impulses, and making style and form accessible has clear value in social, communal contexts. The reason why an attempt to claim ownership over a rapped Scotch Snap would be likely to fail is that these are building blocks of culture, and thus should belong to everyone. (Though, if there is one person with a right to complain in the case of "7 Rings," perhaps someone like Lil Reese is the more aggrieved party.)
Of course, the undercurrent in the "7 Rings" discourse, and a lot of the conversations around song copying, is the question of appropriation. It is easy to hear "7 Rings" as yet another example of an artist profiting off her access to a mainstream market that still demands black music (especially when Grande dips into "blaccent"), but not necessarily by black people — despite sensational exceptions and steady progress. As of last month, "7 Rings" had topped the charts for the sixth time; it's been streamed more than a billion times around the world. The fact that artists from "outside the circle" can still better exploit certain sounds developed by black artists and communities — and that there's a long history of doing precisely that — is why Grande is being singled out for an otherwise unremarkable use of a widespread rhythm.
"7 Rings" is less egregious than the deliberate or subconscious pilfering by white rock acts in the 1960s or '70s: say, the Beach Boys rewriting Chuck Berry's "Sweet Little Sixteen" into "Surfin' USA," or George Harrison cribbing the melody for "My Sweet Lord" from Ronnie Mack's "He's So Fine." But from another angle, the state of American pop is as insidious and parasitic as ever, and producers and songwriters are increasingly savvy about the borders of what is ownable, musically, and often set out to make the most subtly derivative versions of other hit songs they can.
Some years ago, I was called in as an expert witness on behalf of Limp Bizkit, a rock-rap group that I couldn't have imagined defending, against electrofunk pioneer Michael Jonzun. But it was immediately clear to me that the lawsuit involved an overreach that threatened to contribute to bad precedent. While it is true that the disputed phrase turned up in the two recordings at the heart of the case — Jonzun Crew's "Space Is the Place" and Limp Bizkit's "Intro" from Chocolate Starfish and the Hot Dog Flavored Water — the phrase also appeared in a lot of early-'80s electrofunk and hip-hop tracks. And for good reason: It's the same cadence that undergirds Kraftwerk's unlikely club classic, "Trans-Europe Express" (1977). Much as I believe in my heart that Limp Bizkit may owe reparations to Jonzun and other hip-hop pioneers, this did not seem like the right way for that to happen. (The suit ended in an out-of-court settlement, as they usually do.) More recently, I was consulted by Junior Reid, a Jamaican artist who alleged, fairly persuasively to my ears, that one of his biggest songs, "One Blood," seemed to be the basis for a new pop hit that was earning a lot more money than he ever had. The song in question? Ariana Grande's "Side to Side."
*A version of this article appears in the April 1, 2019, issue of New York Magazine. Subscribe Now!