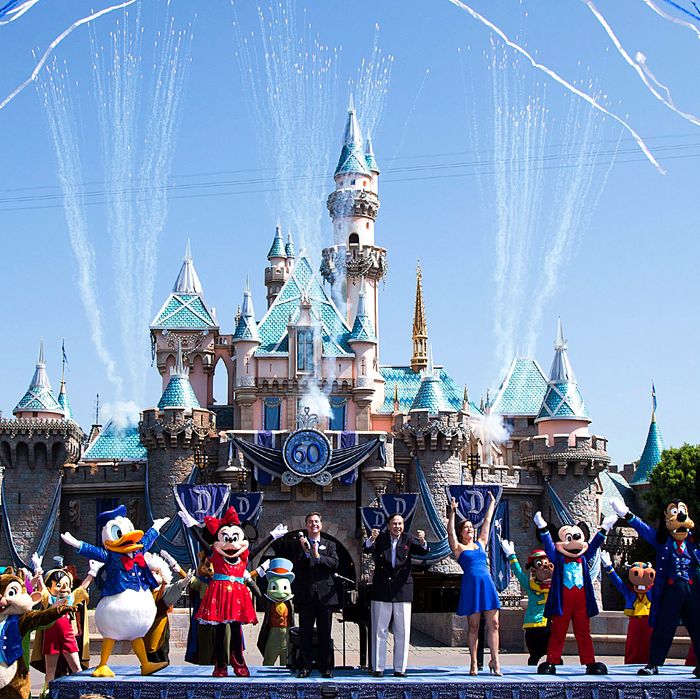 Any lingering doubts about Disney's commitment to conquering streaming disappeared Thursday when the company announced details of its new Disney+ subscription service. While the broad outlines of what Disney+ would offer had been hinted at for a while, the official unveiling was nonetheless impressive: Pop culture's biggest storytelling engine will lease huge swaths of its family (or family-adjacent) library content to consumers for a priced-to-move $6.99 per month, with a modest assortment of original series tied to big brands such as Marvel, Star Wars, and National Geographic thrown in as an added sweetener. By itself, Disney+ won't be a Netflix killer — but then again, it's not supposed to be.
It's not that Disney doesn't consider itself in competition with the giant that is Netflix. They're corporate rivals battling it out for eyeballs and dollars: Disney wouldn't have pulled all its movies from Netflix if it thought their relationship was completely symbiotic. But what yesterday's presentation to investors underscored was how Disney's strategy to win the streaming wars will play out on multiple fronts — or, in more Disney-appropriate language, multiple kingdoms. Think of Disney+ as the original Disneyland: Much like Walt Disney's first theme park, it will serve as the gateway service to the full collection of the Mouse House's streaming collection. Anyone with kids over the age of 3 or so is going to be awfully tempted to sign up, which will in many ways be the Disney Channel on steroids. And anyone who has a strong affinity (okay, anyone who's a super-geek) for Marvel movies or Star Wars or Pixar will be equally tempted to shell out for on-demand access to full collections from each of those respective brands. Given how thoroughly Disney's brands have dominated the theatrical box office the past decade or so, that's probably going to be a lot of people right off the bat. The company is projecting 60 to 90 million global subscribers within five years, and that doesn't seem unreasonable, particularly given the Mouse House's legendary marketing prowess.
Of course, even if Disney meets the upper end of its subscriber projection, that'll still put it well behind the 140 million subscribers Netflix has today (and Netflix charges a lot more for its service, at least in the U.S.) But just as Disney didn't stop building theme parks after it opened Disneyland in 1955, current Disney CEO Robert Iger is planning other ways to grab your (streaming) dollars. Thursday's investors conference opened with extensive presentations from three other Disney-owned outlets: ESPN+, Hulu, and Hotstar, a hugely successful Indian streaming service Iger grabbed from Rupert Murdoch as part of its acquisition of Fox. While not much new was revealed from those services, it was easy to see how Disney will soon be able to use them to open new streaming kingdoms.
For example, if Disney+ figures to be the digital equivalent of Disneyland, a combo of Disney+ and Hulu could well be a sort of Disney World: the central charm of the Magic Kingdom, but expanded to include a much broader collection of rides (er, shows). Hulu was doing quite well before Disney took majority control of the company earlier this year, thanks to buzzy shows such as The Handmaid's Tale, Shrill, The Act, and PEN15. But think ahead to a couple years from now, with FX Networks chief John Landgraf bringing his team's programming prowess to the mix and more adult-oriented shows from the ABC and Freeform library (like Grey's Anatomy) living exclusively on Hulu. Now imagine Disney sold Disney+ and a souped-up ad-free version of Hulu for, oh, $15 a month — which is what HBO Now presently costs, and what Netflix will likely be charging not so long from now. All of a sudden, Disney does have an offering which stacks up to Netflix, even if it doesn't quite match that service's enormous programming breadth. Throw in ESPN+ for sports fans at another $5 or so, or a few more dollars still for live feeds of Disney-owned networks FX, ABC, and Freeform, and Disney suddenly has a video equivalent of what it used to call an e-ticket (or what the kids today would call a Park Hopper pass). At that point, Netflix certainly won't throw in the towel — it's not going anywhere, and people need to stop thinking of the streaming wars as a zero-sum game — but it will have some serious and legit competition among folks who want to cut the cord and programming costs.
Some other quick thoughts about Disney's streaming plans following Thursday's event:
• Immediate reaction to Disney's big reveal among media observers seemed very positive, and Wall Street seems ecstatic: The company's share price surged nearly 10 percent near the start of trading Friday to a new record high. The $6.99 price point underlined Disney's intent to get as many consumers invested in its ecosystem as quickly as possible, even if it means leaving some money on the table initially. But while Disney no doubt could've charged more for Disney+ and still generated sizable sign-ups, it's worth noting that in many ways, Disney+ is still pretty limited in scope, relative to what Netflix and other big streamers offer, not to mention Disney's overall content library. Including material from the Fox acquisition, Disney has tens of thousands of hours of TV and movie content that's not going to be on Disney+ at launch. Classic sitcom and drama lovers aren't getting the sorts of deep cuts you'll get on Amazon or Hulu, for example. And in terms of original series, Disney+ so far looks to be among the most niche of the major streaming platforms coming this year if you're looking for something other than PG-rated programming. Disney+ is not going to win a ton of Emmys any time soon, which is absolutely fine — but maybe makes it a good thing the service isn't expecting consumers to pay what they pay for other outlets.
• Apple got dinged (hard) in the consumer and financial press for its own unveiling last month, particularly because it revealed so few details. I thought Apple's event was fine, and it would be very stupid to count out that company's ability to separate consumers from their cash (and win their hearts). But, yes: Disney clearly did a much better job sharing its vision for its streaming service and generating positive headlines. It did, however, also leave a number of blanks unfilled. We don't know how it plans to roll out its new series (all at once? monthly?), or how quickly it will scale up its development roster beyond year one. There were snippets shown from a handful of shows and movies, but not a single actual trailer. And while it did show off the new app to investors, said app didn't seem to have much of the famed Disney Imagineering magic. It was, quite frankly, boring. (Okay, so the Marvel page-flip animation pops up when you hover over the Marvel tile. Yay?) Plenty of folks hate a lot about the Netflix app, but in general, that company does a lot to innovate in terms of tech. So far, there's no sign of that with Disney+.
• Disney's marketing and cross-promotion machines promise to be the company's big advantage in the streaming wars. Look at how perfectly timed yesterday's event was, right before Game of Thrones swallows up the cultural conversation and just as Disney's Star Wars celebration gets underway. The company will be using the latter event to market to Star Wars superfans right away, and it'll do the same at other big events on the Disney calendar. Plus, as media observer and former Amazon exec Matthew Ball has written, Disney+ is worth so much more to Disney than the (considerable) streaming revenue it will generate. Disney is now going to know exactly which of its fans love what products, and how often they engage with it, thanks to the data it'll be getting from Disney+. While early on, Disney will use its theme parks and TV networks and movies to get people to buy Disney+, in the not-so-distant future, it will surely take everything it learns from Disney+ viewing patterns (and the massive email data base it will generate) to sell its fans other Disney products. Did you just watch Be Our Chef, the Disney+ show about cooking on Disney cruises? Well, maybe you'd like a special deal on a family trip on one of the Disney Cruise Lines ships. Or how about early access to a screening of the 2025 Marvel movie? You'll need a Disney+ subscription to get in. Just as Disney doesn't stop trying to grab your cash when you buy a ticket to a Disney park, a subscription to Disney+ won't be the end of the company's attempts to take more of your money.