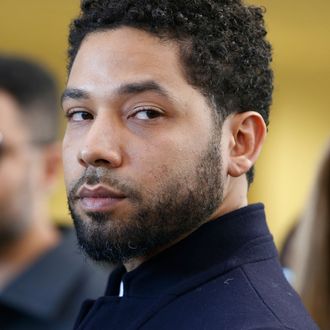 Jussie Smollett.
Photo: Nuccio DiNuzzo/Getty Images
A month after all criminal charges against actor Jussie Smollett were unexpectedly dropped, the show he's most famous for, Empire, has been officially renewed for a sixth season — however, he's not going to be back anytime soon. In a statement released by Fox Entertainment and 20th Century Fox TV, the studios confirmed Smollett's key supporting character, Jamal, will not be appearing on the Fox drama in the immediate future, although that could change. "By mutual agreement, the studio has negotiated an extension to Jussie Smollett's option for season six, but at this time there are no plans for the character of Jamal to return to Empire," the statement reads.
Smollett was written out of Empire's final two episodes this season, due to the ongoing criminal investigation that alleged he staged his own hate-crime attack in Chicago with the help of two accomplices. He pleaded not guilty to a 16-count indictment before the case's ultimate dismissal, a reversal that has royally pissed off Chicago, so much so that the city is suing Smollett.
Update: On behalf of the actor, Smollett's representative issued a statement. "We've been told that Jussie will not be on Empire in the beginning of the season but he appreciates they have extended his contract to keep Jamal's future open," his rep said. "Most importantly he is grateful to Fox and Empire leadership, cast, crew and fans for their unwavering support."