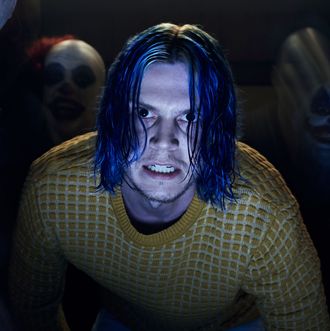 American Horror Story.
Photo: Frank Ockenfels/FX
If you're a devoted American Horror Story fan, today's news from Evan Peters deserves a moment of silence. The Ryan Murphy stalwart, who has appeared in every installment of the anthology series, says he will be skipping season nine. Peters shared the news on a press line at WonderCon, which was reported by Entertainment Weekly, and it's hard to imagine the show without him. Murphy really works to make almost every season a debauched nightmare, and Peters was always willing to be the worst of the worst among a lineup of grotesque villains. The purple-haired punk who was thrilled at Donald Trump's victory in Cult, the thoroughly twisted Mr. March in Hotel, half of the coked-out tech-bro duo in Apocalypse (who, honestly, were far worse than the son of Satan himself) — all Peters specials! American Horror Story already has a green light for season ten, so don't stay away forever, Evan!