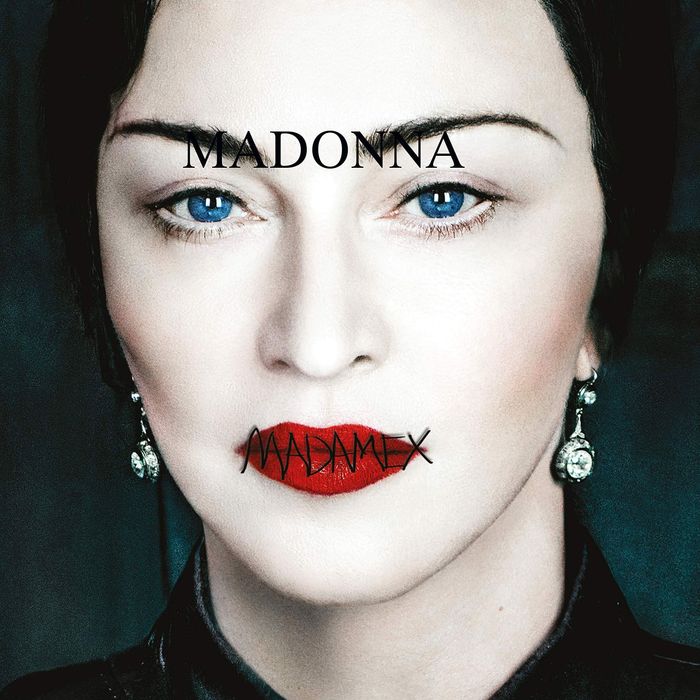 The cover for
Madame X
.
Photo: Madonna.
The new era of Madonna is in full swing. Her 14th album, Madame X, is set for release on June 14; it's the follow-up to 2015's Rebel Heart. Per Billboard, the album contains 15 songs inspired by the years she spent living in Lisbon, Portugal. The new LP will feature the Queen of Pop singing in Portuguese, English, and Spanish, all as her new Madame X persona. Who is this mysterious Madame X, you ask? Well, Madonna has described her in both an Instagram post and introductory video as a "secret agent / traveling around the world / changing identities / fighting for freedom / bringing light to dark places." So, really, Madame X could be one person today, and someone else entirely tomorrow — much like the multiple personalities of each Madonna era.
In another teaser for the album, Madonna has elaborated on this whole Madame X business. Sharing her origin story, she explains that, actually, Madame X was the name given to her by the legendary Martha Graham when Madonna came to New York at 19 to train at her dance company. Madonna was never one to follow the rules, even then, she says in the clip, so when she challenged Graham on having to abide by the school's regulations, Graham rebranded her. "She said, 'I'm going to give you a new name: Madame X. Every day, you come to school and I don't recognize you. Every day, you change your identity. You're a mystery to me.'" Madonna's slick response? "Good, thank you."
The album will feature Migos's Quavo (with his song produced by Diplo), Swae Lee from Rae Sremmurd, and Brazilian singer Anitta; other known producers so far include Kanye West's go-to guy Mike Dean, and Mirwais Ahmadzaï, who co-produced 2000's Music, 2003's American Life, and 2005's Confessions on a Dance Floor. Madame X's first single is a collaboration with Colombian singer Maluma titled, "Medellín," in which they do a lot of cha-cha-cha-ing. (Because Madame X is, among her many trades, also a cha-cha instructor, naturally.) The song is one of two collaborations on Madame X with Maluma, whom Madonna met at the VMAs just last year.
Controversially, Madonna is also expected to perform a new song at Eurovision 2019 next month, which is being held in Israel; Roger Waters has already penned an open letter to Madonna urging her to cancel the performance in protest of Israel, though it remains to be seen if she'll follow through.
Below, find the full track list for Madame X, including two tracks from the deluxe version.
1. Medellín (with Maluma)
2. Dark Ballet
3. God Control
4. Future (ft. Quavo)
5. Batuka
6. Killers Who Are Partying
7. Crave (ft. Swae Lee)
8. Crazy
9. Come Alive
10. Extreme Occident (deluxe version only)
11. Faz Gostoso (ft. Anitta)
12. Bitch I'm Loca (ft. Maluma)
13. I Don't Search I Find
14. Looking for Mercy (deluxe version only)
15. I Rise