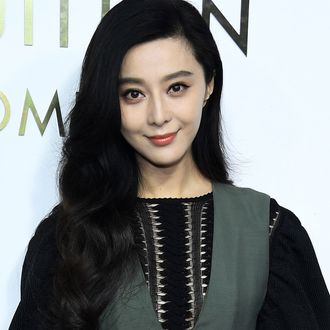 Fan Bingbing.
Photo: Pascal Le Segretain/Getty Images
For anyone wondering with bated breath about the future of hugely famous Chinese actress Fan Bingbing, today brings good news. According to Variety, Fan is still set to co-star in the very high-profile ensemble spy thriller 355, despite a prolonged period of sequestration after being charged with tax crimes. To refresh: Fan went on an insane public-relations roller coaster in 2018. In May, it was announced that she would star in 355, a movie willed into existence by Jessica Chastain and snapped up for development amid a lot of fanfare at Cannes, but by August she … kind of went missing. After being charged with tax evasion by the Chinese government, the actress was reportedly put in holding at a "holiday resort" in the coastal province of Jiangsu, where government officials are said to have been housed in the past while under investigation.
Months passed without word from Fan after it was reported that she owed more than $100 million in unpaid taxes, but then she posted to her Weibo social media account in October to say, "I failed my country which nurtured me; I failed the society which trusted me; I failed the fans who liked me," adding that "without the Party and the state's good policies, without the love from the people, there would have been no Fan Bingbing." She admitted to the crimes she was charged with and said she would "raise funds to pay my taxes and penalties regardless of any obstacles." In a move seemingly catalyzed by the high-profile scandal, the Chinese government announced a new program to crack down on back taxes in the entertainment industry.
Fan was reportedly out of custody by the time she posted her mea culpa online, and is apparently able to work again.