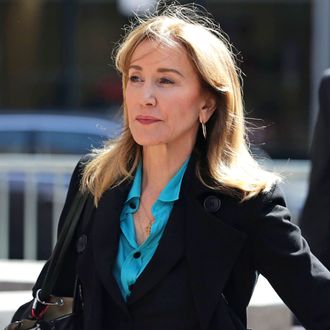 Felicity Huffman.
Photo: Charles Krupa/AP/REX/Shutterstock
It was a hectic scene around the John J. Moakley Courthouse in Boston on Wednesday, as actresses Lori Loughlin and Felicity Huffman arrived for their initial court appearances after getting indicted last month in a massive college-admissions scam known as Operation Varsity Blues.
Huffman, 56, was first to arrive, showing up at the court in Boston's Seaport district around 11 a.m. Dressed in a black trench coat, black pants, and a turquoise button-down shirt, she held hands with a man as she entered the property. Her husband, William H. Macy, was not there. Huffman is facing charges that she allegedly paid $15,000 to have her daughter's SATs corrected.
Loughlin, 54, arrived with her husband, 55-year-old fashion designer Mossimo Giannulli, shortly after 2 p.m., climbing out of an oversize Mercedes-Benz black van before heading into the federal courthouse. Wearing a camel-color suit, gray sweater, and brown glasses, she smiled and waves to fans outside the courthouse and even stopped to shake a few hands. Giannulli remained quieter as he walked alongside her. The couple allegedly paid bribes up to $500,000 to arrange for their daughters, Isabella Rose and Olivia Jade Giannulli, to become recruits on the USC crew team, even though they did not participate in the sport.
Alongside other parents indicted in the scandal, Huffman, Loughlin, and Giannulli faced presiding judge M. Page Kelley, who laid out the charges and possible penalties against them. "I just want to say a few things about the conditions. I'm trying to be fair and impose the same burdens on everyone," Kelley told the courtroom. "So I think everyone knows that I am not inclined to allow personal international travel, but in general I'm discouraging that. With regard to business travel, I expect it should be necessary to the person's livelihood. I ask you to be choosy about the business travel you raise."
In addition to ordering defendants to surrender their passports, Kelley asked everyone to remove any firearms from their homes and to refrain from using drugs. The judge had initially imposed a condition that defendants are not allowed to speak with victims or witnesses in the case, but she added that she had reconsidered that and is "not inclined to not allow family members to discuss the case. I don't think it's good for parents to not discuss with their children."
Loughlin exited the courthouse shortly before 3:30 p.m., and did not give any comments to throngs of waiting press. Huffman followed, exiting shortly before 4 p.m.
Outside the courthouse, it wasn't just journalists awaiting the celebrities as they appeared before the judge. Liana Ferrara and Alyssa Stevens, juniors at Bentley University in Waltham, carried paper masks with oversized photos of Lori Loughlin's face on them.
"We went because we grew up watching Lori Loughlin on Full House and she is a huge celebrity in our lives," Ferrara told Vulture. "We don't agree with what she did though, especially as college students."
Ferrara and Stevens yelled, "We love you!" to Loughlin as she entered the courthouse, to which she replied, "Aw, thank you."
Of course, they weren't without detractors as well. Two young women held signs reading, "Lori PLS pay my tuition" and "…After you get out of prison (of course)."
Both actresses have been indicted on felony charges to commit mail fraud. About 50 people total have been charged by federal prosecutors in one of the biggest bribery scandals in college history.