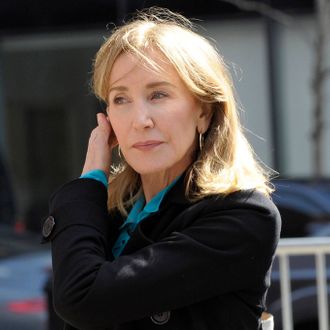 Felicity Huffman.
Photo: Joseph Prezioso/AFP/Getty Images
According to the U.S. Attorney's Office, Felicity Huffman and 13 other people indicted in the college admissions scandal have pleaded guilty to their roles in "Operation Varsity Blues." As Variety reports, Huffman was charged with one count of conspiracy to commit mail fraud, and while a plea hearing has not been scheduled, the actress has issued a statement of contrition. "I am in full acceptance of my guilt, and with deep regret and shame over what I have done, I accept full responsibility for my actions and will accept the consequences that stem from those actions," said Huffman. "I am ashamed of the pain I have caused my daughter, my family, my friends, my colleagues and the educational community. I want to apologize to them and, especially, I want to apologize to the students who work hard every day to get into college, and to their parents who make tremendous sacrifices to support their children and do so honestly."
Huffman was released on bond shortly after her March 12 arrest, and according to the original criminal complaint, she paid William Singer, the admissions consultant at the center of the scam, $15,000 to get a higher SAT score for her oldest child. Huffman and her husband, William H. Macy, are said to have considered using Singer's services for their younger daughter as well, but did not follow through a second time. The payment was described as a charitable contribution to Singer's Key Worldwide Foundation. In her statement, Huffman said that her daughter was not aware of the "misguided and profoundly wrong way" in which she "betrayed her." She added: "This transgression toward her and the public I will carry for the rest of my life. My desire to help my daughter is no excuse to break the law or engage in dishonesty."
Update, April 9: A day after Huffman entered her guilty plea for wire fraud, Variety reports that Lori Loughlin was indicted alongside 15 other defendants. Each of them has been charged with conspiracy to commit money laundering, which adds to the initial charge of conspiracy to commit mail fraud against Loughlin and her husband, Mossimo Giannulli.