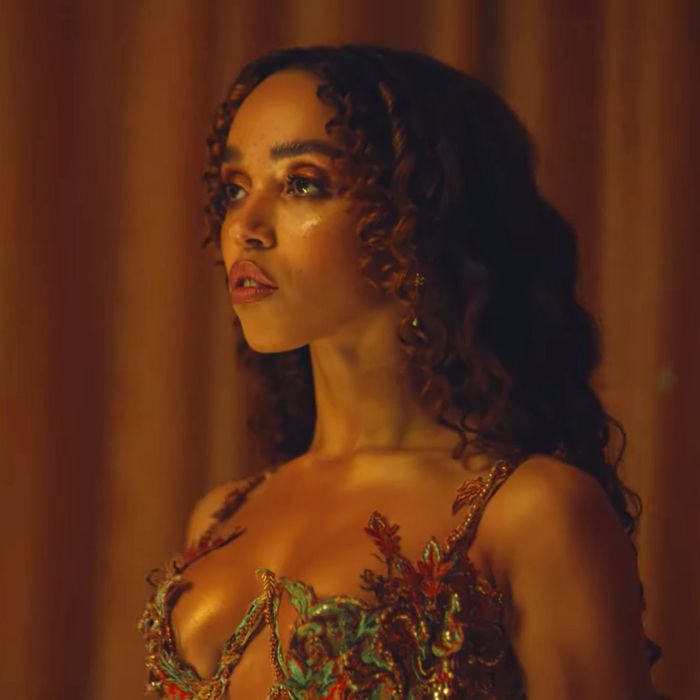 This is twigs at her slowest, her most serene, and most painful.
Photo: FKA twigs/YouTube
Even before she became involved with an A-list celebrity, FKA Twigs wrote songs about being looked at. She took seriously the bizarre exchange of being seen and recognized by strangers. Before setting off on her own music career, Twigs had danced in other people's popular videos, and her 2014 song "Video Girl" documented the uncanny phenomenon of being stopped on the street by people who thought she looked familiar. She'd brush them off and they'd call her out for lying; once someone knows your face, it is almost impossible to convince them otherwise.
Not long after Twigs released her 2014 debut album, LP1, she started dating, and eventually became engaged to, Twilight vampire Robert Pattinson, and soon the experimental singer on an independent label was getting looked at far more closely than she'd reckoned on. (They've since split, and she has moved on.) "Cellophane," her first new song in three years, shines a light on that suffocating scrutiny. It's simpler than the dense, agitative electronic music that populated LP1; with its spare piano and occasional synthetic burbles, "Cellophane" falls closer to Twigs's early single "Water Me," another slow-burning reverie about stunted affection.
"They want to see us / want to see us / want to see us apart," Twigs sings delicately on "Cellophane." "I don't want to have to share our love / I try, but I get overwhelmed." If she sounded aloof on previous records, she sheds that protective layer here. Her voice cracks and groans and breaks, as if it's dragging more weight than it can bear. She has made a convincing alien in the past and played a titanic goddess and a blow-up doll in her hypnotic videos, but with "Cellophane," she treads into more dangerous territory: performing as an unvarnished human.
This is Twigs at her slowest, most serene, and most painful. Suddenly, the focus of her music is not the polish but the cracks. A piano rumbles in, followed by a second piano fed through effects that seem to delete half its tonal qualities. The instrumentation erodes and, as she sings, so does Twigs's voice. She's in control, hitting the high notes at the top of her soprano, then there's a rush of noise and her voice follows the piano: shattered, disappearing, halfway gone. "They're watching us," she whispers at the song's coda as if out of breath, as if running, bewildered, from the unlikely turns her life has taken.