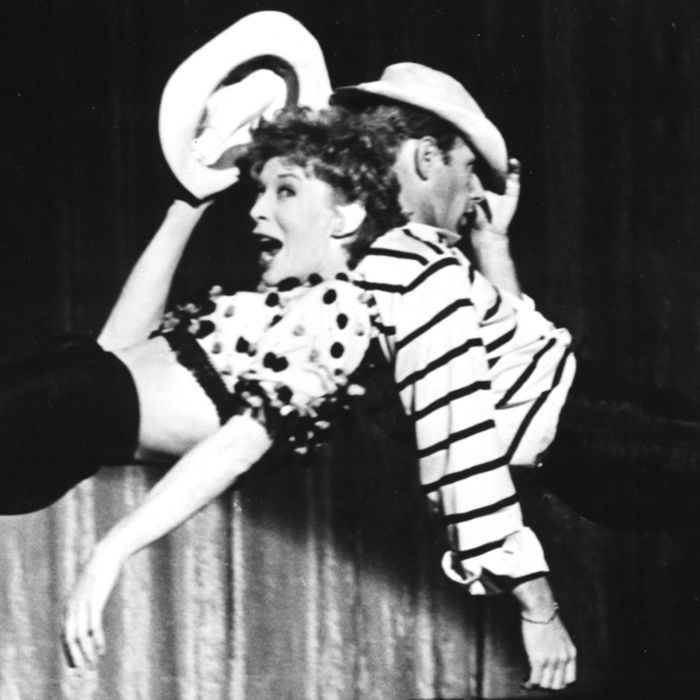 Photo: Courtesy Everett Collection
According to a recent Alexis Soloski New York Times article about the FX mini-series Fosse/Verdon, the show at one point was just going to be called Fosse — the same as the 2013 Sam Wasson biography it's adapting. But screenwriter Steven Levenson and director Thomas Kail realized that there's no decent way to tell the story of influential choreographer Bob Fosse without also telling the story of his muse and guardian, Gwen Verdon. Everything about the man — his genius, his charm, his appalling treatment of women — may be best understood through the eyes of the wife who fiercely protected his legacy, even after he broke her heart.
Like a lot of the FX "true story" shows — like Feud, Trust, and American Crime Story — Fosse/Verdon doesn't proceed in a straight line through its subjects' lives. Episode one jumps straight into the middle of the story, recounting how Fosse got the job directing the movie Cabaret, but needed Verdon to help articulate his ideas. Episode two jumps back to how the couple first got together, after both were well-established in show business. Throughout, the mini-series sprinkles in moments where the two stars — played by Sam Rockwell and Michelle Williams — reflect on incidents from their younger years.
What Fosse/Verdon doesn't do is overexplain who everybody is, or what they're talking about. Levenson and Kail are both Tony-winning artists (the former for writing the book for the musical Dear Evan Hansen, the latter for directing Hamilton) making a show aimed in large part at fellow theater geeks. It's not essential to know who Hal Prince or Joan Simon or Paddy Chayefsky is to enjoy Fosse/Verdon; but it might help to know at least some basic information about the two main characters, and why they're important enough in American culture to merit eight hours of television.
So consider the timeline below as something to consult — either before watching the mini-series or as it plays out across the next two months. This is a timeline of the high points in Fosse's and Verdon's lives and careers, together and alone.
1925: Gwen Verdon is born in Culver City, California.
Raised in a show-business family, Verdon gravitated to dance at age 3, when she took ballet classes to help strengthen her rickets-afflicted legs.
1927: Bob Fosse is born in Chicago, Illinois.
Raised in a big working-class family, Fosse was a sickly youth who entertained his mother with jokes when he was stuck at home. He started taking dance classes at age 9, in part because he had a crush on one of his sister's friends. Resistant to adopting the rigid ballet poses he considered overly effeminate, young Bobby would rebelliously extend his open hands at the end of moves, developing his personal flair.
1936: Verdon makes her movie debut, in The King Steps Out.
Because she grew up around Hollywood, Verdon had more opportunities than other young dance students to get paying gigs. She appeared in her first film at age 11, doing a bit of ballet in Josef von Sternberg's costume comedy about the real romantic adventures of Empress "Sissi" of Austria.
1942: Verdon marries James Henaghan.
Verdon mostly set her career aside when she met and married a Hollywood Reporter writer, with whom she eloped at age 17. Verdon stayed with Henaghan for five years and had her first child, a son also named James. Then she divorced him — fed up with his boozing and abuse — and began the tough road back to dancing full-time.
1947: Fosse joins the company of Call Me Mister.
Fosse spent his teen years doing showy, semi-comic tap routines with his friend Charles Grass in small Chicago theaters and grubby burlesque houses (where the strippers would tease and grope the nervous young dancer). Then in the waning months of World War II, Fosse arranged to do his military service in a U.S. Navy entertainment unit, where he worked hard on perfecting hoary vaudeville shtick for the sailors and soldiers still wrapping up the loose ends of the Pacific campaign.
Fresh out of the service, Fosse auditioned for the touring company of a topical revue, which was like a professional, big-time version of what he'd already been doing in burlesque and in the Navy: silly sketches and flashy dancing. He worked with rising comedians Buddy Hackett and Carl Reiner; and he fell hard for another dancer, Mary Ann Niles, who had a "girl next door" look and a facility with dirty jokes. Fosse was drawn back then to what he knew — worldly women and reliable stage shtick — but was already looking for the most polished version.
1948: Verdon apprentices with Jack Cole.
Having given away most of her ingenue years to her first husband, Verdon had her love of dance rekindled when she saw Jack Cole's troupe perform. She got herself back in shape to try out and became a disciple of Cole's very exaggerated physical style, adopting it to her own use as a bit player in movies, and even helping to teach some of the trickier moves to Hollywood stars. It was thanks to Cole that Verdon eventually made her Broadway debut, in 1950's Alive and Kicking, a revue for which the choreographer/director auditioned countless dancers — including the team of Fosse and Niles.
1949: Fosse marries Mary Ann Niles.
During the run of Call Me Mister, Fosse and Niles developed an act to perform whenever they had an open date. Their passion for the work shaded into a passion for each other, and they made what would prove to be the huge mistake of getting hitched. By the time the team of Fosse and Niles became well-enough known to be occasional guest stars on TV variety shows, their romantic relationship had long-since soured, done in by Fosse's many extramarital dalliances, and by his ambition to do something more than just tap-dancing duets.
1952: Fosse marries Joan McCracken.
Already captivated by the new artistic possibilities of Broadway choreography showcased by Agnes de Mille's work on Oklahoma!, Fosse became absolutely smitten when he worked with one of that show's breakout stars in the 1950 revue Dance Me a Song. Joan McCracken had some of the same libertine values and bright spirit of his then-wife Mary Ann Niles; but she had a more impressive résumé, and represented the more aesthetically progressive stage dancing he'd become interested in pursuing. Fosse quickly pushed Niles aside to marry McCracken, who'd be one of his biggest boosters in the decade that followed, encouraging him to take acting classes, to learn how to express a wider variety of human emotions through movement, and to develop an original voice.
1953: Verdon becomes a sensation, as a featured performer in Can-Can.
After more than five years of working as a utility player in movies, commercials, and Broadway shows — all under Jack Cole's tutelage — Verdon was hired by choreographer Michael Kidd to play her first substantial Broadway role, as a 19th-century Parisian showgirl in Can-Can. Verdon had the musical's showstopper number (much to the chagrin of the lead actress, Liliane "Lilo" Liévain), and she won her first Tony for the role. Her warmth and sensuality as an actress and dancer helped change audience's expectations for what a Broadway star should be.
1953: Fosse becomes an MGM contract player.
It's a measure of Fosse's talent and creativity that while still in his mid-20s he was invited to do a screen test in Hollywood, even though he was largely unknown and his soft voice, gangly limbs, and thinning hair weren't the characteristics of a typical leading man. Thanks to the enthusiasm of director/choreographer Stanley Donen (among others), Fosse found steady work at MGM throughout the 1950s, typically appearing in just a number or two in second-tier musical productions like The Affairs of Dobie Gillis and Give a Girl a Break. He was frequently left alone to design his own routines, and then to choreograph for other dancers. Though only onscreen for a few minutes in these films, his presence is unmistakable because he was already developing his well-known silhouette: legs bent, arms out, fingers splayed.
1954: Fosse choreographs The Pajama Game and wins his first Tony.
Thanks to Joan McCracken's friendship with veteran Broadway director George Abbott, Fosse landed his first big-time stage assignment, choreographing the musical comedy The Pajama Game — with the more accomplished Jerome Robbins looking over his shoulder, at the suggestion of the young producer Hal Prince. The show was a crash course for Fosse in constructing routines for more than one or two dancers, and he leaned on his older collaborators for suggestions. But he poured a lot of his own new ideas into a sexy, abstract dance, set to the song "Steam Heat." When that number started getting standing ovations in previews, Fosse's reputation as the next great Broadway choreographer was born. He took home a Tony — his first of nine.
1955: Verdon plays Lola in Damn Yankees, choreographed by Fosse.
Verdon's and Fosse's paths had crossed a few times in both Hollywood and New York, but when they worked together with producer Hal Prince on another George Abbott show, Damn Yankees, they didn't really know each other. Fosse asked Verdon to audition, but their first meeting turned more into him auditioning for her, showing her the steps he'd worked out for her big seduction number "Whatever Lola Wants," while she offered notes. They understood each other implicitly. When Damn Yankees netted them both a second Tony, the awards quieted any doubters who'd credited their previous successes to Cole, Kidd, or Robbins.
1957: Verdon wins her third Tony for New Girl in Town, choreographed by Fosse.
The Abbott/Prince/Fosse/Verdon machine kept rolling with a musical adaptation of Eugene O'Neill's play Anna Christie. Though not as well-known as their other collaborations (despite Verdon winning another Tony), the show made headlines when one big number, the frank and erotic prostitution vignette "Red Light Ballet," was cut during previews due to threats of police raids.
1958: Verdon and Fosse dance together in the Damn Yankees movie.
Fosse's phenomenal Broadway success effectively stifled his other dream of becoming Hollywood's next Fred Astaire. Between his early-'50s MGM days and a few acting roles in the '70s (including a beloved dance number in 1974's The Little Prince), Fosse's sole onscreen movie appearance comes in Warner Bros.' 1958 Damn Yankees adaptation, as an uncredited mambo dancer alongside Verdon's Lola, at a big party for baseball's surprise contenders the Washington Senators.
1959: Fosse directs his first Broadway show, Redhead, starring Verdon.
Another fairly obscure Fosse/Verdon collaboration — although it won Tonys for Best Musical, Best Performance by a Leading Actress, and Best Choreography — Redhead's musical murder-mystery riff on Jack the Ripper is notable for giving Fosse his first Broadway directing experience, at Verdon's insistence. The two were a package deal at this point in their careers, with enough power to make demands. After initially planning to use their leverage to get Fosse a featured dancing role, they jumped at the producers' counteroffer: Why not direct? Verdon answered on his behalf: "Yes!"
1960: Fosse marries Verdon.
The Fosse/Verdon romance was an open secret in show business, although up until 1959 Fosse remained married — and, by many accounts, still in love with — Joan McCracken. The affair took a toll on McCracken, who suffered from diabetes and a heart condition, and who'd put her own career aside to take care of herself. She died two years after their divorce, and Fosse remained plagued with guilt for the rest of his life over the part he played in her worsening health. By then, he was already married to Verdon, who herself would take about five years off from showbiz after the wedding, in part to give birth to their daughter, Nicole.
1966: Verdon makes a triumphant Broadway comeback with Sweet Charity, directed by Fosse.
While Verdon was staying home, Fosse was staying busy: working as a sort of shadow choreographer on the 1961 Broadway smash How to Succeed in Business Without Really Trying, when the credited choreographer proved uninspired; and collaborating with playwright Neil Simon on the 1962 musical comedy Little Me. (Both of those gigs put him side by side with producer/director Cy Feuer, who would later produce the movie Cabaret.) In retrospect though, Fosse was just biding his time through the early '60s until he could work again with his wife. For Sweet Charity — an adaptation of Federico Fellini's film Nights of Cabiria, with Verdon playing an eternally optimistic taxi dancer — the pair sought to bring some of the hipness and sophistication of '60s cinema to the Broadway stage. They studied the movement of teens in discotheques and prostitutes on the make; and they drew on their own memories of being young, desperate, and sexually available. With the help of Simon's script and a score by Cy Coleman and Dorothy Fields, they created an American theater classic they could really call their own.
1969: Fosse directs his first movie, Sweet Charity.
Everything that went right with Sweet Charity on Broadway went wrong with the motion-picture adaptation. The producers insisted that Verdon be replaced by Shirley MacLaine (who'd been mentored by Joan McCracken, and discovered during The Pajama Game), and they weren't interested in Fosse's ideas for making the movie more mature. Like a lot of Hollywood musicals in the late '60s, Sweet Charity turned out stiff and overlong, with none of the youthful energy audiences were looking for in the Woodstock era.
1972: Fosse directs Cabaret (with Verdon's help).
Determined not to repeat the mistakes of Sweet Charity, Fosse was intensely focused and stubborn throughout the production of Cabaret, certain he was the only director who could control the musical's precise mixture of ennui, irony, and sex. Although he and Verdon had already separated (they would never officially divorce), she knew how important this project was for him and put in countless unpaid, uncredited hours on the set, placating their anxious old friend Cy Feuer by helping star Liza Minnelli and the other dancers understand the emotional contexts for Fosse's demanding choreography. The exactitude paid off. Cabaret was a massive hit at the box office and at the Oscars, winning Fosse a Best Director award (in the year of The Godfather, no less).
1972: Fosse directs and choreographs the original Broadway production of Pippin and the TV special Liza With a Z.
How hot was Fosse in 1972? He jumped directly from Cabaret to Pippin, a fanciful, allegorical Stephen Schwartz musical that won five Tonys (two for Fosse, as director and choreographer). In the middle of all of that, he helped Liza Minnelli stage the concert film Liza With a Z, which aired on NBC in September, and won four Emmys (three for Fosse, as director, choreographer, and co-producer). He'd been consistently successful in showbiz for over 20 years. He'd never again be as omnipresent in popular culture as he was right then.
1974: Fosse directs Lenny.
Looking to challenge himself, Fosse directed his first nonmusical film: a black-and-white biopic of controversial comedian Lenny Bruce, starring Dustin Hoffman. Fosse knew Bruce's world well, having spent most of his young life around comedians and strippers. And the movie was reasonably successful, at both the box office and at the Oscars. But some top film critics, like Pauline Kael and Roger Ebert, complained that Fosse's fussiness as a director ill-suited a subject as scruffy as Lenny Bruce.
1975: Fosse and Verdon collaborate on the first Broadway production of Chicago.
While Fosse's star was rising, Verdon was working less — partly by choice, so she could raise their daughter, Nicole. Then she called in a long-overdue favor from her husband: asking him and Cabaret composers John Kander and Fred Ebb to help her realize her dream of staging a musical about flapper criminals Roxie Hart and Velma Kelly. Verdon played Roxie, while Chita Rivera played Velma. The original production drew mixed reviews and was shut out at the Tonys, but it developed a following, and later became a huge hit thanks to a 1996 revival. Ironically, the driving force behind that revival was Ann Reinking, who'd become Fosse's latest collaborator and lover during the production of Pippin, and eventually replaced Verdon in the original Chicago cast.
1979: Fosse writes and directs the autobiographical film All That Jazz.
Fosse and Reinking's romantic relationship ended around the time they worked together on the revue-style Broadway show Dancin' (which brought Fosse his eighth Tony). The breakup didn't prevent Reinking from playing a thinly veiled version of herself in All That Jazz — just as Verdon's rocky relationship with Fosse didn't keep her from acting as a consultant on the film. (Verdon was also credited as a "supervisor" on Dancin'.) All That Jazz presents Fosse's perspective on the women in his life — including his daughter, and the ghost of Joan McCracken — as invaluable nurturers, eternally forgiving of a man who, in his own opinion, doesn't deserve it. Rebounding from the dour clunkiness of Lenny, Fosse's autobiographical picture is as snappy as it is self-pitying, with an innovative shooting and editing style that fuses realism, stream of consciousness, and Broadway/Hollywood musical dazzle.
1986: Fosse writes, directs, and choreographs the Broadway musical Big Deal.
Given that All That Jazz was about Fosse imagining his own death, it's no wonder he spent the last eight years of his actual life as a ghost of his former self, physically and creatively. He waited four years to follow up All That Jazz with Star 80, a dark and discomfiting drama about the murder of Playboy Playmate Dorothy Stratten. Then he made his final return to Broadway (and won his last Tony) with a loose adaptation of the movie Big Deal on Madonna Street, transferred to the black neighborhoods of Depression-era Chicago, and scored with classic jazz and jive. Critics were largely unenthused about Big Deal, but Fosse was proud of his original staging ideas, using lighting and scene transitions in a more cinematic way. In 1986 though, he was competing with himself: not just the public's memories of the Fosse of old, but with a smash hit revival of Sweet Charity, with his old choreography re-created primarily by Verdon.
1987: Bob Fosse dies at age 60.
Fosse succumbed to a heart attack while exiting a Washington hotel. His walking companion? Gwen Verdon.
1999: Verdon consults on the Broadway musical revue Fosse.
When Ann Reinking wanted to celebrate the life and work of Bob Fosse with a revue, she relied on Verdon's phenomenal memory to help restage some of Fosse's best-known routines. In Alexandra Molotkow's recent Hazlitt essay about Fosse's history of misbehavior, she raises the question of why Verdon was always so willing to revisit her time with a man who cheated on her prodigiously. Molotkow answers, "She put up with him because she loved him, and because she had to — his work was hers, too."
2000: Gwen Verdon dies at age 75.
When Verdon died of a heart attack, she was with Nicole Fosse, a collaboration that bound her and her late husband more than any other. In a 1981 New York Times profile, Verdon said, "Our first relationship was built on admiration and then friendship. That you never destroy. There's no reason to destroy that. He's a fabulous father to Nicole. We just don't live together. That's all. But he's still the best friend I've got.''