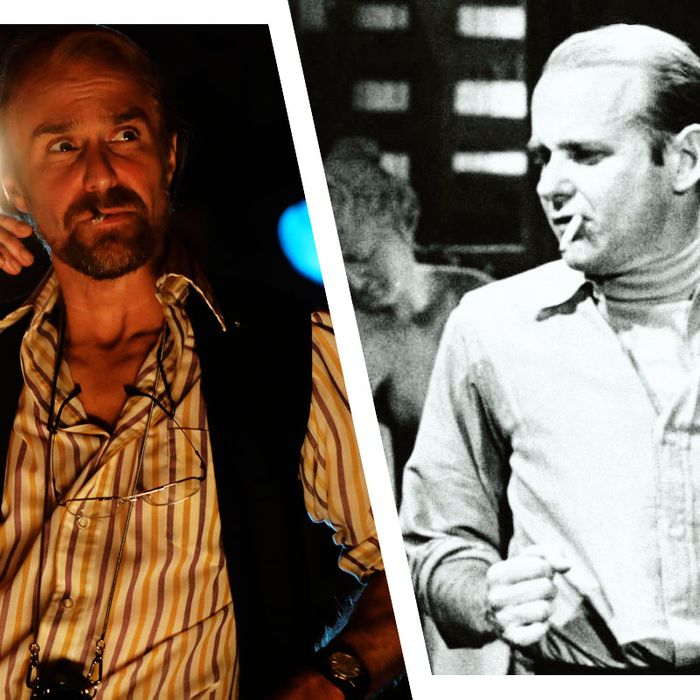 Photo: FX and Universal Pictures
There's a reason the old adage says there's no such thing as small roles, only small actors. The secret to being a good supporting player is knowing your place in the larger story and when to borrow the spotlight for your time to shine. Fortunately for Fosse/Verdon creators Steven Levenson and Thomas Kail, their ensemble has seasoned players in spades who do just that. But for the average viewer, it's a lot to take in — who are Hal Prince and Cy Feuer? Should I know Ann Reinking? Is that Liza Minnelli?
To break it all down for you, we've combed through Fosse/Verdon's expansive cast to highlight the 15 real-life figures you'll want to know, from supporters like Joel Grey (played by SpongeBob SquarePants: The Broadway Musical's Ethan Slater) all the way up to the big man himself, Bob Fosse.
Bob Fosse (played by Sam Rockwell)
Even the most casual theatergoer is familiar with Bob Fosse, if not by name then certainly by style. His distinctly sensual and slinky direction and choreography — characterized by turned-in knees, rolled shoulders, and sideways shuffling, often paired with black bowler hats and white gloves—are center stage and onscreen in Sweet Charity, Chicago, and Damn Yankees, among many other films and musicals.
The central pair of Fosse/Verdon — Fosse and dancer and actress turned creative partner and wife Gwen Verdon — first worked together on Damn Yankees in 1955; Verdon starred and Fosse directed. They were regular collaborators thereafter and began an affair behind closed doors while Fosse was still married to his then-wife, ailing actress Joan McCracken. Fosse and McCracken divorced, and Verdon became his third wife in 1960. (McCracken died two years later, which spurred a guilt that Fosse never overcame.) Together, he and Verdon had a daughter, Nicole, before their separation in 1971. While he went on to have a long romance with another dancer, Ann Reinking (whom he met while working on Pippin in 1972), Fosse and Verdon continued their work together and never legally divorced before he died of a heart attack in 1987.
While Fosse's great artistic achievements are highlighted in full on Fosse/Verdon, so too are the darker aspects of his personal life, including his obsessive creative compulsions, the extramarital affairs with his Rolodex of dancers, and his dependence on pills and other substances. These are seen most acutely in the year of Fosse's greatest international acclaim, 1973. That year marked his record-breaking hat-trick awards sweep — he won two Tonys for Pippin, an Oscar for Cabaret, and three Emmys for Liza With a Z — but it was in the aftermath of these career highs that his personal life hit new lows. Dogged by depression, he spent part of that year rehabilitating in a psychiatric hospital. Such personal struggles were later explored in Fosse's thinly veiled autobiographical musical film All That Jazz.
Gwen Verdon (played by Michelle Williams)
The "/Verdon" of Fosse/Verdon wasn't added to the series' title until after the creators' scriptwriting and research process, when it became clear that the dancer was much more than Fosse's muse. In conveying her perspective, Kail (of Hamilton fame) and Levenson (Dear Evan Hansen) succeed in proving that without Verdon, there was no Fosse. In fact, when the two first came together in Damn Yankees, it was Verdon who was the bona fide Broadway star, having won a Tony for her performance in Can-Can under choreographer Michael Kidd in 1953. That performance was a major turning point for Verdon: The moment she was brought onstage in a towel to bow opening night mid-show (re-created in the series), she evolved from hustling stage actor to Broadway starlet, and life was never the same. Prior to that, she had a long-standing creative relationship with choreographer and mentor Jack Cole. She would go on to win a second Tony for her first project with Fosse in 1955.
While the two artists began an affair and continued to inspire career-best work from each other, Verdon was gradually eclipsed by her collaborator and husband's successes in New York and Hollywood. She lost out on the showstopping roles that first made her famous and was at times relegated to the industry's woman-of-a-certain-age bin. (It's worth noting that she was working less in order to raise Nicole—an imbalance in parenting that's emphasized throughout Fosse/Verdon.) After their separation, she and Fosse continued to work together, with Verdon amassing hours of unpaid and uncredited labor as a creative consultant and co-choreographer on Cabaret and on the original 1975 production of Chicago, in which she starred with Chita Rivera. Verdon also served as a consultant on All That Jazz, and, years later, 1999's Fosse revue on Broadway.
Given all the ups and downs of their relationship, it's sadly ironic that Verdon was with Fosse at the time of his death in 1987. The two were walking together after a day of rehearsing for his revival of Sweet Charity when he collapsed; he died on the way to the hospital. Verdon lived on for another 13 years before succumbing to a heart attack at age 75.
Paddy Chayefsky (played by Norbert Leo Butz)
Fosse and Verdon may have been creative equals and collaborators, but few could get through to the director and choreographer like his best friend the famed screenwriter Paddy Chayefsky. Fosse and Chayefsky were often thought of in opposing but complementary terms: the former a maker who took other people's work and elevated it with his vision, the latter someone who made something on his own from scratch. Often lunching together at the Carnegie Deli, the two had an extreme fondness and respect for each other, and Fosse in particular admired Chayefsky's uncensored, tough-love opinions.
Unapologetically straightforward and equally forward-thinking, Chayefsky was a decorated creator in his own right, sharing three Academy Award wins for Best Original Sreenplay with The Hospital, Marty, and Network (an adaptation of which starring Bryan Cranston can be seen on Broadway this season). He died of cancer in 1981 at age 58; Fosse tap-danced at his funeral, making good on a pact the two had made before Chayefsky went under for heart surgery years prior. Played by two-time Tony winner Norbert Leo Butz (most recently of My Fair Lady), Chayefsky has a grizzly-bear demeanor and is all heart.
Ann Reinking (played by Margaret Qualley)
Ann Reinking was one of many dancers who got swept up in an affair with Fosse while working with him, but she was notable for her initial resistance, spunk, independence, and eventual staying power. That's not to mention her raw talent and spellbinding silhouette. Reinking was the only long-term romance Fosse had after his separation from Verdon, and, like his wife, she went on to be a major proponent of Fosse's work after his death. She starred in and choreographed Chicago's Broadway revival in 1996 (for which she won a Tony; it still runs today), and she co-directed and choreographed the 1999 Broadway revue Fosse, with the consulting assistance of Verdon herself.
Cy Feuer (played by Paul Reiser)
On Fosse/Verdon, Cy Feuer has a brief arc as the head-butting producer of Cabaret, but his impact on the series is lasting. That film was not the first time he and Fosse worked with each other: They came together earlier in Fosse's career with Feuer-produced stage productions of How to Succeed in Business Without Really Trying and Little Me. Feuer had also produced 1953's Can-Can, which heralded Verdon's big break. In other words, he had venerable friendships and creative partnerships with both Fosse and Verdon, and even when names like Billy Wilder and Gene Kelly were being optioned to direct the Cabaret film, Feuer stood by Fosse. The two did go toe-to-toe, however, when it came to Fosse's on-set perfectionism, especially in light of the box-office bomb that was Sweet Charity's film adaptation.
Joan Simon (played by Aya Cash)
Every woman needs a best friend to lean on — especially when dealing with a work-addicted, philandering husband and his penchant for pills. That's where Joan Simon came in. But she was also more than just a friend and a shoulder for Verdon; she was a peek through the looking glass. A former modern dancer who gave up on her career as a performer to be a housewife to her famous playwright husband, Neil Simon and mother to their two children, she was the utter opposite of Verdon. But that drew them closer together rather than pushing them apart. Simon was diagnosed with bone cancer while still a young woman and died in 1973.
Neil Simon (played by Nate Corddry)
Also a longtime friend of Fosse's and Verdon's, Neil Simon — already famous for such comedic hits as The Odd Couple, for which he won a Tony — came onboard the stage production of Sweet Charity to adapt its source material, Federico Fellini's film Nights of Cabiria, and write the musical's book. With Fosse directing and choreographing the score by Cy Coleman and Dorothy Fields, the stage production of Sweet Charity went on to become a hit, and Simon's star just kept on rising. Like Fosse, he eventually turned his art inward and created semi-autobiographical pieces throughout the 1980s with Brighton Beach Memoirs, Biloxi Blues, and Broadway Bound. He won the Pulitzer Prize in 1991 for Lost in Yonkers. Unlike Fosse, he was largely content with his low-key life, never succumbing to fame's various temptations and instead preferring the ease that comfort and stability brought him. That contentment was shook up, sadly, by his wife Joan's untimely death. Simon married three more times before his death in 2018.
Hal Prince (played by Evan Handler)
Broadway royalty in his own right (he even received the Fosse revue treatment with Prince of Broadway), Hal Prince is one of the most prominent theater producers and directors of his or any time. A record 21-time Tony winner, Prince was also a staple in Fosse's early-career successes; he was producer on The Pajama Game, which Fosse choreographed. Prince also produced the show that first introduced Fosse and Verdon, Damn Yankees. But while Prince and Fosse were often friends and collaborators, they were also at times in competition as directors. Prince directed Cabaret on Broadway prior to Fosse's film directorial effort and took home another Tony for his work.
Joan McCracken (played by Susan Misner)
Did we mention that Fosse had a habit of bedding (and sometimes wedding) his dancers? Joan McCracken was one of the first. She broke out as a formidable Broadway dancer in Oklahoma!, but Fosse didn't work with her until 1950's Dance Me a Song, in which he was also a performer. The two had a quick and impassioned partnership and affair, and Fosse eventually left his first wife, Mary Ann Niles, and wed McCracken in 1951. As drawn as he was to McCracken's singular style as a comedic dancer, he also found in her a true support system. She encouraged his creative efforts and pushed him to choreograph original works. Her own career, however, stalled in part due to health complications resulting from diabetes. Then Verdon came along, and Fosse's devotion went elsewhere. They divorced in 1959 in the midst of McCracken's worsening health, and she died in 1961.
Liza Minnelli (played by Kelli Barrett)
Liza Minnelli proved to be the secret weapon in some of Fosse's greatest professional achievements: Cabaret, which won him an Oscar, and Liza With a Z, which won him three Emmys that same year. A 1970 Oscar nominee for The Sterile Cuckoo with an additional string of film and stage credits under her belt, Minnelli was already a star when Fosse approached her to replace original Broadway star Jill Haworth as Sally Bowles in Cabaret's film adaptation. As daughter to Judy Garland, she was and is Hollywood royalty.
Chita Rivera (played by Bianca Marroquin)
Just as Fosse would be nothing without his Verdon, Chicago's lead femme fatale, Roxie Hart, would be nothing without her Velma Kelly. That's where Chita Rivera came in. In the original 1975 Broadway production that was meant to mark Verdon's return to the limelight, dancer and actress Rivera came on to star as the Velma to Verdon's Hart. But that wasn't the first time she'd worked with Verdon and Fosse; she'd starred in a national tour production of Sweet Charity several years prior and was later tapped for the 1969 film adaptation. They then worked together again in 1981's TV-movie version of Pippin with Ben Vereen and others.
Nicole Fosse (played by Blake Baumgartner and Juliet Brett)
The apple doesn't fall far from the tree — that much proved true with Nicole Fosse, at least, who followed in her parents' footsteps to become a performer, eventually dancing in a number of her father's films, including the close-to-home All That Jazz. Today, she directs the Fosse Verdon Legacy organization to preserve the life's work of her parents. She also acted as a consultant and co–executive producer on Fosse/Verdon. Explaining her reasoning for coming onboard, she's said that the prior work of the show's creators, specifically Kail's with Hamilton, "created almost a new genre in how we approach storytelling" in a fashion similar to what her "parents did … in their generation." She is played on the series by Blake Baumgartner in her younger incarnations and by Juliet Brett in her young-adult years.
Shirley MacLaine (played by Laura Osnes)
While she went on to have one of the most notable screen careers of the 20th century, Oscar winner Shirley MacLaine owes her move to Hollywood in part to none other than Fosse himself. Her breakout role came on Broadway while performing in the ensemble and understudying Carol Haney in The Pajama Game, which Fosse choreographed. In what's perhaps the most famous understudy-to-leading-lady story in the books, MacLaine was discovered by Hollywood producer Hal Wallis while going on for an injured Haney through a string of performances. He brought her on to sign with Paramount, and she was off to the West Coast. She worked with Fosse again in 1969's troubled Sweet Charity film adaptation, starring in the title role that Verdon originated on Broadway. (Even after being replaced by the studio, Verdon came onboard to help Fosse with the choreography.)
Joel Grey (played by Ethan Slater)
Perhaps it was the pressure he felt to perfect Cabaret after his failed filmic attempts with Sweet Charity, but Fosse notoriously butted heads regularly with actor Joel Grey, who won the Tony for originating the role of the Emcee on Broadway. After producers made Fosse cast him in the film adaptation, Grey went on to win the Oscar for Best Supporting Actor. While that was the last time Grey and Fosse would work together in the choreographer's lifetime, Grey revisited Fosse's signature stylings in the Broadway revival of Chicago, in which he co-starred with choreographer Ann Reinking as Amos Hart, nabbing a Drama Desk Award for featured actor in a musical.
George Abbott (played Byron Jennings)
Legendary Broadway director George Abbott was an early-career gatekeeper for Fosse. Initially introduced to Fosse by Joan McCracken, Abbott went out on a limb and hired the young performer to choreograph The Pajama Game. They again worked together with producer Hal Prince on Damn Yankees, effectively connecting Fosse and Verdon and leading to the former's divorce from McCracken. After working with Abbott on several shows in director-choreographer partnership, Fosse used his pent-up desire to be a sole creator to break out from under Abbott and begin directing his own work. Widely known as "Mr. Broadway" for his 80-plus years of contributions to the stage, Abbott died in 1995 at the age of 107.