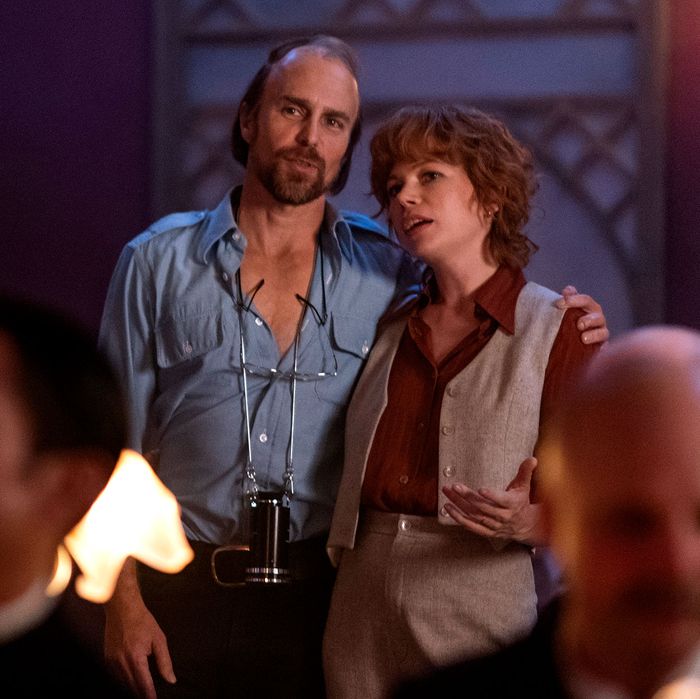 Sam Rockwell as Bob Fosse and Michelle Williams as Gwen Verdon.
Photo: FX Networks
From Damn Yankees through Sweet Charity and Chicago, Bob Fosse and Gwen Verdon were involved in some of the most significant works of theater, film, and dance of the 20th century. So, in making a television show about them, the creators of FX's Fosse/Verdon knew they wouldn't be able to include it all. The series, conceived as a set of eight short stories, skips nonchronologically through the major moments in their careers — focusing on the period when Fosse shot the film version of Sweet Charity onward — within the context of their work, without explaining every detail of it. "You could just do eight hours of just back-to-back numbers that Bob choreographed that Gwen was in," writer and executive producer Steven Levenson said. "The good thing is that stuff exists out there in the world, and you can see it, so we didn't have to."
For those who might need a little more hand-holding, Bob Fosse was a dancer turned choreographer turned stage and film director responsible for the sinuous and yet fractured style of dance you might associate with jazz hands, wrist isolations, and hat work. Gwen Verdon was a four-time Tony-winning star of Broadway and of several shows Fosse worked on, including Sweet Charity and Chicago. Verdon and Fosse were married in 1960, and separated in 1971, in part because of his numerous infidelities, but they never divorced and remained close until his death in 1987. And as Fosse/Verdon emphasizes, she was a key creative force in their partnership. The series is heavily influenced by Sam Wasson's biography Fosse, but the change in title alone reflects the creators' interests in elevating her involvement.
Based on that biography, other research, and conversations with Fosse and Verdon's collaborators as well as their daughter Nicole Fosse (who is a co-executive producer and key consultant on the series), the creators of Fosse/Verdon used the show to emphasize how Verdon would often help the prickly Fosse manifest whatever he was trying to communicate into reality. In the first episode, which premieres Tuesday, Verdon arrives on the set of his film Cabaret and helps rescue production process mid-shoot. "A lot of that stuff is hiding in plain sight," director and executive producer Thomas Kail said. "We knew the projects that Gwen had done. We knew that Gwen showed up on the set of Cabaret. We knew these signposts, and then, using the bits that we bring from Nicole and from other people, and using our imagination, we could fill in the story."
On the show, Fosse and Verdon's film and stage productions often become metaphors for their relationship. The first episode centers on the making of Cabaret with a sort of "gleeful nihilism," as Levenson puts it, that matches the tone of the film set in Weimar Berlin. Another episode that gets into the beginnings of Verdon and Fosse's partnership revolves around Damn Yankees, a show about selling your soul to the devil. Pippin, a notoriously kooky show that's (basically) about a young man lured by a group of traveling performers who try to make him light himself on fire for the sake of a good spectacle, becomes a handy metaphor for Fosse's own relationship to fame. "It was never about picking a song-and-dance number and figuring out where it went," executive producer Joel Fields, late of The Americans, said of the show's structure. "It's instead following the emotional journey of these two characters and seeing what best incident would express that story. Because they're musical-theater people, of course song and dances would be part of that." (Of the Pippin episode, Fields added, "We've been waiting our entire lives to be able to do that.")
In terms of the show's larger arc, it starts at roughly the "peak" of Fosse's career, according to Levenson, as he was being recognized as a creative force, even while his marriage with Verdon was dissolving. At this point, they were working on the film version of Sweet Charity, a musical about a carefree taxi dancer that starred Verdon on Broadway, though she was replaced with the younger movie star Shirley MacLaine for the film. (As we see on the show, Verdon helped MacLaine learn the steps.) Sweet Charity flopped at the box office, though Fosse followed it up with Cabaret, which became his most praised work, even as his marriage to Verdon disintegrated further. "It felt perversely right to start at the end [of their romantic relationship] and then go forward from there," Levenson said, "In the '70s, it seems like, from everything that happened between them, their marriage really should've been over then. And yet, it wasn't."
Fosse and Verdon's relationship crumbled primarily due to his womanizing habits. He would often sleep with young dancers he worked with, and, as the show does not shy away from depicting, he'd use his power to pressure them into sex. Those are habits Fosse himself glamorized, to an extent, as part of his own troubled genius, such as in his highly autobiographical film All that Jazz. Fosse/Verdon digs into the trauma that may have affected Fosse's toxic sexual behavior — he grew up performing in seedy clubs, and as the show depicts, he was molested by the older performers — but the producers say it stops short of associating his abusive behavior to his talent. "It was very important to all of us not to link any of that to his genius because it had nothing to do with his genius," Fields said. "It had to do with his demons, and maybe he is the genius to explore those demons. One wasn't necessary for the other."
In order to re-create Fosse and Verdon's work, the show also portrays their friends and collaborators, many of whom are famous in their own right. The cast includes numerous Broadway actors as recognizable figures — including Kelli Barrett as Liza Minelli, Ethan Slater as Joel Grey, and Laura Osnes as Shirley MacLaine — who were chosen not because they bear an exact resemblance to the people they're playing, but because they had the right energy for the roles. "These are people we felt had something in their DNA that just matched," according to Kail.
The big stars also occupy the side portion of the story, a reversal that amused Fosse/Verdon's creators. "The thing that stuck with me about the portrayal of these famous people is we're used to seeing them onstage performing," Levenson said. "The way we experience them here is not as the central focus of the story, but in the periphery of Bob and Gwen's story, because that's how they were to these people."