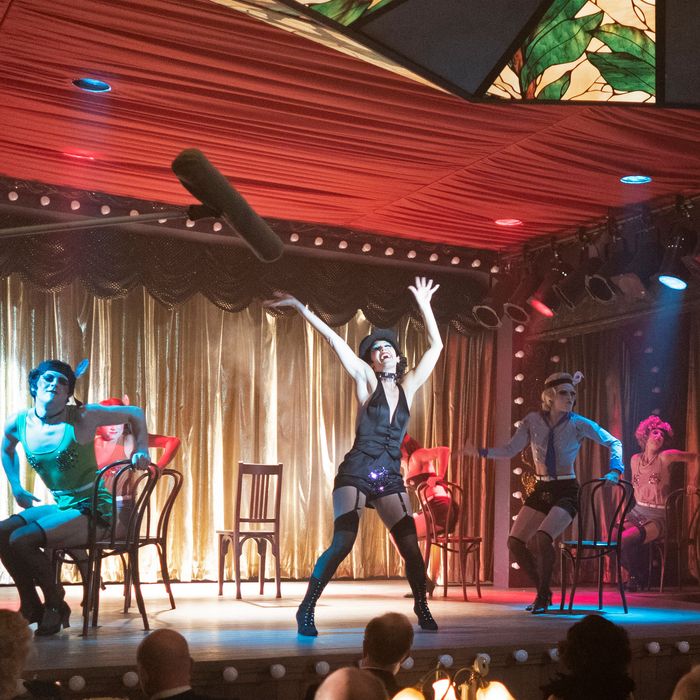 Kelli Barrett as Liza Minnelli in
Fosse/Verdon
.
Photo: Michael Parmelee/FX
Most of the stand-out moments in Fosse/Verdon come when the title characters are hard at work on the set or stage of some of the many projects they worked on together. The show pays attention to the details of their collaboration — Bob Fosse often had ambitious ideas that he struggled to articulate, while Gwen Verdon, without much credit, was able to communicate those ideas to the people he was working with — and, in doing so, painstakingly re-creates the settings for that collaboration. There are scenes on film sets, in rehearsal rooms, and on stages in New York and on the road.
The show filmed primarily in New York, where production designer Alex DiGerlando oversaw the sets' re-creations on various soundstages, relying on photography, videos, and consultations with people who had worked with Fosse and Verdon themselves. "In a weird way, it's harder than designing something from scratch," DiGerlando explained. "In this, we have to make sure the director and the DP have what they need to get the shots they need, but there's also a kind of custodial responsibility to capture this thing the way it was so that you're not rewriting history."
With that idea of "custodial responsibility" in mind, Vulture asked DiGerlando to walk us through what went into the design for some of Fosse/Verdon's most important scenes.
Sweet Charity
Fosse/Verdon opens on the set of the film adaptation of Sweet Charity, where Fosse directed Shirley MacLaine, with the help of Verdon, who'd led the musical on Broadway. For the series, DiGerlando had to rebuild the set of the Fandango Ballroom, which is used for "Big Spender" in the film, focusing on re-creating the bar on which the dancers pose and recline during the number. DiGerlando actually had to build a Sweet Charity set twice, because later in the series, the characters visit a touring revival of the show, which used a different set.
We can see how Fosse staged the number in clips from the film, but as DiGerlando realized, that didn't necessarily give him all the information he needed. "Looking at a blurry freeze frame from a DVD is very different than what you're ultimately creating, which is a 3-D immersive environment," he said, noting that he also looked for behind-the-scenes footage to figure out which microphones, dollys, cameras, and other tools Fosse's crew might have been using. "The good news is a lot of less-than-state-of-the-art facilities still have the older lights," he said. "A lot of universities and schools and stuff. They haven't upgraded to LED systems yet, so we're able to get those."
Cabaret
"If I were to ask you what the Kit Kat Club looks like, you would probably tell me it's a black set with lightbulbs around a stage," DiGerlando said of the set that's central to Fosse's film version of Cabaret. "But it's actually burgundy-red–and–purple walls with glitter murals. The photography of the movie is so dark that the details are murky." In order to design that set, he and his team took freeze frames from Fosse's film and bumped up the brightness and contrast to differentiate the actual colors.
DiGerlando also realized that the set wouldn't be static and that Fosse was probably moving things around between scenes, both in terms of the props and the lighting. He would ask Fosse/Verdon's own gaffer about various shots in Cabaret, "the way this is lit, where would you put your lights to get this effect?," then adjust the show's period-set dressing lights to approximate what it would take to get those shots. Then, on top of that, they would bring in the contemporary lighting rigs for the television show itself to get the lighting they would want for their own scenes.
Damn Yankees
In its yet-to-air third episode, Fosse/Verdon jumps back to the beginnings of Verdon and Fosse's stage careers, covering her breakout work in musicals like Can-Can and Damn Yankees. While more recent stage productions have been filmed and preserved for posterity, a re-creation of the versions in which Verdon starred forced DiGerlando to rely on publicity photos and still shots of the set. The scenes involving Damn Yankees, specifically, take place during the musical's out-of-town try-out in New Haven, which meant that he had to approximate what the show would've looked like then, which would've been different from both its Broadway staging and the movie version (seen with Fosse, who didn't perform onstage, and Verdon above).
"The trickiest thing was that all the photos of all the sets that you can find, for the most part, are black and white," said DiGerlando, "and of course we're making a color show. So we had to take some guesses on what the colors would have been." To find some details on the color, he consulted the color sketches in a book on the original Damn Yankees husband-and-wife scenic-design team, William and Jean Eckart, then hired artisans to help design materials that would mimic the original handmade quality.
"Even though they're done by master craftsmen at a much higher level than a student production, the techniques were just like fancy versions of what a student production today would be, as opposed to like Broadway standards now, where's there's all sorts of new technologies and things," DiGerlando said, noting that some of the scenic artists he collaborated with worked on later Fosse productions or revivals, or still work on Broadway in productions that call for old-fashioned sets. "I had a handful of really top-notch guys, fortunately, on my team, who still do this kind of work."
Chicago
Today, the musical Chicago is most closely associated with the stripped-down staging of its 1996 revival (still running to this day), but Bob Fosse's original 1975 production had a massive, expensive set designed by Tony Walton. "The original set was wild," DiGerlando said. "It had all sorts of like rotating staircases, backlit glowing murals, really intricate neon." While the Lincoln Center archive has records of almost every show starting in the 1970s, "for whatever reason they didn't get permission to record Chicago," DiGerlando said, so he had to rely on whatever incomplete documentation he could find and consult with Walton himself.
As it turned out, the special effects of the Chicago set were the hardest to master. At different points during the show, such as in the finale "Nowadays," seen on Fosse/Verdon, the portals on either side would light up, "and what you thought was just glossy black plastic is actually backlit, and iconic imagery from the '20s would glow," DiGerlando said. It wasn't until he got in touch with Walton that he realized how those effects looked and worked, then "we had to pick and choose how many we could actually make in our time frame."
All That Jazz
In All That Jazz, Bob Fosse made a near documentary about his own life, starring Roy Scheider as Joe Gideon, a version of himself, and concluding with the surreal finale "Bye Bye Life," which is essentially death by way of a farewell concert. Adding another layer of metatheatricality, in a late episode in the series, Fosse/Verdon re-creates Fosse's re-creation of his own life, and restages "Bye Bye Life." In re-creating the scene, DiGerlando again consulted with Walton, who won an Oscar for All That Jazz's set decoration, especially for help finding a material to replicate the mirrored Mylar that's draped around the movie set. The Mirrex Corporation, which made the material, happened to have shuttered a few years ago, so DiGerlando had to use a different material that had similar properties.
DiGerlando, who worked on the set of Charlie Kaufman's Synecdoche, New York, a movie about a theater director staging a play about his own life, said the experiences were fairly similar: "There were just some things where we just kind of looked at each other and were like, 'This is a total ouroboros.'"