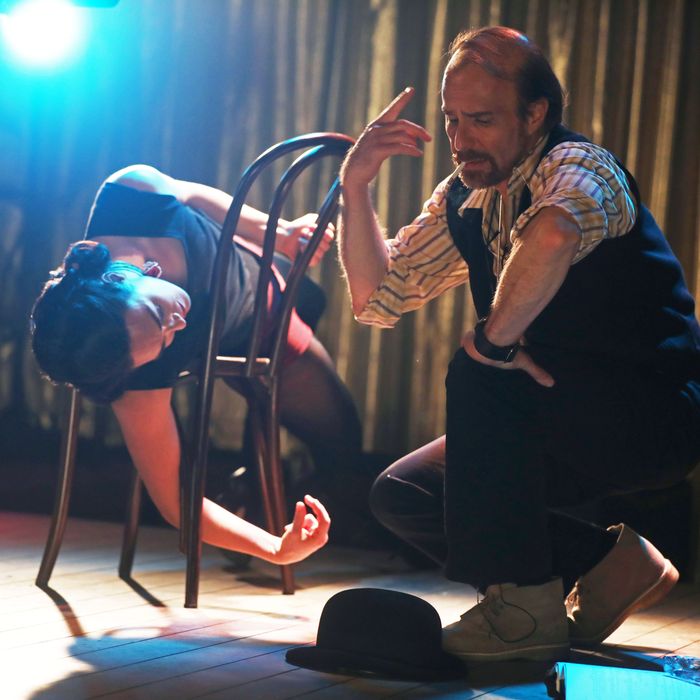 Photo: Craig Blankenhorn /FX
Aaaaand … five, six, seven, eight …
Bob Fosse's story has been told — and told well — multiple times. The dancer/choreographer/director did it himself, in 1979's All That Jazz: a big-screen musical memoir that lightly fictionalized his successes, his failures, and his many affairs. That film jumps back and forth in time, as a faux Fosse, played by Roy Scheider, suffers from a heart attack due to his pill-popping, overwork, and the stresses of juggling the multiple women in his life. Also great: Sam Wasson's 2013 biography Fosse, which covers its subject's life from his colorful childhood in working-class Chicago to his death at age 60, with each chapter heading counting down to Fosse's demise.
So, besides being on TV, what does FX's Fosse/Verdon have to offer that's different from a masterful Fosse movie and a superb Fosse book?
The answer's in the title. In the first episode of this eight-part miniseries — called "Life Is a Cabaret" — nearly every moment of bracing insight involves Gwen Verdon. In this first chapter, Michelle Williams plays the multi-Tony-winning actress and dancer as everyone's ideal older sister, giving advice and offering words of encouragement but unafraid to let her loved ones know when they're letting her down. Williams brings an often-overlooked entertainer back to life.
"Life Is a Cabaret" starts in the middle of the Fosse/Verdon story. Well, actually, it starts — and ends — in the final minutes of Bob Fosse's life. The episode is framed by an incident from 1987, when Gwen Verdon knocked on her husband's hotel room door in Washington, D.C., to escort him to the opening night of a revival of their 1966 Broadway smash Sweet Charity. Bob would collapse from a fatal heart attack minutes later — but director Thomas Kail and screenwriter Steven Levenson don't show us that (yet).
Between those D.C. scenes, "Life Is a Cabaret" covers just a few key moments in Fosse's career, from the late '60s and the early '70s. We see him directing the 1969 movie adaptation of Sweet Charity. We see him at a Sweet Charity premiere party, realizing that the picture's going to bomb. We see him fighting for the chance to direct the big-screen adaption of the sexy, sad Kander and Ebb musical Cabaret. And we see him in West Germany, struggling to get his Cabaret cast, crew, and producer to understand his vision for the film … until Gwen arrives, and gets everyone on the same page.
Sam Rockwell plays Fosse, and brings as much of his own personality and physicality to the role as Williams does to Verdon. The gist of this episode is that with Cabaret, Fosse ignored everyone else's advice (except for Verdon's), and instead trusted his own wounded pride.
The original production of Sweet Charity was the apotheosis of Fosse and Verdon's Broadway years. It was Gwen's comeback show after she took time off to have Bob's baby. To tell this story about a low-rent partner-for-hire in a sleazy dance hall, the couple researched counterculture types in go-go clubs and prostitutes working the streets, all in an effort to bring youthful zest and worldly maturity to the stage. They didn't write the score (that was done by lyricist Dorothy Fields and composer Cy Coleman), they didn't write the book (that was Neil Simon), and they didn't come up with the story (derived from Federico Fellini's film Nights of Cabiria). But Sweet Charity was their show.
But the movie got away from them. "Life Is a Cabaret" shows how Verdon worked with the film's cast, giving them notes about the psychology of an exhausted sex worker — and winking that she's telling them things that men, including Fosse, would never know. She did this even though she was replaced in the film by Shirley MacLaine, and even though her husband's spiky take on transactional love was being toned down at very turn by the producers. Universal Pictures poured $20 million into this project, but in 1969 — 1969! — didn't have the guts yet to let a character say the phrase, "Up yours," or to let Times Square look like anything other than "a Disney cartoon."
Fosse — or at least Rockwell's Fosse — pretended in public that the flop didn't matter. But it burned him up that he didn't fail on his own terms. The bulk of this episode shows Bob torturing Cabaret producer Cy Feuer (played by Paul Reiser), burning time and money while he waits for the lighting to be dark enough, the costumes to be tacky enough, the dancers and extras to be exhausted and battered enough. This time, he was determined to make something true.
"Life Is a Cabaret" doesn't get to the part of the story where Cabaret becomes an Oscar-winning blockbuster. Nor is it especially heavy on backstory or context. At one point, Cy expresses the standard industry and critical perception of Fosse at that point in his career: "What you do, and what you do really well, is style … flash." Later, Fosse drops a reference to his military service (in a U.S. Navy entertainment unit, just after the end of World War II); and occasionally his mind wanders into a quasi flashback to his years as a young hoofer desperate to become the next Fred Astaire.
But for the most part, Kail and Levenson (working with a producing team that includes their two stars and Lin-Manuel Miranda) are just interested in isolating tiny moments from the lives of their subjects. Just as Fosse spent hours trying to get a single gesture just so — because he felt one small articulation of the finger or wrist or knee could represent something greater — Fosse/Verdon filters the larger saga of two Broadway greats through anecdotes and vignettes that express who they were, and how they worked together.
And beyond the focus on minutiae, what really makes this show different from other Fosse-centered stories — at least in the first episode — is that it reveals Verdon's part in making the Fosse magic happen. By the time of Cabaret they'd separated, and yet she still flew to West Germany at his insistence, knowing that when she arrived she'd find him dallying with other women. ("Am I going to be unhappy when I get there?" she asks before she agrees to come over.)
On set, though, Verdon brightens, taking Fosse's rough explanations of what he wants and making them easier for everyone to understand. "I just know how to speak Bob," she laughs. What's exciting about this first episode of Fosse/Verdon is that it looks like this miniseries is also going to "speak Gwen."
Once more, from the top …
• I say this episode doesn't overexplain things to the audience, but it's not without some clunk. The big party sequence early on, for example, is filled with famous Broadway folks, and Levenson's script strains to make sure theater geeks will recognize everyone. People call Paddy Chayefsky by his full name; and when someone asks "Hal" (legendary producer Harold Prince) what he's doing next, he mentions it's a musical about "a single guy" (as in, Stephen Sondheim's groundbreaking 1970 show Company). Even during the Cabaret scenes, Levenson and Kail mostly avoid underlining their points, but they can't resist having Fosse grumble, "I'm trying to do something original, and you don't understand." That's some bad biopic stuff.
• A lot of the early conversation about Fosse/Verdon has been focused on whether it subverts or reinforces TV's all-too-common "brooding asshole genius" male antihero type. That's a good discussion to have, and one I'll be exploring more in the weeks to come. This first episode, I'd say, splits the difference pretty well. Fosse's clearly meant to be seen as brilliant, but also as someone with major deficiencies who needed Verdon to take his ideas to the next level. I hope the rest of the series maintains this kind of character complexity. It'd be irresponsible to ignore that Fosse was a jerk to women. But it'd also be short-sighted to say that his work — which transformed American musical theater — is unworthy of further study. I'll have more to say about this in future reviews. In the meantime I highly recommend this Washington Post article about Bob and Gwen's daughter Nicole, and about her close-up view of her parents' strange relationship.