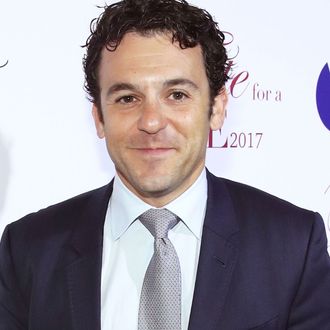 Fred Savage.
Photo: Jonathan Leibson/Getty Images
There are now officially so many aftershows that Fox has decided the format is worth spoofing. The network announced today that it's handed out a nine-episode series order to What Just Happened??! With Fred Savage, a very real aftershow for a completely fake dramatic series titled The Flare, which is based on fictional author T.J. Whitford's sci-fi book series The Moon Is the Sun at Night. Like the books, the (fake) show centers on "a solar event and its effects on Earth — specifically, the small, blue-collar town of Milford, IL — and slowly unfolds into a post-apocalyptic battle for human survival." Savage is a big fan of the (fake) books, which is why he's hosting the (real) aftershow. Fox posted two promos for The Flare on Instagram today, one of a Whitford book cover and another of a mysterious ring of fire:
What Just Happened??! will feature "authentic sit-down celebrity interviews," set visits to The Flare, discussions with fans, and interviews with the Flare "cast," though Fox hasn't revealed that cast just yet. Savage will also serve as an executive producer on the half-hour show alongside Dave Jesser, Matt Silverstein, David A. Hurwitz, former Talking Dead producer Jen Patton, and Adam Lowitt (Who Is America?, The Daily Show). The writing staff includes Abbey McBride (Brooklyn Nine-Nine, Alone Together), Edgar Momplaisir (Great News), Chase Mitchell (The Tonight Show Starring Jimmy Fallon), Agathe Panaretos (Chelsea), and Sean O'Connor (The Late Late Show With James Corden, The New Negroes). Just to be perfectly clear, The Flare is very fake, but What Just Happened??!, which is very real, premieres on Fox Sunday, June 30, at 9:30 p.m.