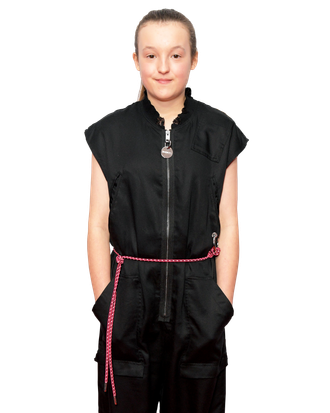 Photo: Scott Garfitt/BAFTA/REX/Shutterstock
Bella Ramsey's Lyanna Mormont — stern-faced hero of serious girls everywhere — has been standing up to huge dudes for her entire run as the head of the ancient Mormont clan and the people of Bear Island on Game of Thrones. When she insisted to her cousin Jorah in "A Knight of the Seven Kingdoms" that she too would fight when the White Walkers arrived at Winterfell, we worried she'd be toast. She trained in combat, sure, but "pint-sized" Lyanna, as Ramsey refers to her character, was no physical match for the beasts climbing the walls and charging the gate.
But if she had to die, Ramsey is happy that she went out with such a bang in "The Long Night." A knife through the eye to one of mankind's biggest foes was a metaphorically perfect ending for her character, a tiny feminist with the courage and audacity of many men three times her size. The 15-year-old actress told us how the crew hoisted her up in a "giant claw machine" to stab that gigantic zombie, that she "let out a little battle cry" when she read Lyanna's death scene, and offered her own prediction for who will take the Iron Throne.
Thank you so much for talking to me. I'm sure you're incredibly busy with interviews today.
Yes, this is my seventh one of the day. And I'm a bit tired because I stayed up until two this morning to watch it.
And what did you think when you were watching?
It was very intense, wasn't it? Yeah, my heart was beating, definitely.
Have you finally caught up on all of the episodes? You recently said that you hadn't watched the full series yet.
Nope. I've still not watched the full series because it's rated for 18 and I'm only 15. I'm going to wait a few years yet, but I haven't really a clue what's going on.
Lyanna was initially meant to be featured in one scene, but the fans loved her so much that the show's writers brought her back. Did you worry that she was going to die? Or did you hope that she would make it through till the end?
I didn't even expect to be asked back for season eight, so I was very grateful even for that. It sounds terrible, but I wanted her to die a great death. Or have a final scene of something really significant. I feel like the way she died was very fitting.
What was your reaction when you read the death scene in the script?
Very, very, very excited. I did a little battle cry in my head. I wasn't allowed to tell anyone, so I had to keep all my excitement in my mind.
Did it sound like the one that Lyanna makes when she's about to stab the giant?
No, I didn't even know what that was going to sound like until it happened. I just opened my mouth and out came this battle cry.
That scene when you're in the giant's hand, how they film that? Were you actually up in a crane, or suspended in some way?
Yeah, I'm on this giant claw machine. It was kind of like a robot, so it had programmed moves which tricked me out like I was being lifted up by a giant. I was on green screen and they had a load of very clever digital things which made it look more real.
How long did that take?
It took quite a while. I'd wrapped about five times, and they kept having to bring me back and say, "Oh no, actually you've not wrapped, there's one little bit to retake." They'd become so determined to get it exactly how they imagined it.
What were you actually stabbing when you stabbed the giant in the eye?
I was stabbing, with a bit of sloppy dragon glass, a green polystyrene ball.
Did the director say anything about how he wanted Lyanna to look?
I talked to Miguel [Sapochnik], the director, about it. I wondered whether this is the first time that we see her actually afraid, but we agreed in the end that she wouldn't be afraid. Miguel said something which I'll never forget: "Someone removed Lyanna's fear genes." Fear wasn't even in her DNA. It's something that doesn't belong to her. She was just going into the stab with sheer determination, almost animal instinct, and loads of courage.
Those weeks of night shoots sound like they were tough for the cast. How did you get through all that time that you spent awake at night?
The adrenaline, really. I only did seven nights, and the rest of the crew did 55. I really didn't do much compared to everyone else, but that was enough. It was very, very tough. It was a phenomenal experience and I'm never going to forget it, but it was a challenge. But that's fine because I love a challenge. It was very, very cold, very physical. The wind and the fake snow was overwhelming in a good way.
Did you feel like that was helpful for your character?
Yeah, definitely. Lots of it wasn't really much acting, it was just like pure instinct, the kind of survival instincts that kicks in.
In the previous episode, Lyanna insists that she's going to fight, but her cousin Jorah tells her she should be in the crypts with everybody else. Did you have a relationship with Iain Glen at all?
Yeah, he stayed in character quite a lot. As soon as we'd cut, he'd always go around to the monitor and watch it back to see what our chemistry was like, so he was constantly getting feedback for both himself and for me. He's a really fantastic actor, so it was great to work alongside him and be in a scene with him rather than just standing in a hall and talking to a load of grown men. It was nice to have more of an intimate scene, especially because they're family as well.
In the scene with the giant, the way that you stab him is really similar to the way that Arya kills the Night King. Did you feel like the episode was like a triumph for the female characters?
Yeah, definitely. It proves that young people are just as capable as experienced people, and women are just as capable as men. The fact that little pint-sized females took out the most dominating forces in the White Army was pretty inspiring, actually.
Who will you miss working with the most from the cast?
That's a very hard question. Megan Parkinson, who plays Alys Karstark, I really got on very well with her. We were on-set sisters, so I'll miss acting with her. We were in a lot of scenes together.
Did you take anything with you from the set when you left? Any souvenirs, or any Game of Thrones memorabilia?
I didn't take anything from the set, unfortunately. I didn't [take anything] because I had to keep going back so many times when I thought that I'd wrapped. But they did give me and my mum and dad a hat. They gave me a blanket as well, which had "Game of Thrones" embroidered on it, which is very, very kind of them.
Lyanna has become an internet sensation. She's a stand-in for how tough even the smallest women can be. What's it like to see yourself all over the internet? Have you ever been like, Oh look, there's me! I'm a meme!
Yeah, I have. It's a really bizarre experience. I'm still in disbelief. I still don't feel like it's happening. I'm just Bella, really. It doesn't feel like I'm all over the world. Occasionally when I look at my Instagram and see how many followers I have, it shows me how it's going up by the minute. It blows my mind, but everyone around me keeps me grounded.
Has playing Lyanna rubbed off on you at all?
Definitely. Her confidence and her courage is astounding. I always stood up for what I knew was right like Lyanna does, but to do it with confidence and courage [is] something I've taken from her.
I know you can't tell me what actually happens, but if you could pick, who do you hope ends up on the Iron Throne?
I actually have no idea what happens because I only got the scripts I was in. I think Arya deserves the throne — and Gendry could rule with her. Maisie [Williams] and Joe [Dempsie] together ruling the Seven Kingdoms, that would be awesome.
Are you going to watch the finale?
Yeah, I think so. I probably won't understand it because I've not seen the rest of the seasons, but I'll watch it anyways because of the graphics and photography.
You can't be the only person in the world who doesn't know how Game of Thrones ends.
Yeah, exactly.