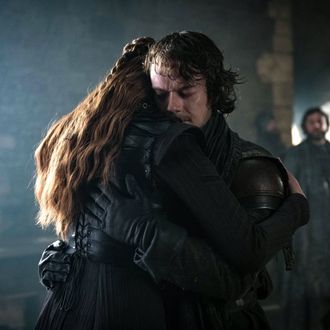 RIP (the prequel idea, not these characters; who knows what will happen to them).
Photo: HBO
What is dead, in television development at least, has really died. As HBO prepared for the end of Game of Thrones, it announced several potential spinoff series, but one of them definitely isn't moving forward. "My prequel show is not happening and will not happen. HBO decided to go a different way," Game of Thrones writer and producer Bryan Cogman said in an interview with The Hollywood Reporter. "I'm working with Amazon now and helping them out with their shows. So it is a good-bye. I am done with Westeros."
Cogman's prequel series, announced in September 2017, was "set during a very exciting period of Westerosi history," according to George R.R. Martin.
HBO announced Cogman's project after the network said it was developing four other potential prequel series. Of those, it has ordered only one project to pilot: a series from Jane Goldman and Martin that will star Naomi Watts and Josh Whitehouse. The untitled spinoff will take place during the Age of Heroes and reveal "the horrifying secrets of Westeros's history to the true origin of the White Walkers." Or maybe it won't! HBO could very well decide not to go forward with it because, as Game of Thrones has taught us, the world is pretty cruel.