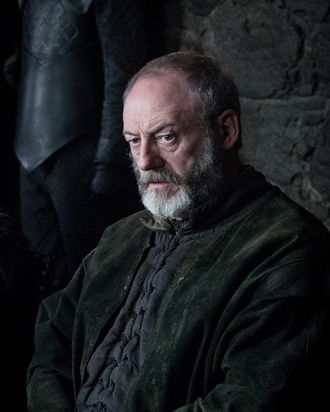 The king of thieves.
Photo: HBO
In the stages of mourning a show's end, "thievery" comes somewhere between "depression" and "acceptance": After they've spent years of their lives playing fictional characters, many actors cope by taking something from the set to remember their roles. Given the otherworldly locations, fantastic costumes, and incredibly detailed props, the Game of Thrones cast didn't resist this temptation as production wound down on the show's final season last summer. At the Thrones press junket ahead of the season-eight premiere, we asked the actors to fess up about what they stole.
The Iron Throne has many claimants, but there's no dispute about Game of Thrones' King of Thieves: Everyone agrees the champion stuff-taker was Liam Cunningham. "He stole fucking everything," Maisie Williams said. Cunningham readily admitted it. "I went off with a U-Haul truck full of stuff," he said. "Dothraki swords, lumps of obsidian, Bank of Braavos money." (His secret was befriending Brian from props.) Most of the souvenirs he gave to his kids: "When I've blown all the money on horses and fast cars and leave them with nothing, they might be able to go on eBay and get five bucks for a coin!"
Sophie Turner took a scroll from one of the final episodes, but to reveal more about it would be a spoiler. (She also got one of Sansa's corsets.) Williams took one of Arya's jackets, which was fun but less fun than the silicone blood splatters she nabbed from the Hall of Faces a few years ago. "I took the liberty of taking a few of them and leaving them in places for people to get freaked out," she said. "I was doing weird shit in the trailer!"
Isaac Hempstead Wright didn't realize it was his last day until he was already there, which necessitated a last-second nicking spree. "I ran through the set — it was actually a live set — and I grabbed a straw bowl, a wooden spoon, and a wooden tub full of what looks like Vaseline," he said. "I got a lot of kitchen utensils!"
Iain Glen, Conleth Hill, and Pilou Asbæk all went home with rings, possibly for the sentimental value, and possibly because they're quite easy to sneak away, though Hill made sure to mention that he didn't take his — he was given them. He also got "a little bit of dragonglass," and had earlier made off with a long red thread from the King's Landing brothel set.
Jerome Flynn and Hannah Murray both had an unusual pick: socks. Well, they weren't just any socks. "They're really good," Murray explained. "Like the kind you would use to climb Everest. I really wanted a pair, so I nicked them." (Flynn also took a practice sword.) Carice van Houten wanted to stay warm, too, so she took a pair of thermal underwear.
Jacob Anderson wasn't 100 percent sure he would be coming back for season eight, so he got his keepsake in season seven: one of those little figurines that represents an army on the show's beloved tabletop maps.
John Bradley didn't take anything. "I'm so scared of getting into trouble. The idea of getting into trouble makes me feel sick," he said. However, if he could have gotten up the courage to take anything, it would have been the thimble that Sam Tarly's mother gave him. Unfortunately, Bradley hasn't seen it since season three. "I just assumed I had it on me, and I didn't."
Joe Dempsie didn't take anything, either. "It never occurred to me," he said. "My experience is my souvenir." Richard Dormer joked that he took home a dragon. "It's in Belfast in a warehouse. I don't know which one it is, but it's big and it's dead."
"I was desperate to take all of it," said Gwendoline Christie. Sadly for her, it was not to be. When Christie first got on Thrones, production told her she could take home one of Brienne's swords once the show was over, but somewhere along the line things changed. "Sadly, no one predicted that the show would become a huge global phenomenon, so those articles are now extremely valuable," she said. "They're like, 'You can't have them anymore!'"
For Nikolaj Coster-Waldau, the idea of taking anything from the set was a slightly foreign concept. "In Denmark, when you finish a show, there's this old tradition from the theater where you put all your clothes on the costume rack [onto the floor] and then you have to step on it, to kind of get rid of it," the Danish actor said. "I've never really kept anything from anything. When it's done, it's done."
"I've never heard of that before," said Christie, who was sitting next to him. "That's very healthy!"