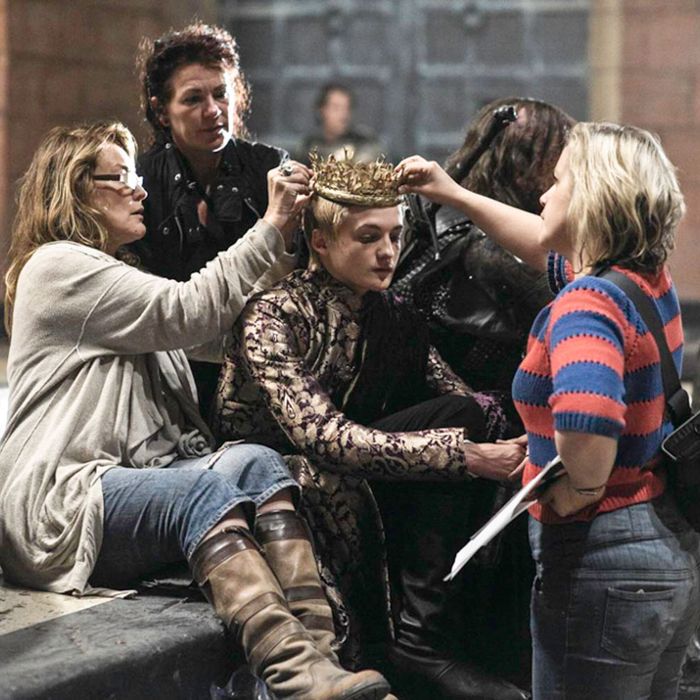 Helen Sloan isn't as famous a name to Game of Thrones fans as Emilia Clarke or Kit Harington, but the photographer has played as integral a role in the HBO epic as any of its actors. As the series' principal unit photographer, she has outlasted many on-camera stars (and even preceded some, including Clarke, who took on the role of Daenerys Targaryen after the original pilot was shot). Though she's gotten help along the way — she can't be in two locations at once, so HBO employs other photographers too — the most memorable Game of Thrones set images you've seen over the past eight seasons have probably been shot from her point of view.
Since first hearing of the job back in 2009, when Game of Thrones was still just an HBO pilot shooting between Northern Ireland and Morocco, Sloan has snapped thousands of portraits and behind-the-scenes images that launched thousands of fan theories. Ahead of the show's final premiere, Sloan shared her 14 favorite photographs from the past eight seasons and explained what made each one so special.
If there was a single moment when Sloan first understood the enormity of the cultural juggernaut they were creating with Game of Thrones, it was when her photos of Emilia Clarke began popping up all over the internet. "That was the first photograph that David [Benioff] and Dan [Weiss] referred to as iconic," Sloan says. "It was the first time I realized how big Game of Thrones was going to be."
Just like the audience, Sloan's time with Sean Bean was limited, but she made the most of it — especially with the scenes in the Godswood of Winterfell, which she describes as "a really beautiful place to shoot." Sloan loved this image in particular because it serves as a reminder of what life was like for the Starks "before the shit hit the fan." "It's a moment where everything is still okay because he's still alive," she said. "Everything was still, everyone was still together, and everything was still kind of okay."
One of the perks of Sloan's job was that she had free rein to wander the sets and shoot whatever struck her as interesting. The enormity of the production and the team that helped make Game of Thrones click quickly became a subject to which she dedicated many pixels, like in the above behind-the-scenes photos. "This image of Dany in the pyramid really shows the scale of the set that we're working on," she says. "I love that bird's-eye view, because I inhabit a silent world where I'm on my own just watching."
It's hard to imagine a TV character as loathsome as Joffrey Baratheon, but Sloan's photos make it clear that Joffrey was the creation of several talented cast and crew. "You've got everyone working together and no one's job is more important than anyone else's," she says. "It all just happens, and I love to watch that, particularly with Jack [Gleeson], because he was such a chameleon. He went from this quiet, polite, mild-mannered guy into this monster in seconds, and the transformation just happened when he put on his crown. He became a total maniac."
Documenting the production sometimes allowed Sloan to exist in her own "silent world," but action sequences like the Battle of the Bastards were a different challenge altogether. "We've shot a lot of battles, but that one was really insane," she says. "It was weeks of madness and dozens of horses on the battlefield and hundreds of extras. It was such a spectacle. There's a little scrum of us — we have a few camera operators, boom swingers, focus pullers, grips, and your special effects guys who are chucking a load of mud and blood and entrails — and we're all moving like a little organism and following Kit. It's just so impressive, because he really is fighting a battle."
While viewers have the pleasure of seeing battles play out with added special effects, what Sloan saw and captured in her photos felt much more real. "You're so close to the action, your brain kicks into a different gear where you have a little bit of survival mode going, because there are a lot of people swinging swords around you and a lot of horses running past," she says. "Your brain kicks into autopilot where it just remembers how to take photos. And, at the same time, not to trip up and get mowed down by a horse."
Being in the right place at the right time can be a happy accident, but on the Thrones set, it was also often the result of Sloan's careful planning. "I've read the scripts. I read the call sheets. I ask questions obsessively," she says. "I watch the rehearsals because I want to know all the right spots where to be, and exactly what the choreography is so I can get the moment."
This third season shot of Jon Snow and Ygritte's embrace on The Wall almost never happened because Sloan wasn't meant to be near the scene in the first place. "The camera was on this huge platform maybe 60 feet off the ground, and I wasn't supposed to be up there," she says. "But I'd been watching them from down below thinking, Oh, I've got to sneak up there. I got up there just in time for that little moment."
Though Sloan wasn't aware that Kit Harington and Rose Leslie were a real-life couple at the time she took this photo, the authenticity of their relationship — coupled with the tragic complexity of Jon and Ygritte's story line — seems to come through the camera anyway. "I love the romance of those two characters because it was so fraught, but also the passion and love and hate," she says.
Though some photographers might balk at the snowy conditions that Game of Thrones often filmed in, Sloan says she "absolutely thrives" in cold weather. The images she shot in Iceland, like the one above, also come with a personal significance to her. "I remember where we shot that photograph of everybody in a big long row. It was the same spot where, when I was living in Iceland and wasn't having a great time in my life, I went out for a hike on top of this snowy mountain and was thinking, What am I going to do with my life?" she recalls. "And then [to be] back on the same hill, looking in the same direction, and just thinking, Look what I've done with my life. It was just this lovely moment for me to photograph."
In the second season finale, "Valar Morghulis," Daenerys visits the House of the Undying, where she sees Khal Drogo and their son Rhaego in a vision. While Sloan loves this image partly because it reunited the crew with Jason Momoa — "He really is just so fun and the energy is always up and he is just great to have around," she says — there's another reason that it stands out: "It just so happens that the little baby in that photo is my daughter."
Call it picking favorites, but Sloan doesn't hesitate to say that the Thrones character she'd bend the knee to is Theon Greyjoy. "I've always loved Alfie [Allen]," she says. "I think he has shown the most different facets, and for me, photographically, I've seen him in the most different states. I love to shoot Alfie and he gets it and he respects photography."
That respect for the photographer's job is something that Sloan says extends to the rest of the cast as well. "Even in those really critical moments, where a photographer might get asked to leave the set, I've been so lucky because all of this cast has respected what is happening and what the crew is trying to do," she says, citing a scene where Theon is tortured at the hands of Ramsay Bolton. "They know that it's important."
After the show comes to its official conclusion on May 19, Sloan's work will live on in The Photography of Game of Thrones, a hardcover collection of her images that will be published by Insight Editions in September. Though she hopes that fans will enjoy the behind-the-scenes shots, her real goal is that the hundreds of people who worked on the series will "enjoy seeing all those memories together in one place."
"I don't want to sound too nostalgic, but everything has come to an end here," she says. "The whole show has come to an end and this family of crew and actors that we saw every day for ten years are suddenly gone, and there's a real deep mourning."