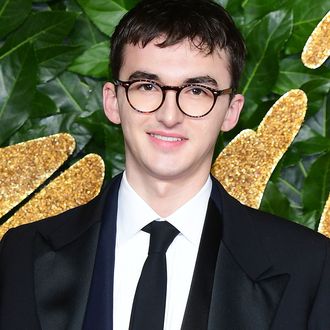 Isaac Hempstead Wright.
Photo: Ian West/PA Images via Getty Images
When you grow up in the claws of television, it doesn't let you out easily. Poor Isaac Hempstead Wright, a.k.a. poor Bran Stark, discovered this when he tried to start classes at Birmingham University in 2017 and got mobbed by people who knew him as Bran pretty much the entire time. As he tells the story to Esquire U.K., Hempstead Wright's roommates immediately recognized him, "We went for dinner and they didn't actually say anything until, eventually, one of their mates was like: 'so apparently you're in 'Game of Thrones?!' From there we went out to some awful club, and it was just … a massacre." Because people, especially college students, are terrible, photos of him at school and at parties quickly made their way to websites.
"My address got published," he said. "I couldn't walk out of my halls without having to take a selfie. Eventually I got assigned a campus police officer. There were so many tweets. And because your email is public domain, I got like, billions of emails from people going: 'Hi, three-eyed raven!' I was just trying to find out where my next lecture was." By the end of the year, Hempstead Wright dropped out, realizing that there was no way to get through college with those conditions, which is really too bad, as he also talks about loving physics and math and music.
"I don't think I'll ever be able to have a normal university experience, which is kind of sad," he said. "I couldn't relax and go out and have a drink or get drunk or whatever, because if I did someone would be like: 'I saw Bran and he was all fucked up'. My ex-girlfriend came up to visit and we just sat in my room for a week." Fame sucks!
Read Vulture's guide to every Game of Thrones season, recapped and explained.