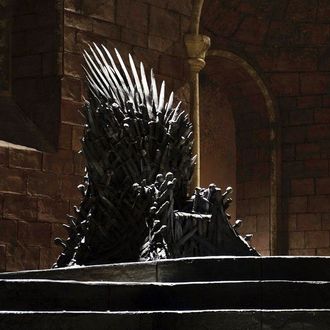 The Iron Throne in all its glory.
Photo: HBO
The biggest television extravaganza of the year has yet another treat for you, if you aren't already overwhelmed by all of the trailers, teasers, cookbooks, and SNL spoofs. Columbia Records announced today that it's releasing a Game of Thrones–inspired album with music from almost every artist you can think of. Artists listed are Rosalía featuring A. Chal, Maren Morris, the Weeknd, Lil Peep, Mumford & Sons, the National, Chloe X Halle, A$AP Rocky, Ellie Goulding, Jacob Banks, James Arthur, Joey Bada$$, Lennon Stella, the Lumineers, Matthew Bellamy, SZA, Travis Scott, Ty Dolla $ign, and X Ambassadors … whew. If every character you love dies, at least it'll be to good music.
When the show's final season premieres on Sunday, April 14, it'll already feature a song from SZA, the Weeknd, and Travis Scott at some point in the season. Daenerys riding a dragon into Winterfell will be the coolest scene of the summer, but add the ethereal sound of Ellie Goulding and a flamenco-inspired song from Rosalía and it'll look even better. Expect songs of both ice and fire on April 26.