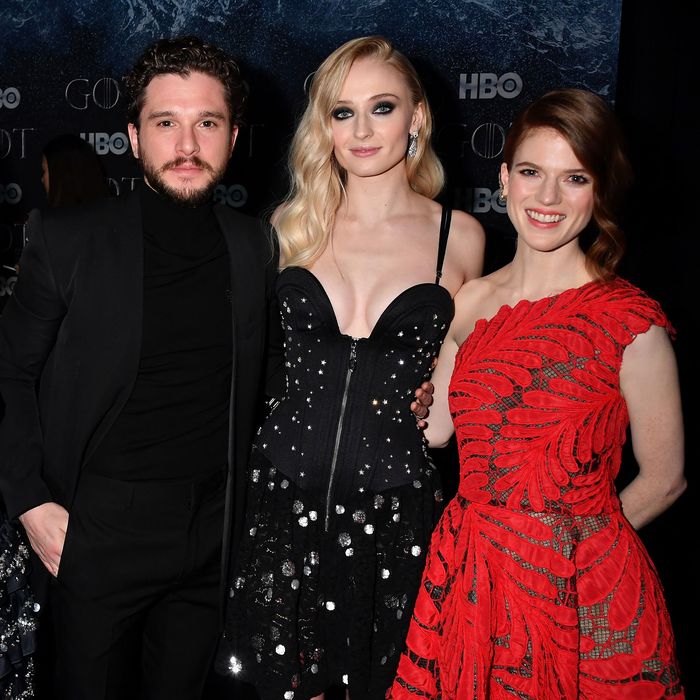 Photo: Jeff Kravitz/FilmMagic for HBO
On April 14, HBO will begin airing the final season of Game of Thrones, bringing together its many disparate story lines, characters, and dragons from all corners of Westeros, Essos, and beyond. We're wholly in off-book territory now, so fans have major questions that can't just be easily answered (or spoiled) by a quick trip to Reddit. Will Benioff and Weiss stick the (king's) landing and give fans a finale worthy of the epic series? Who, if anyone, will win the Iron Throne? Who will make it out alive?
We don't have greensight, so we can't answer those questions yet, but what we can tell you about the future of Game of Thrones is what the members of the show's prodigiously large cast will be up to next. Here's what we know so far.
Emilia Clarke (Daenerys Targaryen): Winter is coming again for Emilia Clarke, whose next project sounds absolutely delightful: a Christmas movie called Last Christmas, in which she plays a retail elf who meets a "too good to be true" man, played by too-good-to-be-true man Henry Golding. It's a Paul Feig joint, so expect Clarke to sport some chic elfin menswear-inspired looks.
Kit Harington (Jon Snow): Kit Harington has been busy during the Game of Thrones hiatus, starring in True West in the West End late last year. His film with King in the North (Canada, naturally) Xavier Dolan, The Death and Life of John F. Donovan, premiered at TIFF last fall and will be in wide release this year. Going forward with future projects, Harington wants to distance himself from Westeros by moving away from action roles or extended television commitments.
Lena Headey (Cersei Lannister): Lena Headey is more than ready to bury the Turnip, ditching her Cersei wig to star alongside Dwayne "the Casterly Rock" Johnson in Stephen Merchant's Norwich wrestling flick Fighting With My Family. After that, she's attached to a variety of film projects in development this year, including co-starring with Karen Gillan in something intriguingly titled Gunpowder Milkshake.
Peter Dinklage (Tyrion Lannister): Peter Dinklage will pivot from ribald one-liners to more G-rated fare when he lends his voice to upcoming animated kids' movie sequels The Angry Birds Movie 2 and The Croods 2. (He's also long been attached to Sony's Rumpelstiltskin project.) Once he emerges from the VO booth for air, maybe Dinklage will finally have time to work on a couple of long-in-the-works passion projects that lay fallow during his time in Westeros, The Thicket and The Dwarf (which sounds like the name of a GOT slash fic, but are purportedly two separate film titles).
Sophie Turner (Sansa Stark): Whatever happens to Sansa, we won't have to go long without Sophie Turner, who is starring as Jean Grey in the upcoming X-Men movie Dark Phoenix on June 7.
Maisie Williams (Arya Stark): Maisie Williams and Sophie Turner may have more in common than their characters do, as Williams will also become an X-Man in the franchise's New Mutants spinoff movie. Not only that, but she'll play the shape-shifting mutant Wolfsbane, which essentially sounds like we'll get to see her warging into Nymeria*.
(*What, was the post about Arya Stark in the X-Men universe too nerdy??)
Nikolaj Coster-Waldau (Jaime Lannister): The Kingslayer will return to his native Denmark for his next big roles, beginning with Brian De Palma's Copenhagen-set Domino, which will be released later this year. He will also star in the Danish-language Suicide Tourist, in which he appears to play the titular tourist, who takes "a long and mysterious journey into the world of polar bears and weird suicides." HBO's His Dark Materials better watch its back.
Iain Glen (Jorah Mormont): Glen will defect to Cersei's camp (in a way) when he co-stars with Lena Headey in The Flood, out later this year.
Alfie Allen (Theon Greyjoy): Post-Thrones, it looks like Allen will rise again harder and stronger in some very interesting projects. This year, find him in the film adaptation of Caitlin Moran's How to Build a Girl and Taika Waititi's Hitler satire Jojo Rabbit. 
Isaac Hempstead Wright (Bran Stark): After eight years of playing a Stark, Hempstead-Wright is moving on to something a little less high-exposure: starring in an ensemble caper about stamp thieves.
Aidan Gillen (Littlefinger): The reliably busy Irish actor has a variety of projects in the works, including a role as his countryman James Joyce in an upcoming film about the writer's later years. Gillen will also continue starring as a UFO researcher in the second season of the Robert Zemeckis–produced History series Project Blue Book, which — much like a UFO — many people claim to have seen, despite my having never seen conclusive evidence that it exists.
Liam Cunningham (Davos Seaworth): The Onion Knight has layers, and they include starring in upcoming Ebolavirus mini-series The Hot Zone, as well as making a foray into video-game work as part of the upcoming Squadron 42's star-studded voice cast. (Seriously, check out the cast list on this game, it's stacked).
John Bradley (Samwell Tarly): Bradley's only currently announced upcoming project on IMDb is a role in something called Tale of the Wet Dog, in which he will play a character named "Douglas 'Tool' Tulowitzki."
Carice van Houten (Melisandre): The Dutch actress will star alongside Nikolaj Coster-Waldau in Brian De Palma's Domino later this year, as well as play opposite Alexandra Daddario in the Tokyo-set thriller Lost Girls and Love Hotels.
Kristofer Hivju (Tormund Giantsbane): The Norwegian actor will star alongside Julia Louis-Dreyfus, Will Ferrell, Miranda Otto, and others in Jim Rash and Nat Faxon's Downhill, the English-language remake of the 2014 Swedish film Force Majeure, in which Hivju also co-starred.
Gwendoline Christie (Brienne of Tarth): Later this year, Christie will take on the role of Jane Murdstone in Armando Iannucci's David Copperfield adaptation and play an unspecified role (mayhap a friend?) in The Friend with Jason Segel and Dakota Johnson.
Nathalie Emmanuel (Missandei): Reversing the favored ratio of Game of Thrones where there are approximately 1,000 deaths for every one nice romance, Emmanuel will star in Hulu's Four Weddings and a Funeral series, and return to the realm of fantasy in The Dark Crystal: Age of Resistance on Netflix.
Jerome Flynn (Bronn): In some very thrilling news for lovers of true cinematic excellence everywhere, Jerome Flynn will appear as the mysteriously named "Berrada" in John Wick: Chapter 3 — Parabellum.
Conleth Hill (Varys): The Spider has little birds everywhere: Hill will appear in Dublin teen film Here Are the Young Men and the Keira Knightley whistle-blower film Official Secrets, as well as in Dublin Murders, Starz's upcoming adaptation of Tana French's series of crime novels.