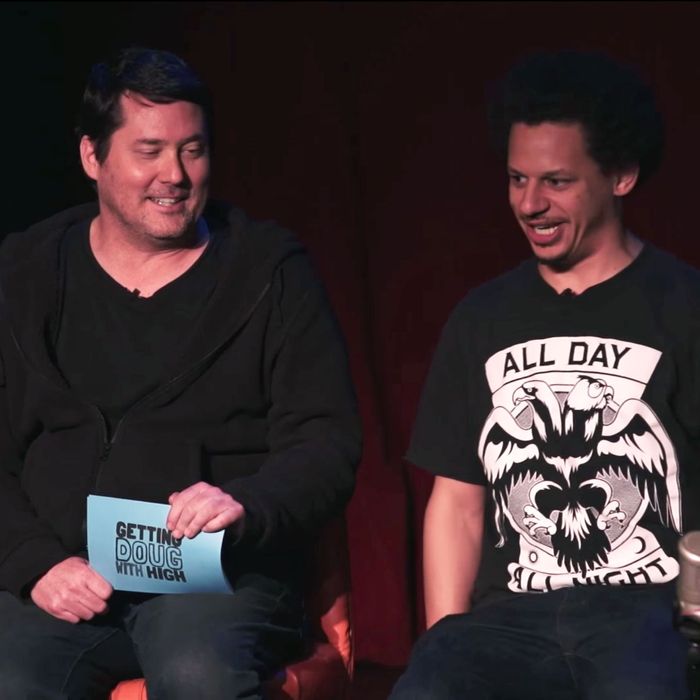 Doug Benson and Eric Andre on
Getting Doug With High.
Photo: Doug Benson/YouTube
Are you new to comedy podcasts, overwhelmed by the array of options, and wondering where to begin? Then welcome to Start Here, a recurring guide to the best comedy podcasts available — and our recommendations for which episodes are the best entry points to your next auditory obsession.
For the 20% of the country where recreational marijuana is now legal, this is a big week.
Pot, and more specifically pot comedy, has come a long way. Critically-acclaimed shows like Weeds, High Maintenance, and Broad City pushed the genre past Cheech & Chong and bro humor. Netflix's Chuck Lorre multi-cam series Disjointed was as blunt a signal as any that green has become mainstream. And Doug Benson knows a thing or two about weed. The 2007 film Super High Me documented Benson's journey not smoking pot for thirty days, then smoking every day for thirty days. Benson got in on the ground floor of podcasting in the fall of 2006 by parlaying his well-respected stand-up career into Doug Loves Movies, still filling venues nationwide. He's spun off the Doug empire into side pods like Dining with Doug and Karen, the solo Doug Loves Minis, and The Benson Interruption, which later became a Comedy Central TV show.
Some of his most groundbreaking work has been on Getting Doug With High, a talk show (originally featured on JASH) where Benson and a few of his funny friends smoke pot on a YouTube livestream every week (also released as an audio podcast). Naturally, the show always begins around fifteen minutes after the hour, leaving time for Benson, his guests, and any viewers following along at home to toke up at 4:20 somewhere.
More than just a raw talk show with loose cannabis-themed segments, Getting Doug With High has become a place for all kinds of comedy fans to watch their heroes at their silliest and most vulnerable. Like Jack Black, who got a little too high in one the earlier episodes back in 2014. Tiffany Haddish also traded bong rips with Benson a handful of times, as recently as last month. The cast of Workaholics, You're The Worst, the Trailer Park Boys, the O.G.s Cheech & Chong, Broad City + Reggie Watts, and dynamic duo Brett Gelman and Action Bronson have all passed through. Benson's also packed bowls for his regular rotation of all-star comedian friends like Morgan Murphy, Pete Holmes, Ron Funches, and Natasha Leggero, to name a few. With such a broad range of comedy tastes represented, it's no wonder the show's YouTube channel has reached over 52 million total views.
Most episodes are filmed in an outer space-themed studio (deemed the "spacement") apropos of the show's particular strain of comedy. The most outstanding episode didn't happen in the spacement, though. Episode 68 was recorded at Largo in February 2015 with a stacked guest list: Sarah Silverman, Todd Glass, Eric Andre, Brian Posehn, and Rory Scovel. Any episode of GDWH can go haywire given the amount of THC involved. This lineup was a guarantee, much to the excitement of the 3,500 people watching the livestream and about 270 people in the live audience.
Benson hints at the forthcoming insanity before bringing the guests onstage, noting, "This is the highest I've ever been at the beginning of an episode … I'm always a little bit, but this is ridiculous." Of course, it doesn't stop the veteran comic from casually talking to the audience or attempting to read ad copy. Benson's composure in front of a live audience, no matter his state of mind, always impresses. The ads are put on the back burner when Benson realizes it's nineteen minutes after the hour and all five stools are still empty.
Silverman, Posehn, Glass, Scovel, and Andre finally take the stage to loud applause — almost as loud as the applause for the giant plastic Volcano bags' first appearance. As Benson introduces each panel member, we get a glimpse at the chemistry to come. First up: Andre. Always the disruptor, Andre immediately chants "Fight! Fight! Fight!" at the chatty audience. He then issues a somber warning: "There's no one on earth that hates weed more than I do, so you're going to see all my insecurities bubble to the surface and you'll all become my therapist. I'm only 50% Jewish, but I'm gonna become 150% Jewish."
Across the stage, Sarah Silverman gripes about sitting furthest away from Benson, then directs her attention to her good friend and punching bag, Brian Posehn. "I wipe it on my asshole — that's how much I don't want to get Brian's lips on my mouth," she says when Posehn hands her a bag. Andre proves the stuff is working when he wishes the bags were filled with kettle corn — a wish that would come true in a just a few minutes.
Todd Glass is an all-time great podcast guest and an especially great GDWH guest. And for good reason, because no performer is more delightful than an extremely stoned Todd Glass. When Scovel breezes through Glass's intro with the first of many silly physical bits, Glass can't just let it slide. Neither can the audience, who shout a middle-school "Oooooooh" in response. Glass takes this moment to berate the crowd for trying to start shit. Throughout the episode, his commitment to faux anger is an absolute delight, breaking only at the sweet spot right before the audience might get weird.
It doesn't take long for the show to turn into a complete mess. Shoes come off, Andre plays the piano, and Glass decides this is a good time to workshop Nancy Grace jokes that he wrote earlier and already forgot. Posehn offers to arrange Benson's note cards in order to keep busy, and Andre sits on the floor because "weed is poison." It's utter chaos, and we're barely fifteen minutes in.
Getting Doug With High's appeal is the rare opportunity to see your favorite comedians let their guard down. Benson himself unintentionally pitches the show right in the middle of this episode, saying, "If the five of us were in a room right now without an audience, there wouldn't be much of a difference." For seasoned performers like these six, the stage is usually a place for at least somewhat polished material. On GDWH, they have to flex their improv muscles while fighting an uphill battle against Mary Jane. Eric Andre and "subdued" have never been in the same sentence before, but here he is quietly eating kettle corn on the floor. Benson is an expert spirit guide, using a dip in energy as an opening to finish up his earlier ad copy as a spot-on Nancy Grace. Silverman declines the kettle corn with some essential comedy advice: "I don't share finger food with all male comics." Meanwhile, Scovel proves he can handle his business with a hilarious riff about why good posture actually sucks. He cements his title as this episode's MVP with an incredible double-mug rescue of Andre's leaky water bottle.
Any attempt by Benson to apply structure to this mayhem gets a soft rejection, like when Benson introduces the first regular segment, "Pot Topics," where he's supposed to bring up various pot-related news and trivia. Simply hearing the quick audio drop for the segment causes Posehn to freak out. Predictably, each guest forgets the question multiple times and the segment hardly gets off the ground. Instead, Scovel accuses Glass of being a narc. "Rory I've known you five fuckin' years!" Glass protests. "Yeah and the whole time I've been like, 'What's this guy's deal?'" Scovel shouts back. This pays off several times throughout the show. Eventually, Andre suggests that instead of making the panel guess the answer, Benson "give us the question and the answer, and then we just hang out and shit."
How can the show venture any further off the rails? What if Silverman suggests making a human pyramid? It's impossible to watch this unfold without muttering "nonono" to yourself until they (minus Glass) manage to pull it off unscathed.
Benson wisely starts winding down twenty minutes early for plugs. It's time for one last recurring bit: a magic trick. By the end of the show, the bar to blow the panel's minds is low, and magician Gabe Dylan and his "assistant" Scovel do exactly that. The genuine shock on everyone's face when Scovel smashes a bottle over Dylan's head is worth watching over and over. Even Andre admits, "That was cool as fuckin' shit."
Silverman wraps up on a bittersweet note, recounting a joke Harris Wittels wrote way back on The Sarah Silverman Program. The taping occurred not long after Wittels's death, and the mere mention of his name got the biggest ovation of the night. The show closes with a video tribute, including some clips from Wittels's appearance on an episode of GDWH at Largo one year prior.
Getting Doug With High is good-natured fun for stoners or squares. If you're a fan of any of these stand-ups, you'll enjoy exploring the rest of the GDWH catalogue. There are worse ways to spend your April 20th than giggling along with some of the funniest people in the world.