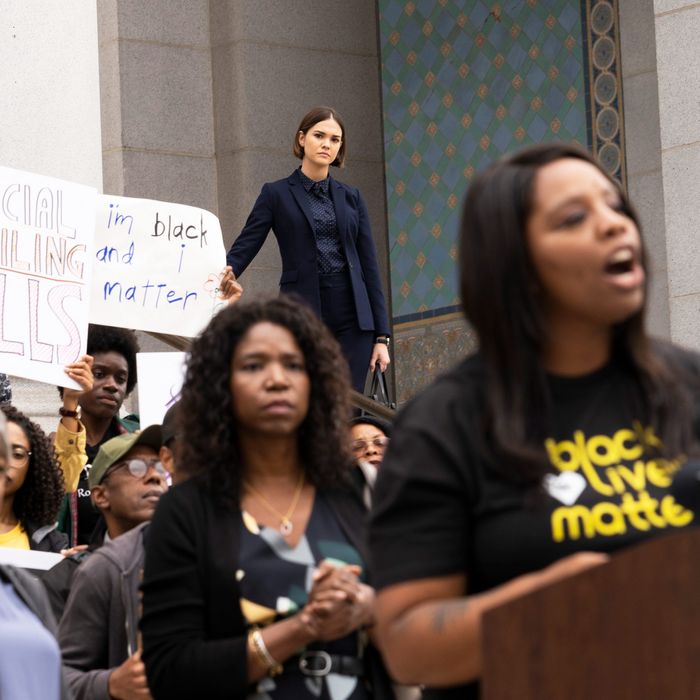 Photo: James Clark/Freeform
The Coterie is an extraordinarily busy place this week. We've got a super-important Byte Club meeting! We've got a maybe-wedding! We've got not one but two fantasy dance sequences! It sure feels like a season finale: Good Trouble is attempting to show us where we are in everybody's story arc as the season closes out. On one hand, that's great because I'm genuinely interested in every character on this show (somehow even Sumi has won me over!), but on the other, that's a whole lot of ground to cover for one episode. Although several story lines take big moves forward in their development (yay!), many are simply teeing themselves up for season two. Thankfully, season two arrives in June (!), so we won't have to wait too long to see how some of these play out.
There are some huge, glorious character moments that we will get to BECAUSE OH MY GOD MARIANA, but I left feeling confused about one thing: Callie. Listen, Callie is a great character and her development from The Fosters into Good Trouble has felt authentic. I mean, in "Vitamin C" she almost steals Officer Griffin's sealed personnel file out of Judge Wilson's desk because she thinks that file proves that Griffin was one of the officers who heard the chief of police at the time say that letting police-shooting victims die is "cheaper for the department." (It does prove that!!) Old Callie definitely would've stolen it because she was self-destructive and never thought about long-term effects of her actions. But New Callie doesn't! Okay, so she gets the file anonymously sent to her anyway and it looks like maybe she leaked it to Jamal's attorney, but still, she did not steal it herself. So, yes, there are always interesting things going on with Callie, but sometimes Good Trouble feels like the Callie Show, when there are so many great things to be done with the ensemble.
For instance, did we really need TWO fantasy dance sequences to show us that Callie is torn between Gael and Jamie and torn between being loyal to Malika or being loyal to Wilson? Did we even need one? She's been torn between these things almost the entire season. There's nothing new there. While Callie's dancing it out in her dreams, we only get one scene on the Dennis front, and it comes very late in the episode. This man's life was in the balance! The one scene we do get, in which Davia finally hears from him — he checked himself into a hospital for a 48-hour psychiatric hold — and she goes to see him is gutting. Dennis realized that after trying so hard to keep his son alive, he couldn't just throw his own life away. Davia tells him that he can't keep all of his grief inside and that there would be a huge void in her life if he were gone. Anyway, I'm crying about it again. These two! Davia covers for Dennis with the rest of the Coterie, so it seems like he'll be relying on her a lot as we move forward. I'm much more invested in that story line than extended fantasy dance sequences. Which is saying something because I'm typically a sucker for musical moments.
Let us move forward, shall we? "Vitamin C" has two other emotional scenes that may or may not have left you biting a pillow to muffle your sobs. (I'm an emotional TV viewer, what can I say?) Last we left Alice, Sumi had confessed her love. Alice is her soul mate! She can't marry Meera! And now, Sumi calls off the wedding via text. It's a good move since she didn't love Meera, but a text is real cold, girl. Alice has a chat with her pal and is finally honest with both herself and Sumi: She doesn't love her that way anymore but will always be her best friend. Alice is finally moving forward, and it's about time.
Unfortunately, it won't be with Joey. After an awkward pop-in from Alice's parents in which Alice introduced her as Joanna, who lives in the building, Joey is calling it quits. It's become clear to her that Alice is still ashamed to be gay and that's not fair to Joey. I don't know what's gotten into Alice tonight, but I like it. Instead of wallowing in her breakup, Alice is making a change. She calls her parents! She is going to come out to them! Before she can, they ask her if she's heartbroken because Sumi is getting married and they know she loved her! Alice is floored. She's been carrying around this fear that her parents wouldn't accept her, but they've known and were simply waiting for her to be ready to tell them. Let's hope that, rid of fear and guilt, Alice starts truly living next season.
So that's the good cry for the evening. The bad one? Malika's mother has a brain aneurysm and she and Dom eventually have to take her off of life support and let her go. Dom is beside himself and Malika has to be strong for him. They talk about the good times before things took a turn, and she assures him that he was a good son. But alone, Malika breaks down. Can you even imagine the multitude of emotions she's feeling? Thankfully, she has Sandra in her life, who comes and holds her surrogate daughter and tells her it is okay to lean on other people.
But pick those pieces of your heart up off the floor because this sad story has two hopeful notes: First, Isaac shows up! Isaac!! Second, this tragedy may bring Malika and Dom closer together. She sends him an invite to her graduation party and he says he'll be there. Anyway, until that day comes, I'll just be over here talking about how good Zuri Adele is on this show.
It's time to stop crying because we have some clapping to do. And maybe some squealing. Was that just me? I don't care!
Mariana has a tough choice to make. Armed with the male employee salary info from Angela — who promises it isn't a setup, she wants a real change in culture at this company, and as a single mom has a lot to lose if she gets exposed — the pay-gap spreadsheet is ready to go public. But Mariana wonders if maybe that's not the best strategy. She overhears talk of her app situation being just like "Amanda's," and after a conversation with Evan that is brimming with flirt vibes, begins to wonder if the talk is accurate. She has a chat with Raj, who has very little info on Amanda, but does apologize for making her feel anything less than the brilliant engineer that she is at the art show, and Mariana tells him she knows he was just looking out for her. They're also out on a fire escape for this conversation, which gives it an extra-swoony feel. Mission accomplished, Good Trouble, I am swooning.
All of this talk of Evan having feelings for her makes Mariana wonder if maybe she should just tell him about the pay gap. That way, no one gets fired and she gets to keep her Activism App, which could help a lot of people. But Mariana is an Adams Foster, and eventually she realizes that not releasing the spreadsheet to keep her app is selfish and she needs to do what's right, even if it may have consequences. So release it she does!
Almost immediately, Josh and Angela call an all-staff meeting and Josh, still the World's Worst, wants information on who caused this PR nightmare. Instead of information, he gets the suggestion to simply increase female employee salaries so they are in parity with male employees, so he decides to publicly fire Angela, head of HR, for allowing this pay gap to go on (definitely not only her fault). Before he can do that, Mariana stands up. She's not going to let Angela get fired over this! "I did it. I hacked into HR and posted the salaries online," she says. She's willing to take the fall. And then Casey stands up: "I did it. I hacked into HR and posted the salaries online." Every Byte Club member follows — even Raj stands up and admits to it. Things really take a turn on Joshy boy when multiple women in the office stand up and expose him for attempting to kiss them just as Evan walks in. Josh is finally getting what's coming to him.
After everything, Mariana meets with Evan to tell him it was her idea to make the pay-gap spreadsheet, and that paired with "everything else" makes her think it's time to move on from Speckulate. Evan really, really does not want her to leave. Which makes her decision all the more obvious. There is one catch: Anything she was developing while under contract belongs to the company. So even if she goes, her Activism App stays. That makes things complicated.
But her day is not all standing up for equality in the workplace and figuring out if her boss is crushing on her. She ends the day on the roof with Raj, both paying compliments to the other for being so brave today. And then something so cheeseball but so perfect happens: Mariana tells Raj that she knows they're colleagues and she would never want to disrespect him, but she would like to kiss him. YOU GUYS. Finally, after a season of wonderful slow-burn romantic buildup, they do. I AM ALIVE. And I cannot wait to see what happens to these two nerds with feelings next.
Family Dinner
• I honestly don't know how this Judge Wilson stuff is going to play out, so kudos to the writers and to Roger Bart. He seems like a man with principles who wants to uphold the law, but in that courtroom they show him repeatedly favoring the defense over the prosecution. I'm worried! We've only just begun Jamal's trial and already it is wildly frustrating.
• Although I was not much of a fan of the dancing dreams, having Callie literally argue with herself over leaking the personnel file or not was clever. There's no one else she can talk to about it!
• Oh, okay, Gael coming through with making his true feelings known. He's like, really, really into Callie.
• Davia gets an answer to the Vivian mystery! Her dad is real, but yes, they are currently homeless. He's working two jobs to save up for an apartment. There's no follow-up between Davia and Malika (who overhears Davia's conversation with Viv and her dad) about privilege, which would have been nice. That story needs a conclusion — perhaps another casualty of the dancing dreams.
• Oh, and Jeff shows up to tell Davia he left his wife. Davia just announced she's going to get her master's in education, so I really hope she kicks this dude to the curb.
• Honestly, is there anything better than having wedding cake and wine while snuggled under a blanket with your best friends on a rooftop?