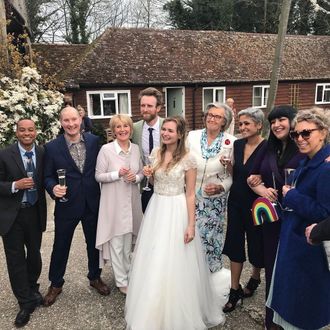 The gang!
Photo: Nancy Birtwhistle/Instagram
See, not all reality-television reunions are unhinged master classes in petty drama! Nearly the entire slate of competitors from The Great British Baking Show's fifth season reunited this weekend for Martha Collison's wedding in the English countryside, and by the looks of things, Ian and Diana squashed their Baked Alaska "Bingate" beef for good. Collison, who was a fan-favorite contestant from the season while competing as a high-school student, was joined by nine of her GBBS pals, which included winner Nancy Birtwhistle and runner-up Richard Burr. (The two no-shows were invited but couldn't make it.) Just look at them!
Even cuter, everyone baked a personal wedding cake for Collison and her new hubby, which resulted in a smorgasbord of sugary goodness. Awww!
Take a closer look at the detail of Birtwhistle's "prinsesstarta" cake.
Despite being sent home before her season's final round, Collison has become a pretty beloved figure in the overseas baking community, thanks to writing a best-selling cookbook and maintaining an easy-going social media presence. We're assuming Paul Hollywood and Mary Berry went halfsies on a gift for her wedding. It's the least they could do, really.